Specifications:
2,435 Sq Ft
2 Beds
2.5 Baths
1 Stories
2 Cars
As a seasoned house plan enthusiast, let me tell you about this 2,435 square foot Craftsman home plan that I've come across recently.
It's a single-story beauty that is making my architectural taste buds tingle with anticipation.
So, grab a comfy chair, make yourself some tea or coffee, and let's dive into the delightful details of this home plan.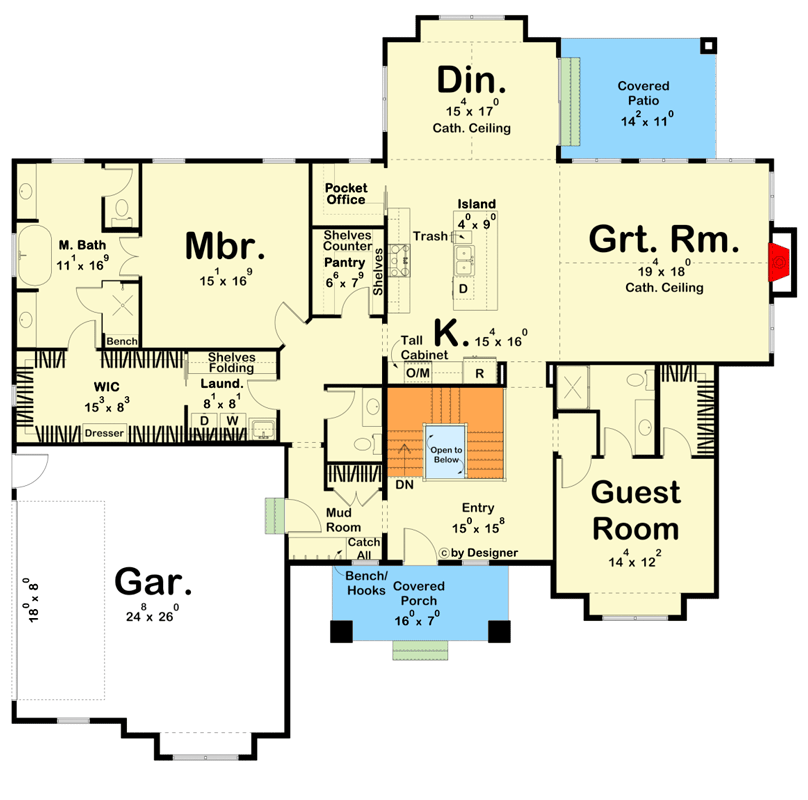 Now, the first thing you'll notice about this house is its charming Craftsman style – that American architectural darling renowned for its handcrafted character and artisanship.
One look at that covered porch and decorative shed dormer, and you'll practically hear the house whisper, "Well, aren't I a quaint piece of work!" As you step through the entrance, you'll find a comforting home that is perfectly tailored for easy, one-level living.
The house is a delectable 2-bed beauty, equipped with 2 full baths and a discreet half bath for guests or for those days when you feel like pretending you're in a luxury hotel.
What's even better? It has a 2-car side-entry garage, a handy addition for car enthusiasts or for those with an impulsive Amazon shopping habit (you know who you are!).
As you wander into the great room and dining rooms, be prepared for an exhilarating rush of airiness. Both spaces are vaulted, creating an inviting atmosphere that begs for hearty laughter, deep conversations, or silent brooding over a good book.
If you're a master chef or a kitchen loiterer like me, you'll love how these rooms open up to a spacious kitchen, complete with a large island and counter seating. Whether you're dicing up veggies or guzzling down a glass of wine, you'll have front-row seats to all the living room action.
Now, let's talk about my favorite feature – the sliding doors in the dining room. These doors lead to a covered patio in the back, giving you an instant pass to enjoy sunny afternoons or twilight grilling sessions. Talk about indoor-outdoor living!
Tucked neatly by the kitchen, you'll find a pocket office – a convenient nook for those working from home or for kids needing a homework spot.
Plus, a roomy walk-in pantry just screams 'foodie haven,' offering abundant storage for all your cooking adventures or secret snacks stash (your secret's safe with me!).
But we're not done yet. Brace yourself for the master suite that occupies the entire left side of the home. It's not just a bedroom; it's an indulgent retreat, featuring a five-fixture bath and a roomy walk-in closet.
What's that? Direct laundry access from your closet? Yes, you heard it right. No more lugging heavy laundry baskets around.
On the other side of the home, a welcoming guest room waits, complete with a walk-in closet and a private bathroom with a shower. Your guests will feel pampered in their own mini suite.
Or, if you're feeling a bit fancy, turn it into your private art studio, yoga room, or a sanctuary for your collection of rare, vintage comic books.
In short, this 2,435 square foot Craftsman home plan delivers the charm of traditional architecture while providing modern conveniences and thoughtful design elements. It's a delightful blend of old-world charisma and contemporary comfort.
So, whether you're a family of four, a dynamic duo, or a solo dweller with frequent visitors, this house just might be the place you'd call home sweet home.
Well, there you have it – a virtual tour of this Craftsman marvel. Just writing about it makes me wish I could pack my bags and move in.
But alas, I am but a humble writer, forever dreaming of beautiful houses. Still, one can dream, right?
Plan 623135DJ