Specifications:
4,034 Sq Ft
4-6 Beds
3.5 – 5.5 Baths
2 Stories
3 Cars
Gather 'round folks, I'm about to introduce you to the epitome of luxury and function—a home where the Craftsman style shakes hands with lavish modern comforts.
We're talking about the "Luxurious Craftsman House Plan with Optional Sports Court."
Sounds like a dream, right?
Hold your breath and let's dive in!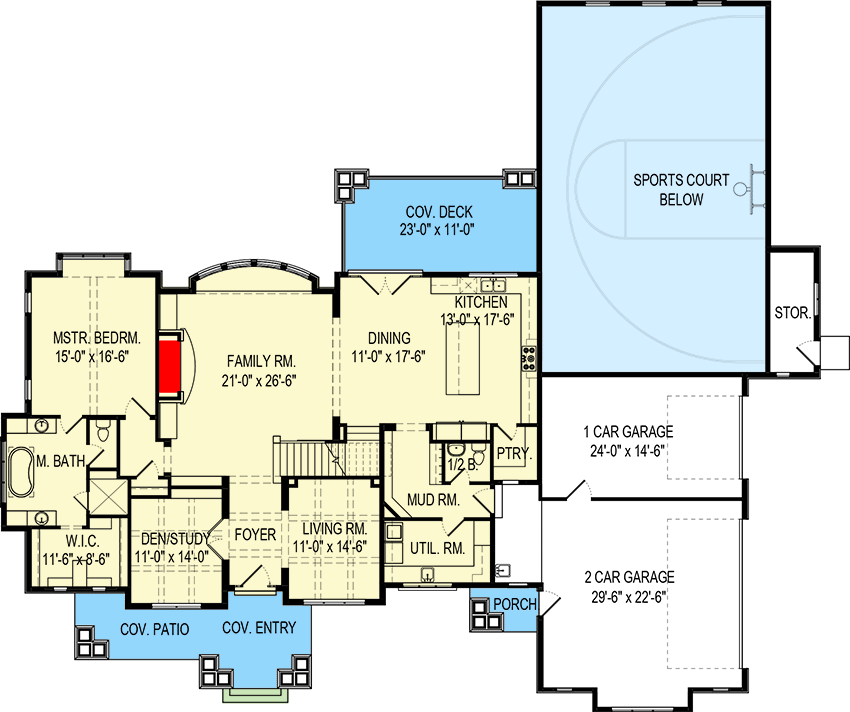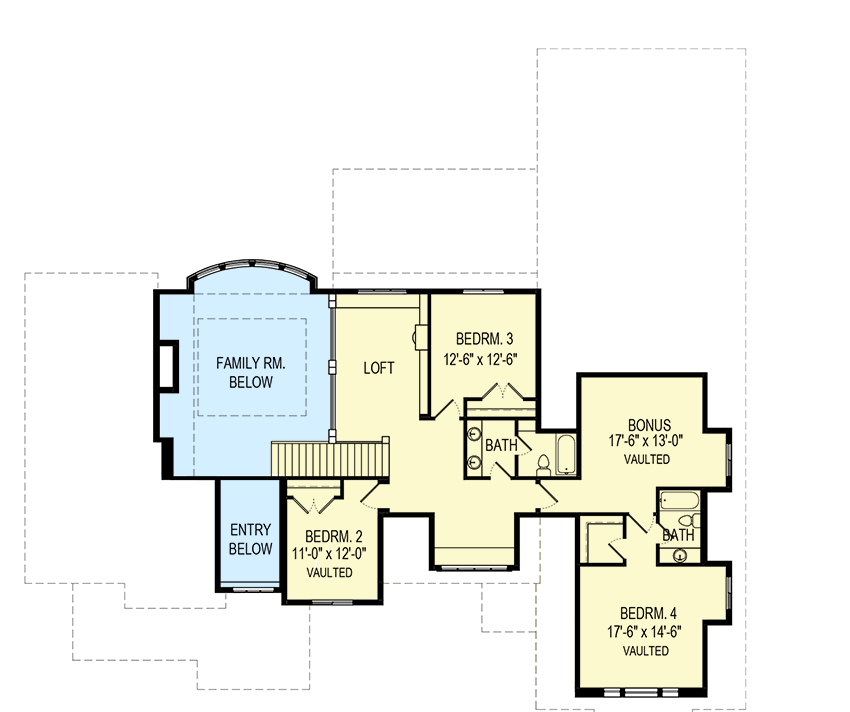 This home isn't just a house—it's a 4,034-square-foot kingdom with enough rooms to throw a party for your second cousin twice removed.
In this deluxe abode, you can flex between 4 to 6 bedrooms and treat yourself to 3.5 to 5.5 baths. You know, just in case the entire basketball team decides to drop by for dinner and a quick game of hoops.
Speaking of basketball, this mansion comes equipped with an optional sports court in the optional finished lower level.
At 27′ by 44′, you can toss threes like Steph Curry any time you wish, even in the heart of winter. Yes, you heard that right—365 days of sweat, swishes, and sweet victories!
The front porch, boasting a charismatic barrel-arched roof, winks at passersby and invites them into the grand foyer.
Once you step in, you're flanked by a suave den or study on one side—hidden behind classy French doors—and an inviting living room on the other.
Both spaces sport beamed ceilings and offer soothing views of the great outdoors.
The family room is a sun-washed sanctuary with a bayed rear wall full of windows.
This space opens to a kitchen that practically shouts "MasterChef!" with a large island that provides a casual dining spot and a workspace for the Julia Child in you.
Oh, and the walk-in pantry? It's a dream at 5′-10″ x 6′-10″. You could probably lose yourself in the abundance of storage and those sneaky cookies hiding in the back.
But the cherry on top of this architecturally delicious cake?
French doors off the dining room that lead to a covered deck—a perfect spot for sipping coffee, reading your favorite book, or enjoying a warm al fresco dinner as the sun sets.
The master suite, located on the main floor, includes a divided walk-in closet. His and hers spaces to end those morning battles over territory—sounds like a marital bliss, doesn't it?
Climb the stairs, and you'll find a loft overlooking the family room. It's accompanied by three additional bedrooms, each one as inviting as the last.
There's also a bonus room off of Bedroom 4. Need a yoga studio? Home office? Man cave? The possibilities are endless!
The lower level, already star-studded with the optional sports court, adds two more bedrooms, a colossal media room, and a rec room.
Add to that plenty of storage space and access to a rear covered patio. Imagine the possibilities—movie marathons, game nights, impromptu dance-offs—you name it!
In conclusion, this Luxurious Craftsman House Plan with Optional Sports Court is the answer to your quest for a luxury, comfort, and fun-filled life.
It's not just a house; it's a lifestyle—an investment in joy, togetherness, and a lifetime of wonderful memories.
So, buckle up, folks. This isn't just home sweet home—it's home SCORE home!
Plan 290000IY