Specifications:
4,420 Sq Ft
4 Beds
4.5 Baths
1 Stories
3 Cars
Ladies and gentlemen, brace yourselves!
You are about to embark on a delightful journey through a house plan that will make your jaw drop faster than my last attempt to juggle kitchen utensils.
Let's dive into the heart of this fabulous one-level Craftsman home that covers a whopping 4,420 square feet and boasts features that make this humble scribe want to scream, "Home sweet home!"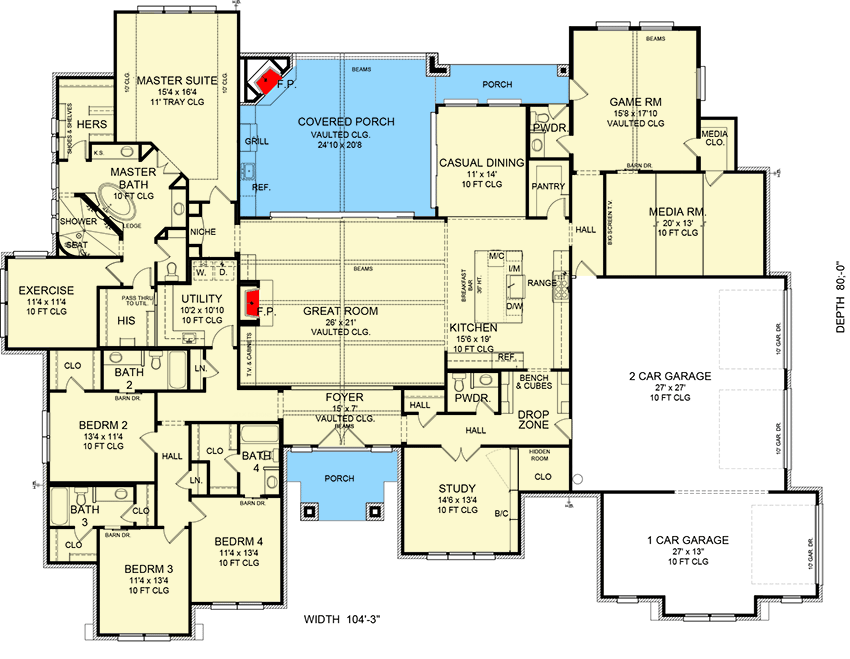 Right from the get-go, we're greeted by an awe-inspiring great room, a domain so grand it has its own zip code. Imagine a room as oversized as my Uncle Bob's fish stories, complete with a vaulted ceiling that might just make you feel like you're living under a cathedral.
Trust me, this isn't your grandma's living room – it's the kind of space where indoor meets outdoor living, and they become fast friends, often inviting the sun to join the party. You might as well have "freedom" stamped all over your forehead with the ability to roam around this space.
Now, let's trot to the kitchen. Ever felt your passion for cooking wane in a cramped, unworkable kitchen? Say no more! This kitchen comes with enough workspace to make an army of sous chefs weep with joy.
The massive multi-use island stands in the middle like a loyal kitchen assistant, waiting to hold your bowls, your pots, and perhaps even the future Nobel Prize winning science experiment by your little ones.
Let's not forget about the pantry. We're talking floor-to-ceiling storage here, folks. It's so roomy, you could store enough dried foods, canned goods, and oversized appliances to survive a zombie apocalypse or an unexpected visit from your ever-hungry in-laws.
Now, let's saunter over to the master suite, the crown jewel of this home. It's more a personal retreat than a mere room. Exposed beams add a rustic charm while a luxuriously spacious ensuite, complete with dual closets, practically sings a sweet lullaby of relaxation.
There's even an attached exercise room, so you can pretend to work off the midnight snacks you've hidden in your master suite.
As we slide down the hallway, you'll find three additional bedroom suites, each of equal size and packed with personality.
These aren't just rooms – they're sanctuaries for sleep, zones of zen, chambers of chill. Oh, and did I mention they're all tucked neatly to the left of the foyer, as if politely making way for your grand entrance every time?
Now, to the right, you'll find a serene study with a closet for extra storage. Yes, a study – a place for you to pen down your memoirs, work on your next big business idea or simply hide from your kids during a competitive game of hide and seek. The added storage? Well, that's just the icing on the cake, isn't it?
One of my favorite features of this home is the 'drop zone'. No, it's not for skydiving from your roof, but rather a handy spot for shedding the day's burdens (like work bags or muddy shoes) when entering from the three-car garage.
It's like having your own personal butler, minus the British accent and snarky comments.
And lastly, if you venture behind the garage, a magical world unfolds – a world of media and game rooms. These are the rooms where boredom goes to die and where fun reaches a whole new level.
Whether you're staging an epic movie night, hosting a pool tournament, or simply losing yourself in the latest VR gaming experience, these rooms have you covered.
In summary, this one-level Craftsman home is the architectural equivalent of a triple-layer chocolate cake – indulgent, satisfying, and designed to make every day feel like a celebration.
With its 4 beds, 4.5 baths, an exercise room, a study, a game room, a media room, and a 3-car garage, it is not merely a house. No, dear reader, it is a lifestyle statement, a testament to craftsmanship, and above all, a place that warmly whispers, "Welcome home."
Plan 54030LK