Specifications:
2,016 Sq Ft
2 Beds
2 Baths
1 Stories
3 Cars
Strap on your hard hats, folks, because we're about to embark on an architectural adventure through a home that is anything but average.
This is a modern-day castle (but minus the moat and fire-breathing dragons), a 2-bedroom, 2000 square-foot residence that puts a playful twist on 'home sweet home'.
Let's take a look at the plan and explore the beauty of the 2,016 Sq Ft house plan which matches your elegence.
Let's start with the garage. And what a garage it is! Big enough for three cars, this isn't just any run-of-the-mill storage for your beloved vehicles.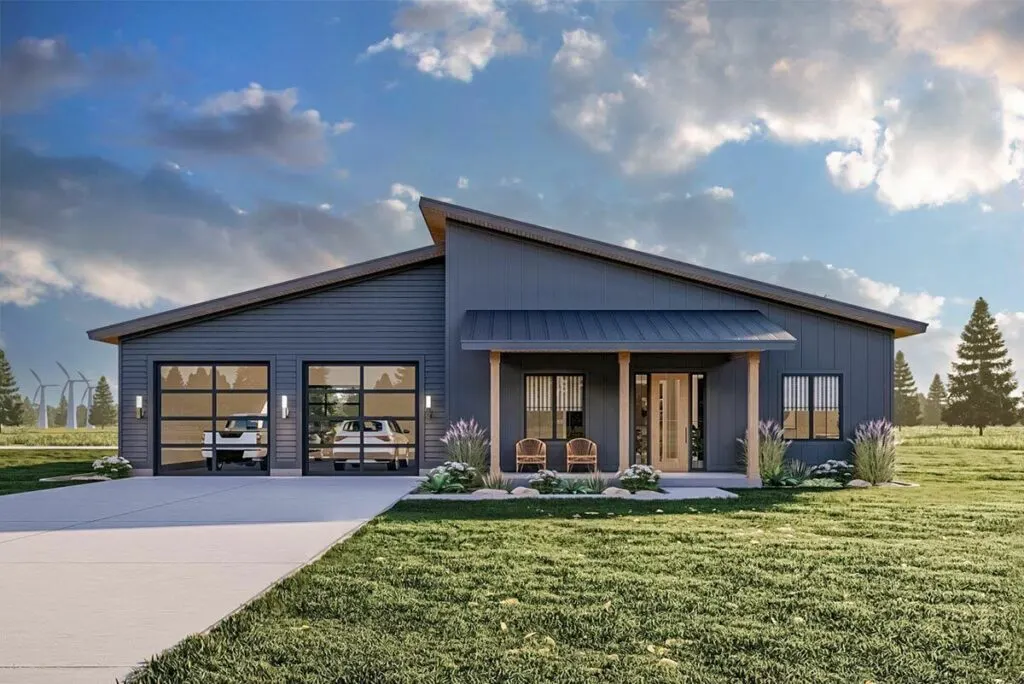 No, this is a drive-through garage, which basically means you never have to do the 20-point turn again. Imagine being able to drive straight through and out onto the street again. No backing up, no stress, just easy-peasy-lemon-squeezy.
Once you've marvelled at your cars sitting in the garage (hopefully not for too long, we've got a whole house to explore), it's time to step into the foyer.
You know how in some homes the office is tucked away in some corner, like it's being punished for bad behavior? Not here! Off the foyer, French doors swing open to reveal your home office.
This isn't just any home office, it's an "I'm getting things done" space. A great sanctuary for productivity that's just a hop, skip and a jump from the front door.
Now, let's move on to the main event, the pièce de résistance of our house: the open concept living space.
As you walk through the entry with 13′ beamed ceilings, you'll find yourself enveloped in an open, inviting, "hey let's have a dance party" kind of space.
On one side, there's the kitchen, complete with an island featuring counter seating and a double sink, plus a walk-in pantry that's so roomy, it could double as a bunker during a zombie apocalypse (just kidding!).
But the kitchen's charm doesn't stop there. It's positioned perfectly for unimpeded views through to the great room, which features – wait for it – a fireplace.
Talk about cozy! In this house, it's always a good day to snuggle up with a good book or binge-watch your favorite series by the flickering flames.
And let's not forget the bedrooms – the unsung heroes of any home. This house plan boasts two of them. But the master suite isn't just a place to crash after a long day.
It's a retreat. A sanctuary. It's got French door access to the covered porch at the back, which means you can roll out of bed and take in the early morning air before the coffee's even finished brewing.
Speaking of that covered porch, it's like having your very own outdoor living room, but with the added bonus of fresh air and the occasional bird song.
This isn't just a space to have your morning coffee or evening cocktail. It's a space to live, to breathe, to take a moment away from the hustle and bustle of life.
In short, this 2,016 sq ft, 2-bed, 2-bath modern house plan is the kind of home that doesn't just tick all the boxes, it adds a few extra boxes you didn't even know you wanted.
It's a unique blend of comfort, convenience, and style – a place where every day feels like a mini-vacation. Now, where do I sign up?
Plan 623193DJ