Specifications:
2,950 Sq Ft
3 – 4 Beds
3 Baths
1 Stories
2 Cars
Buckle up, folks! Today, we're venturing into the heart of homey vibes and "can't-believe-your-eyes" design with a house plan that screams, "Write a Hallmark movie about me!"
Welcome to the world of the 4-Bed Mountain Craftsman with—wait for it—a Basement Option!
Now, picture this: you're driving through an idyllic mountain range, the air smells like freedom and pinecones, and there it is—your future home, a staggering 2,950 Sq Ft of pure "wow."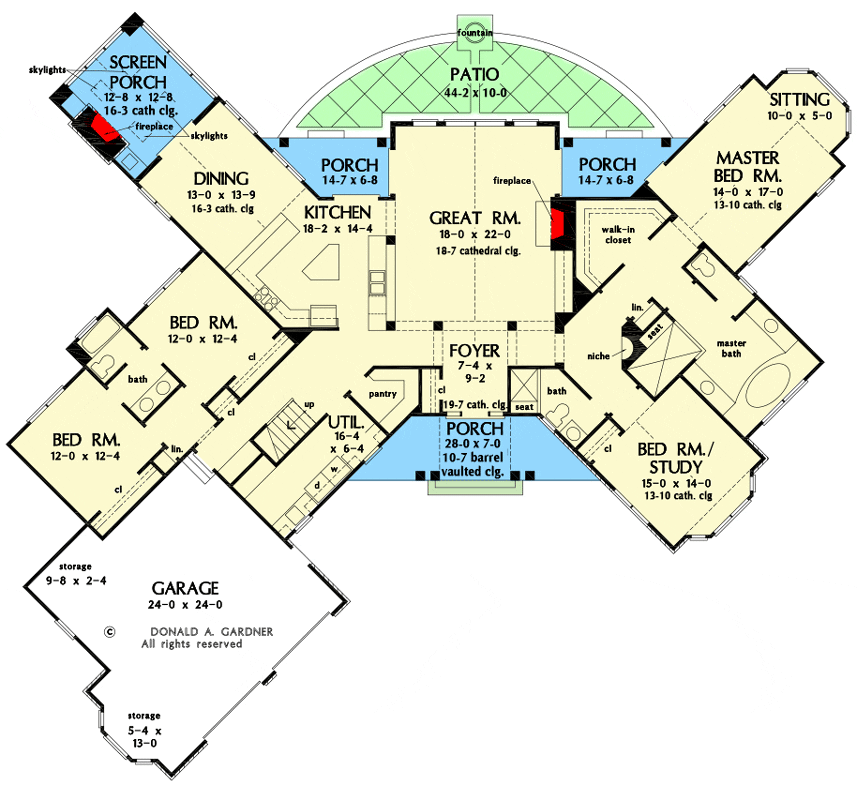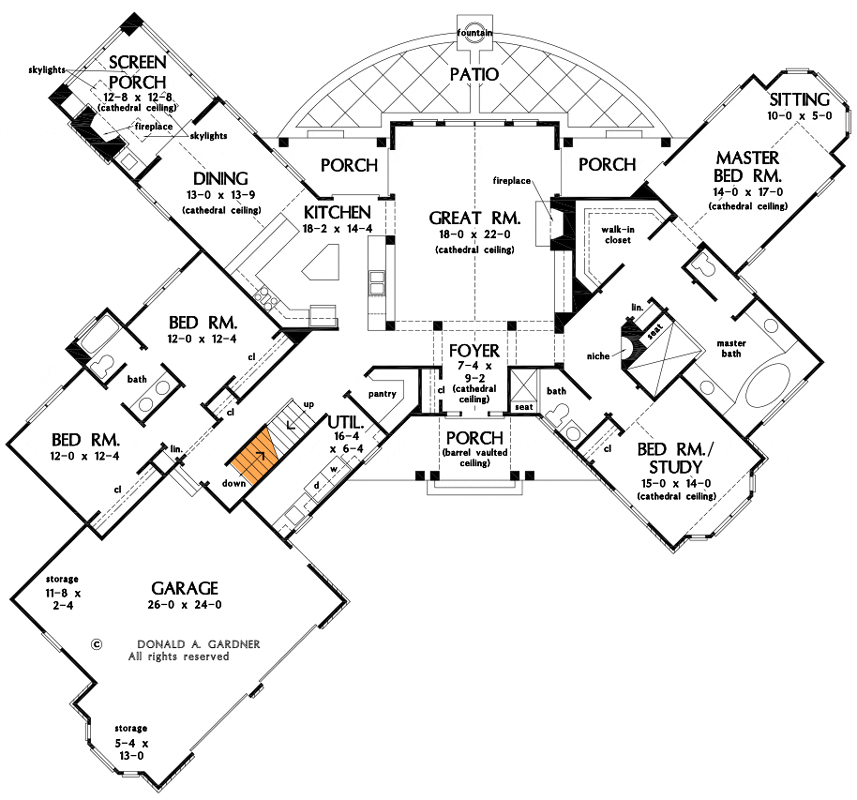 Nestled among the trees, this beauty isn't just a house; it's a lifestyle. And it starts with the exterior. Imagine the combo of stone and horizontal siding like the perfect marriage of rustic and chic, the peanut butter and jelly of home exteriors, if you will.
But wait, there's more—much more. The pièce de résistance? An x-shaped footprint. "Why X?" you ask. Because it's like a hug for your house!
This clever design creates cozy nooks and crannies for everyone. You're not just walking into rooms; you're discovering sanctuaries… secret lairs… Okay, they're bedrooms, but "sanctuary" sounds so much cooler, right?
Central to this architectural wonder is the great room. "Why 'great'?" Again, you're full of good questions today! It's not just because it's big, but because it's where magic happens.
Family gatherings, impromptu dance parties, or epic board game battles—it's like the living room went to college, majored in Awesome, and this is its final project.
Now, if you're anything like me, the kitchen is where you pretend to be a contestant on a cooking show. Good news, future culinary stars! This kitchen doesn't just have a prep island; it's got a whole archipelago of functionality.
Plus, an eating bar seamlessly connects it to the dining area, ensuring you never miss a moment of gossip while refilling your plate.
And let's not forget the screened porch—because who doesn't like to sip hot cocoa by the fireplace under the stars, without the mosquitoes getting an invite?
Ah, the master bedroom wing, the crown jewel of the abode. It doesn't just give you a room; it gives you a realm. It's like, "Here's your foyer, your majesty.
Oh, and an art niche for your sophisticated side." You can almost hear the room bowing. Need to work from home, pen the next great novel, or plot world domination?
Voilà, your study awaits! Or it could be a fourth bedroom; we keep options open here.
"But what about the kids, the guests, the in-laws?" you cry out, in dramatic fashion. Fear not! Two family bedrooms stand at the ready just inside from the double garage—strategic for those "I forgot my phone in the car" moments.
Each room is a peaceful retreat for the weary, a haven for dreams, or a hideout from doing dishes—multifunctional, we say!
"But I need more!" you exclaim, your appetite for splendor insatiable. Enter the sizable bonus room. What's it for? Anything your heart desires!
Yoga studio, game room, cinema, library, indoor jungle… unleash your imagination! Bathed in natural light from skylights and flanked by two dormer windows, it's versatile with a capital V.
Now, let's descend… to the optional basement! If you opt for it, you're unlocking a realm of possibilities. Home theater, wine cellar, guest suite, or perhaps a discotheque? It's the cherry on top of your customizable dream home sundae.
In all seriousness, this 4-Bed Mountain Craftsman isn't just a structure made of beams and walls. It's a narrative, a story waiting to be filled with life, laughter, and memories.
It's the physical manifestation of comfort and luxury shaking hands and saying, "Let's make a house a home." From its intelligent use of space to its welcoming ambiance, it's more than a dwelling—it's a personal mountain retreat.
So, when you're there, standing on the threshold of this craftsman masterpiece, remember it's more than square footage and interior design.
It's Sunday morning pancakes in the kitchen, it's movie nights in the great room, it's summer evenings on the screened porch, and yes, it's even the dog chasing its tail in the bonus room.
This house isn't just something you buy; it's something you embrace. A place where each corner, each window, each stone is a stitch in the tapestry of your life. It's where "once upon a time" begins and "they lived happily ever after" is a daily event.
In this house, every footstep etches a memory into the foundation, and every laugh echoes in eternity. Because it's not about the house you're in; it's about the home you make.
So, here's to the adventurers ready to start their next chapter in a 4-Bed Mountain Craftsman. May your walls know joy, may each room hold laughter, and may every window open to great possibility.
After all, home is where your story begins, and there are many pages yet to fill. Are you ready to start writing?