Specifications:
2,237 Sq Ft
2 Beds
2.5 Baths
1 Stories
2 Cars
I've stumbled upon a house plan that seems too good to be true.
Is it possible to find a chic modern farmhouse, packed with features, all wrapped up in a neat 2,237 square feet package?
Oh, and did I mention it's perfect for work-from-home enthusiasts?
Hang onto your floor plan socks, because they're about to be blown off!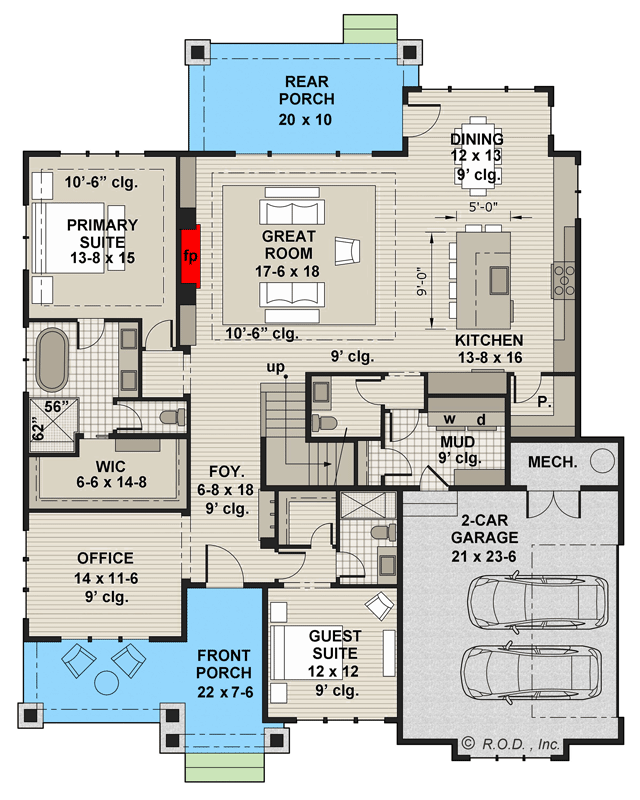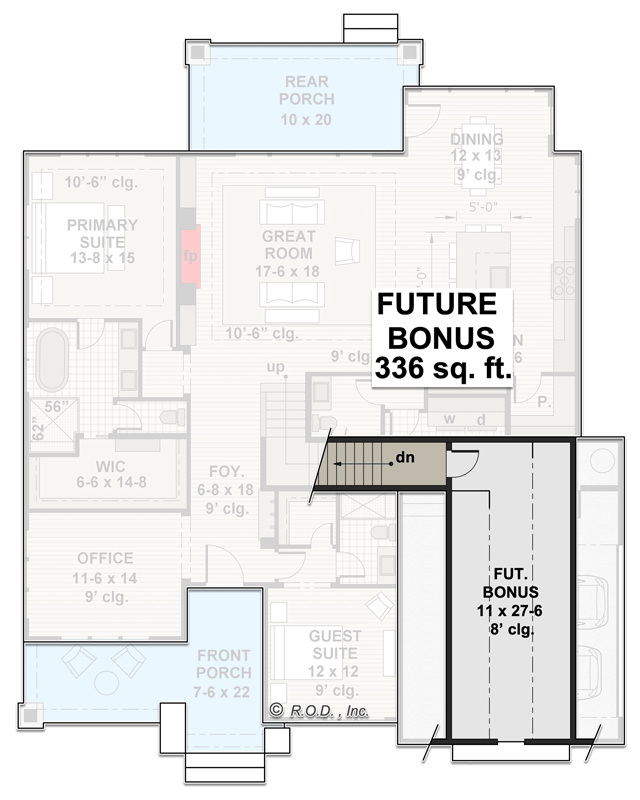 Alright, let's dive right into the heart of the house: the kitchen. Remember when kitchens were just… kitchens? In this farmhouse design, the kitchen is like the superstar vocalist in a rock band.
Not only does it have a grand island with seating for six (seriously, SIX), but it's also the perfect spot for Saturday morning pancakes, or Friday night wine with friends.
And if storage wars were a thing (I mean the REAL wars over where to stash your stuff, not the TV show), this kitchen would be the undefeated champion.
The walk-in pantry could probably house all of Narnia and then some. And the cabinets?
They're like Mary Poppins' bag, bottomless and ready to swallow up all your culinary gadgets.
Adjoining the kitchen is the dining area, which practically beckons you to slide open the door and step onto the rear porch.
Perfect for those times when you're in the mood for an alfresco dining experience.
Or you know, when you accidentally burn the toast and need some fresh air. We've all been there.
Now, let's talk about the great room. It's not just great; it's grand, it's magnificent, it's… okay, you get the point.
Whether you're in for a Netflix binge-watch or a heartfelt family game night, this space has you covered. And for those colder days?
The fireplace will become your best friend, ensuring you stay warm and toasty.
The master suite is nothing short of a dream. It's spacious enough that you won't elbow your partner when doing that weird sleep-dance at 2 AM.
Plus, the generous walk-in closet means you finally have a valid reason to go on that shopping spree.
Just next door is the guest suite – ideal for visitors or even as a second master. Because who says you can't have two best bedrooms?
For those of us who've embraced the WFH (Work-From-Home, for the uninitiated) culture, or just like a serene corner to ponder life's mysteries, the private office at the front is sheer perfection.
It's quiet, it's isolated, and best of all? No commute, unless you count walking from the bedroom in your pajamas.
I can't wrap up without gushing over the front and rear porches. Imagine sipping a cold drink on a warm evening, or perhaps enjoying the morning sun with a hot cup of coffee.
These porches aren't just architectural features; they're lifestyle upgrades.
In a nutshell, this modern farmhouse isn't just a house; it's a statement. It's about balancing cozy living with a modern twist, and sprinkling in some work-life harmony.
Under 2300 square feet has never felt so expansive, so luxurious, and so darn perfect. If houses could get standing ovations, this one would deserve a round of applause every day.
Plan 14751RK