Specifications:
2,350 Sq Ft
3 Beds
2.5 Baths
2 Stories
1 Cars
Hey there! Have you ever daydreamed about a home that mixes modern charm with a bit of rustic flair? Well, pull up a chair, because I've got a house plan to share that might just be the blueprint of your dreams.
We're talking about a 3-bed, Barndominium-style house that's not just a mouthful to say but also a feast for the eyes.
First off, let's address the elephant in the room – what on earth is a Barndominium? Picture a barn converted into a cozy, spacious home.
Now add a contemporary twist, and you've got this 2,350 sq ft beauty. It's a mix of country charm and modern living, like a cowboy wearing designer boots.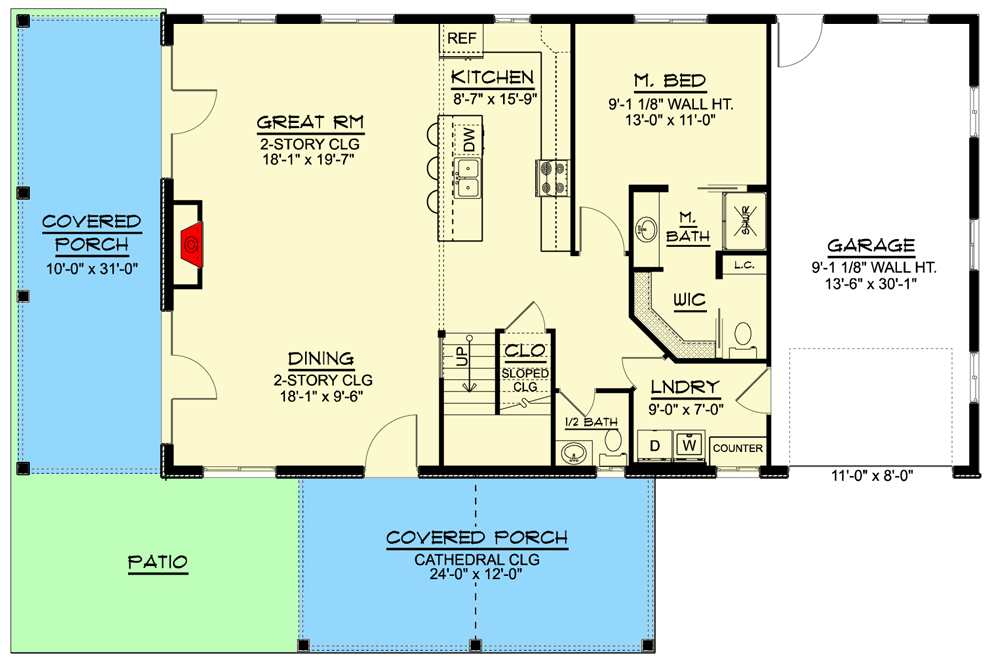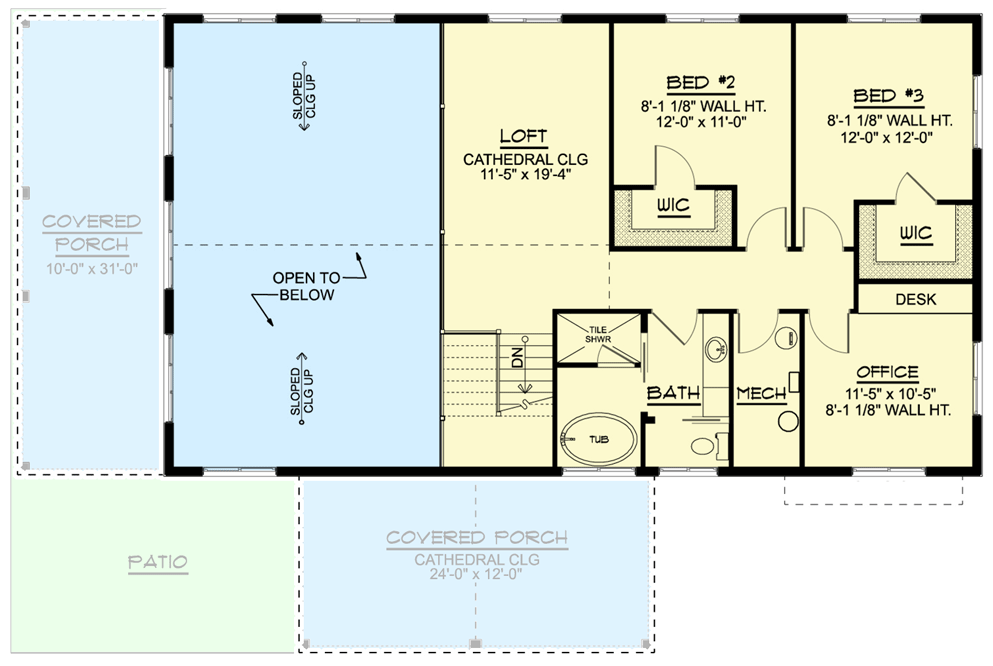 The heart of this house is the two-story great room. It's so airy and light, you'll feel like you're floating.
Imagine tall ceilings that seem to stretch to the sky, perfect for those who love space or have always wanted to juggle in their living room without hitting the ceiling.
And the ribbed metal roof? Not only does it look snazzy, but it's also as sturdy as your grandmother's resolve at a Thanksgiving sale.
Now, let's talk about those two doors flanking the fireplace. They're like a magical gateway, leading you from the plush interior to a tranquil outdoor living space.
It's the perfect setup for those evenings when you can't decide if you want to lounge by the fire or stargaze. Why not do both?
The master bedroom on the main level is a game-changer. It's your secluded retreat, complete with pocket-door access to an ensuite that's so convenient, you'll wonder how you ever lived without it. It's like having a secret passage to your own private spa.
Adjacent to the laundry room (yes, no more lugging laundry up and down stairs) is a powder bath that connects to the single garage bay.
This layout is so practical, it's almost magical. You could practically do laundry in your sleep – but let's not try that, okay?
Climbing upstairs, a loft greets you. It's like the balcony at a grand theater, but instead of watching a play, you're overlooking your own grand room.
It's a perfect spot for a reading nook or a place to judge your family's karaoke skills from above.
Bedrooms 2 and 3 are more than just rooms; they're sanctuaries. Each has its own walk-in closet, because let's face it, sharing closets can strain even the best relationships.
They share a compartmentalized bath, which is a fancy way of saying, "No more fights over bathroom time!"
Last but not least, the home office with a built-in desk completes the second floor. It's the ideal spot for those days when you're working from home and pretending not to be in pajamas.
The exterior finish is just as thoughtful as the interior. With vinyl board and batten cement board siding, it's like your house is wearing a durable yet stylish coat, ready for all seasons.
So, there you have it – a house that's as charming as it is practical, wrapped up in a Barndominium-style package. Whether you're a family looking for space to grow, a couple seeking a stylish retreat, or just someone who loves the idea of living in a chic barn, this plan has something for everyone.
It's a home that promises to be as unique as you are, with a personality to match. Now, all it needs is you to turn this dream into a reality. Happy house hunting!