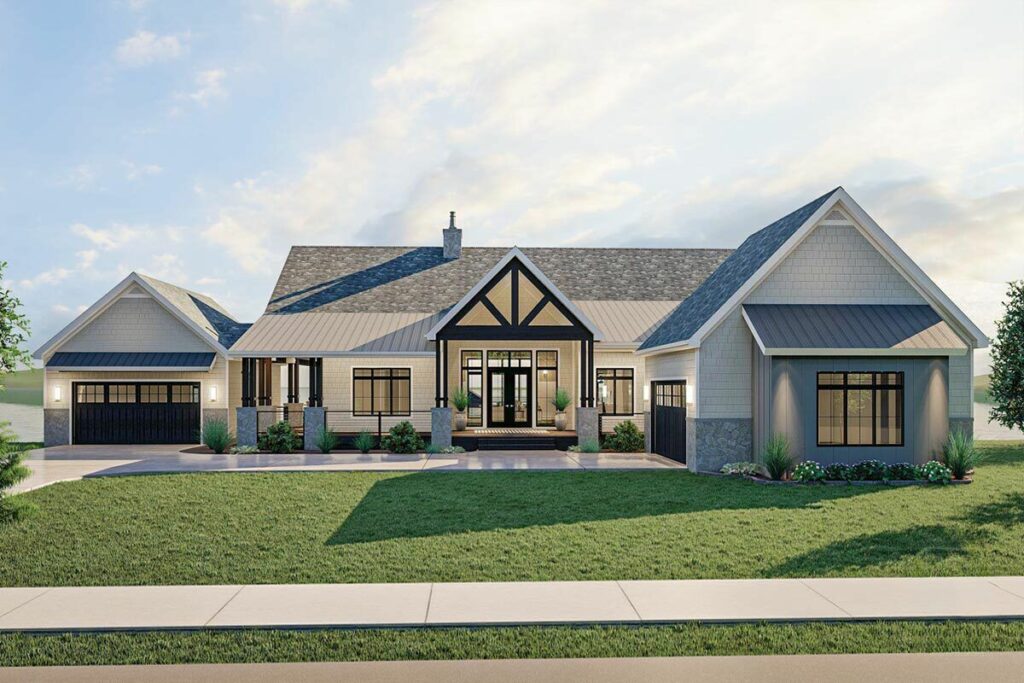 Specifications:
2,435 Sq Ft
3 Beds
2.5 – 4.5 Baths
1 Stories
4 Cars
Picture this: a cup of coffee in your hand, gentle lapping of lake waves in your ears, and a seamless blend of modern and classic architectural beauty as your backdrop.
That's not just a vacation; it's daily life in this New American Lake House Plan!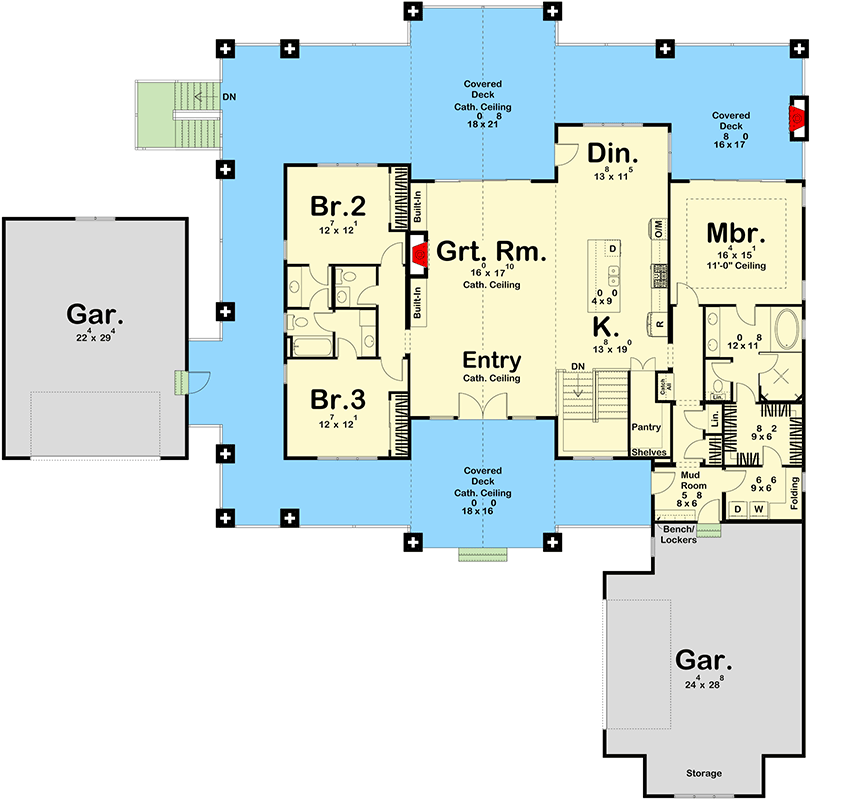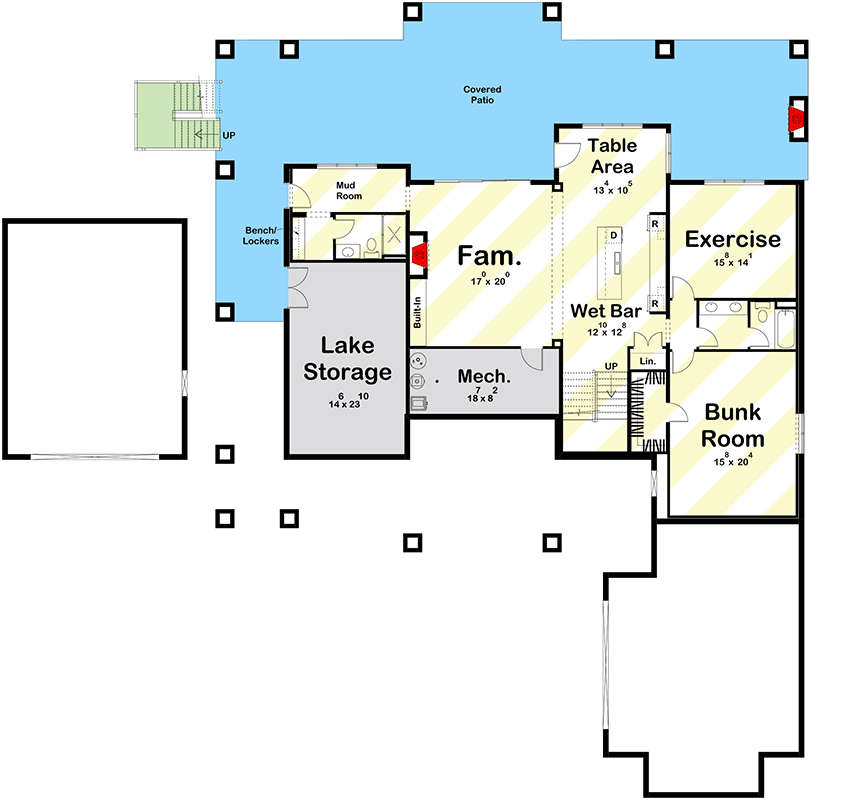 Ah, the serene tranquility of living beside a lake – it's practically therapeutic, offering you a daily canvas of rippling water and chirping birds! But what could make it even better?
A dreamy dwelling that not only embraces the natural beauty around but also does so with a hearty nod to elegance and function. And folks, I found a gem of a house plan that does just that!
Step into a world where the charm of Craftsman, the simplicity of country living, and the sleek elegance of a modern farmhouse converge, creating a dwelling that's as comfy as your favorite pair of jeans.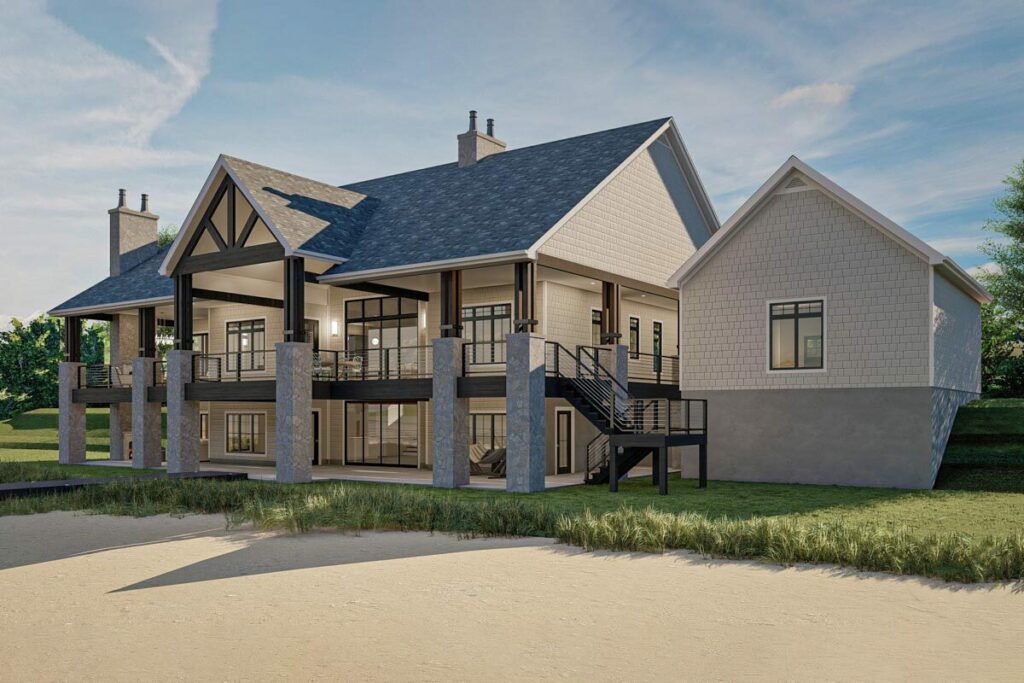 Imagine walking into an entry with a cathedral ceiling so high, you'd think it's trying to tickle the heavens! It flows (yes, like a calm brook) into the great room, where a warm fireplace flanked by built-in bookshelves whispers, "Come hither, let's snuggle with a good book."
But wait, it doesn't end there. The kitchen and dining area, not wanting to miss out on the fun, openly embrace the great room, allowing the aroma of your culinary adventures to tease everyone's nostrils.
A kitchen boasting not just a walk-in pantry sizable enough to possibly Narnia in there, but also an island with a snack bar, which I bet will become the unofficial gathering spot during parties. It's where scrumptious creations and juicy gossips are both served hot!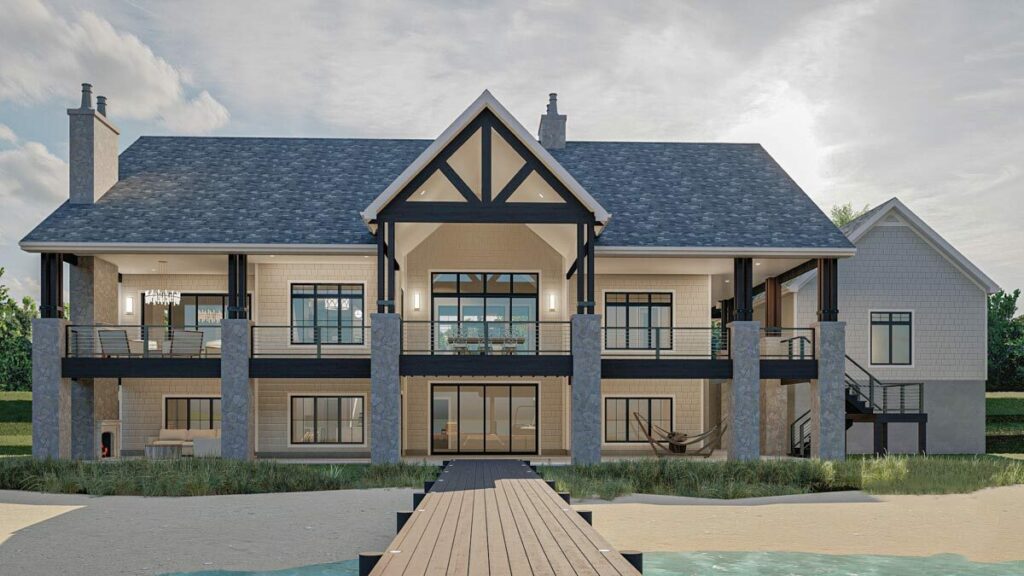 Sneak behind the kitchen, and voila – the master suite! A bathroom outfitted with his and her vanities (because sharing a sink is so last season), a soaking tub to melt the day away, and an enclosed toilet (a throne room for your royal highness).
Let's not forget the gigantic walk-in closet. I can almost hear the faint cries of your wallet, realizing how many shopping trips it will take to fill this baby!
To the left, bedrooms 2 and 3 are like two peas in a pod, sharing access to a Hollywood bathroom – because, hey, even in privacy, a smidge of glamour is never unwelcome.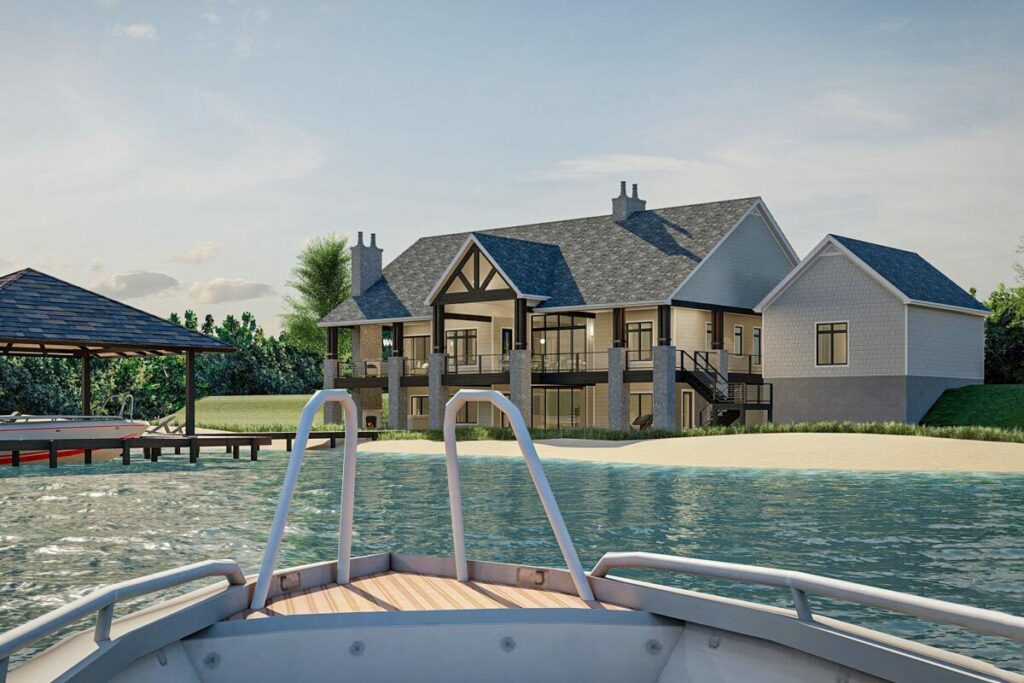 But what tickles my fancy the most is the full wraparound deck, connecting both split garages to the home, elegantly merging functionality with panoramic views of your lakeside haven.
It's not just a pathway; it's a continuous ribbon of serene outdoor space where you can stroll, play, or just be.
And those split garages! They aren't just placeholders for your 4-wheel beauties but an architectural statement, providing aesthetic balance, practical storage, and an extra sprinkle of fancy to the design.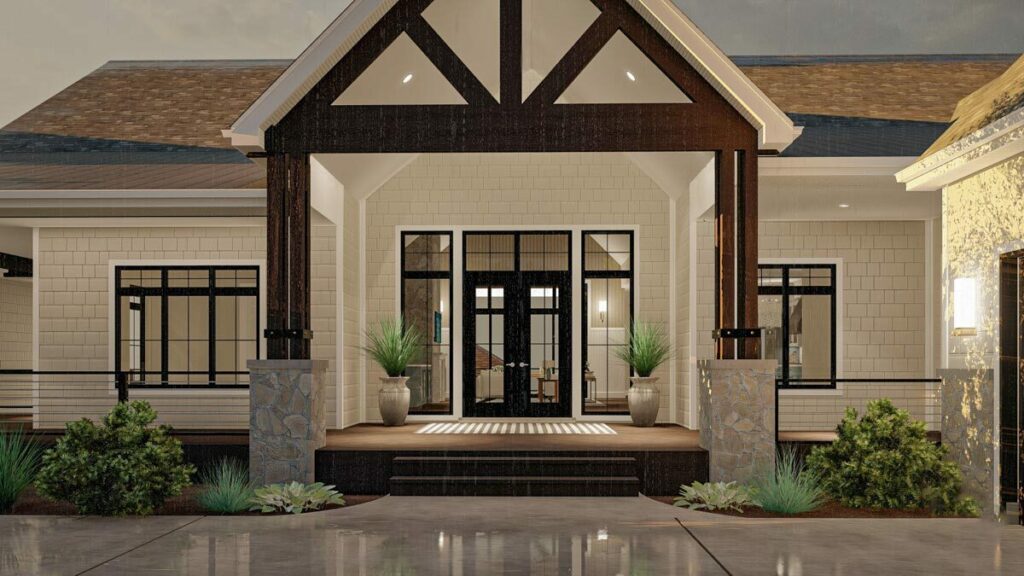 But, wait, there's more! Opt for a finished basement and unlock an additional 1,806 sq ft of utter awesomeness.
Imagine a table area for your game nights, an exercise room to burn off those extra cookies, and a bunk room that screams sleepover fun!
Plus, an extra family room (because one can never have too many rooms to chill in) and lake storage for all your aqua-adventure gear.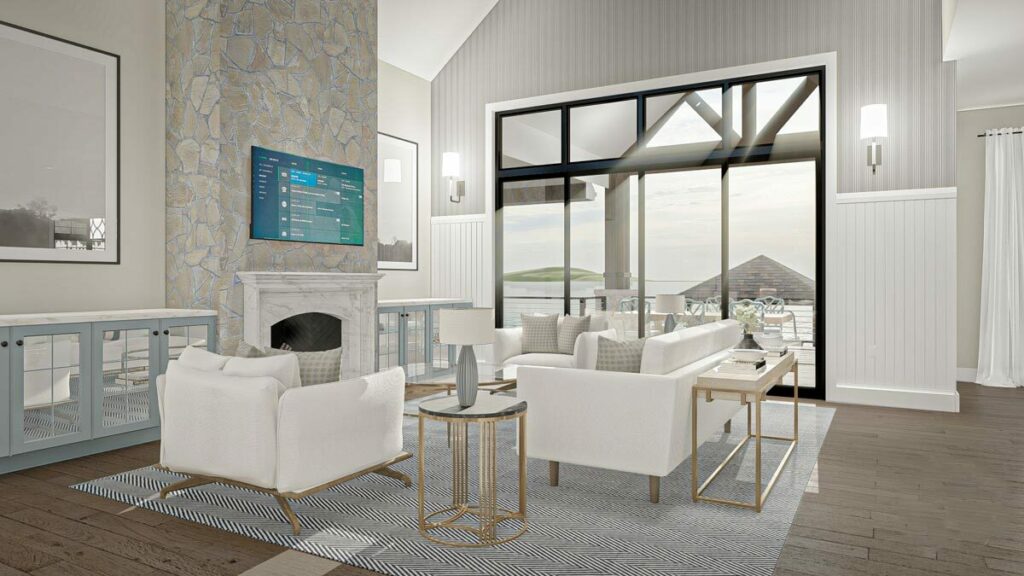 The exterior is a harmonious ballet of shake siding, wood beams, and generous windows, offering you natural light and nature's vistas on a platter, all while making your abode a scenic spot against the lakeside.
It's not just a house plan, folks. It's a seamless meld of everything you ever dreamt of in a lakeside dwelling, embracing nature with open arms, ensuring that every day feels like a blend between a peaceful retreat and a lively getaway.
This New American Lake House Plan isn't merely an amalgamation of wood, glass, and aesthetically pleasing materials.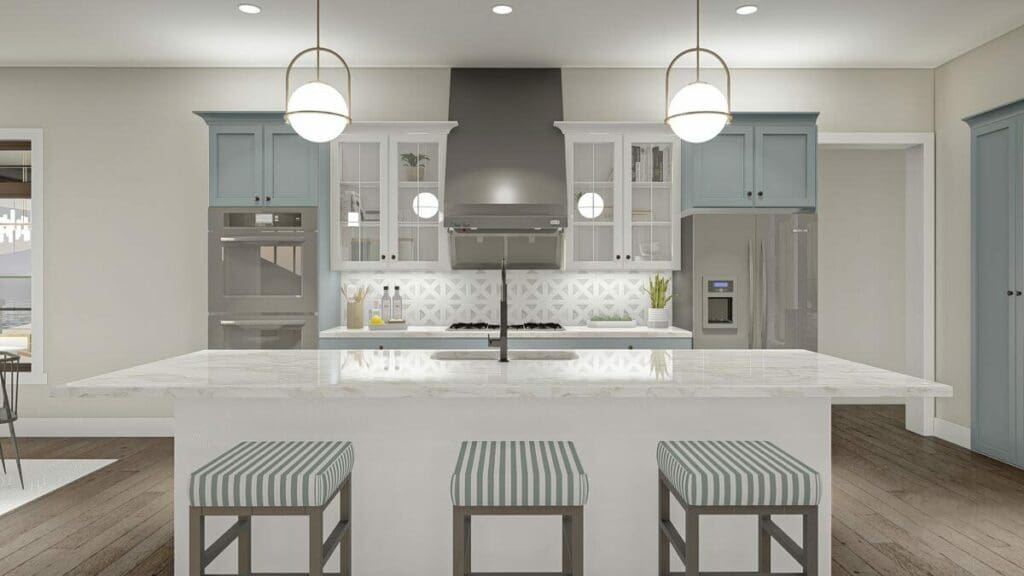 It's a lifestyle, a statement, and an embrace of both the tranquility of nature and the comforts of modern living.
It's where every sunrise over the lake is a personal show, and every rustle of the wind through the trees plays a lullaby just for you.
Every aspect, from the cathedral ceilings to the wraparound deck, to even the option of an expansive, amenity-rich basement, has been meticulously crafted, not just to provide shelter but to create a sanctuary where every day feels like a vacation and every moment is cradled in luxury and nature's embrace.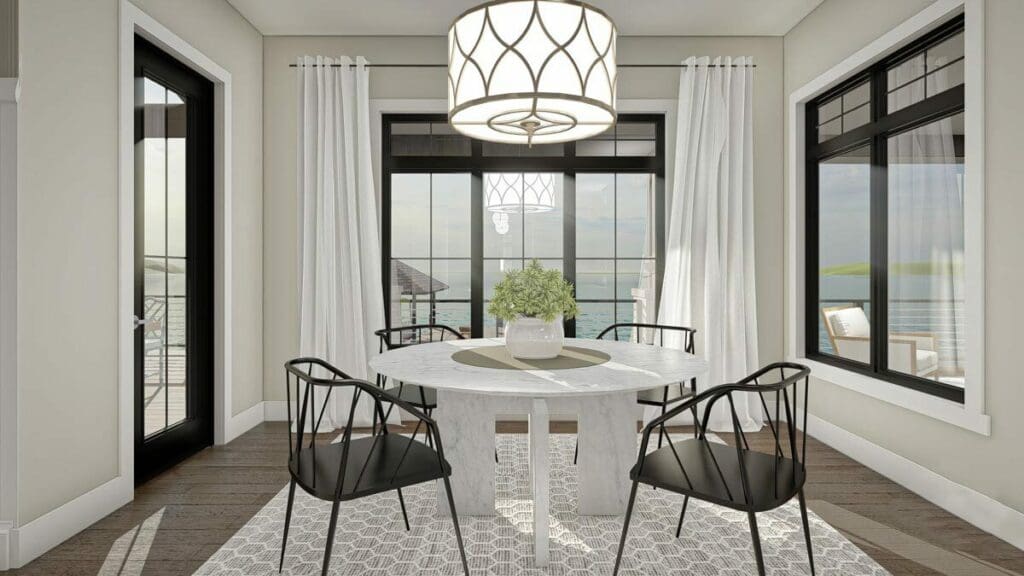 I mean, come on, who wouldn't want to live there? And if you've stuck with me till now, I bet you're halfway ready to pack your bags and make this dream a reality.
So, grab that coffee, perch on that dreamy deck, and dive into lakeside living with a home that's as charming and enchanting as the nature that envelops it.
Plan 62345DJ