Specifications:
3,270 Sq Ft
4 Beds
3.5 Baths
1 Stories
3 Cars
I've seen a lot of house plans in my day, but nothing screams "MOVE ME IN NOW!" quite like this one-story Mountain Ranch beauty.
I mean, if homes had Tinder profiles, this one would have you swiping right faster than you can say "dream kitchen."
Let's explore!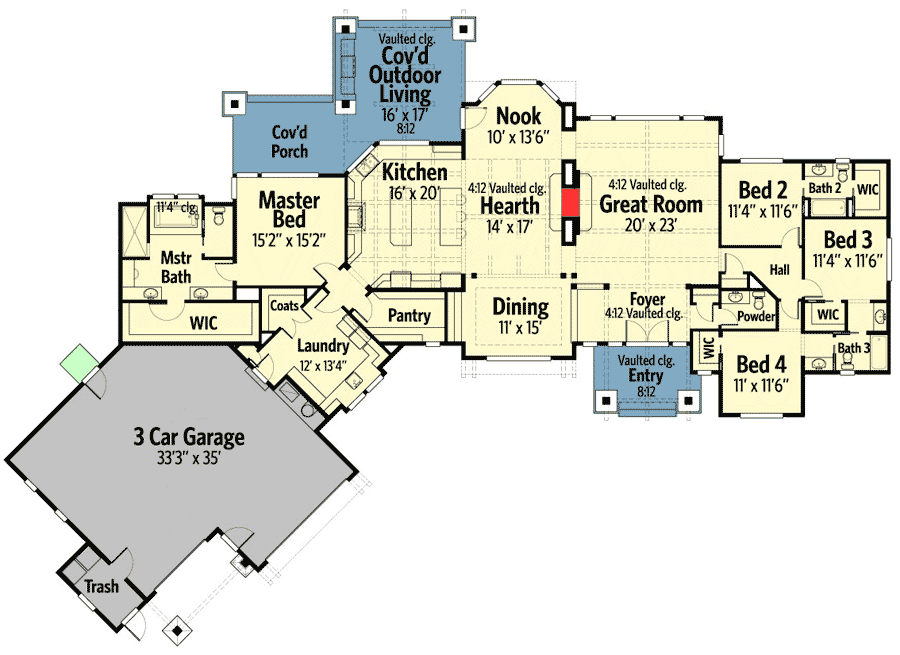 Let's start with the exterior, shall we? The beautiful decorative wood trim isn't just a cherry on top; it's the entire dessert platter. Before even stepping inside, it's clear that this home has taste.
And it's not the "wearing socks with sandals" kind of taste, it's the "red carpet ready" kind.
Remember when Dorothy steps into the colorful world of Oz for the first time? That's how you'll feel when you walk into this home's foyer.
Wide-open spaces that seem to stretch endlessly, with a vaulted and beamed great room that screams, "Come, lounge in me!" But hey, try not to drop your jaw or your shoes, because you'll want to keep moving.
Half walls ensure that the views aren't obstructed, providing a seamless transition from one room to the next. It's almost like the house is whispering, "Go on, take a look around."
And the columns? Well, let's just say that these aren't your ordinary columns. With special ceiling treatments sprinkled in, it's like living inside a piece of art.
An expansive piece of art.
Imagine your dream kitchen. Now add another island. Wait, make that two islands. Is your dream expanding yet?
With tons of counter space (because who hasn't been in the middle of prepping a feast and thought, "Where do I chop these veggies?"), this kitchen doesn't play games.
And let's not forget the walk-in pantry. It's so spacious, you might need a map to navigate it. Okay, maybe not a map, but you get the drift.
Speaking of cozy vibes, this house has a two-sided fireplace.
Yes, you read that right.
It's shared by the great room and the hearth room, ensuring that you have a warm and inviting ambiance no matter where you're curled up with a good book or a glass of wine.
The only dilemma? Deciding which side of the fireplace you love more.
Alright, confession time. We've all needed an escape from the chaos, be it from kids, guests, or that one uncle who can't stop talking politics at family gatherings.
Enter: the master suite. Nestled away from the other bedrooms, this private oasis promises a serene retreat.
Think of it as your personal recharge station, minus the USB ports.
In conclusion, this one-story Mountain Ranch home isn't just a home; it's an experience. With 3,270 sq ft, 4 bedrooms, and 3.5 baths, it offers more than enough space for memories, laughter, and maybe a few impromptu dance parties (just watch out for those islands in the kitchen!).
Plus, with room for 3 cars, you've got the green light to start that vintage car collection you've been daydreaming about. All in all, this isn't just a house; it's a dream waiting to be lived in. So, what are you waiting for? Let's turn that key and step into a new chapter!