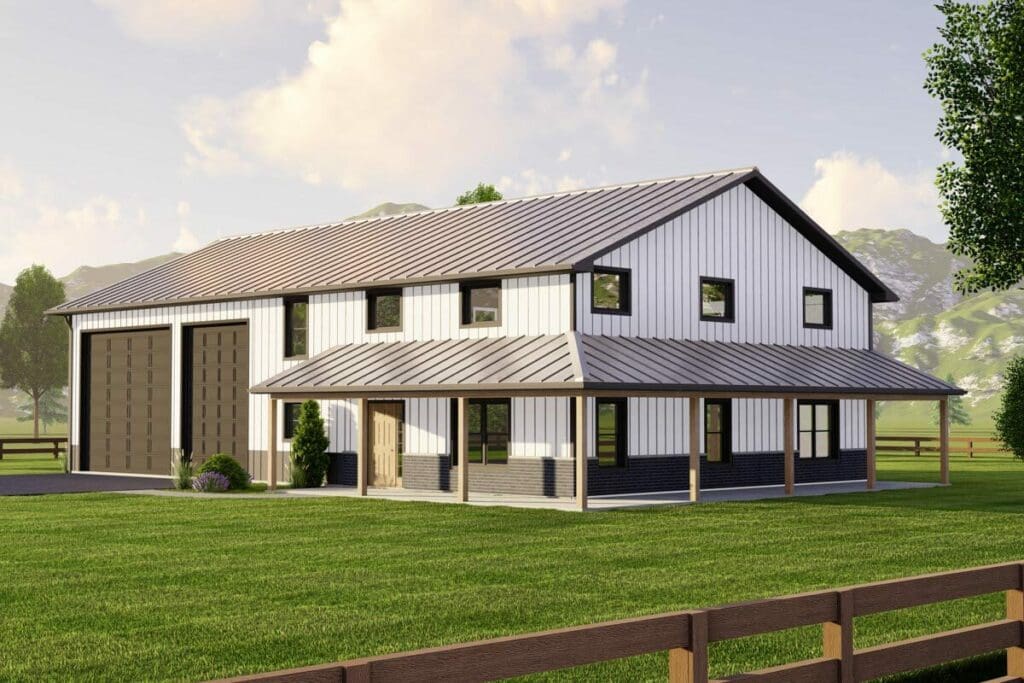 Specifications:
2,456 Sq Ft
3 Beds
2.5 Baths
2 Stories
2 Cars
Ah, the Barndominium – it's like the Swiss Army knife of homes, isn't it? Multi-functional, stylish, and just a bit quirky.
Let's dive into this 2,456 square foot beauty that's more than just a place to hang your hat. It's a lifestyle, a statement, and possibly the answer to your home-seeking prayers.
First off, let's talk about that wraparound porch. It's not just a porch; it's a lifestyle enhancer.
Imagine sipping your morning coffee while the world wakes up around you, or enjoying a sunset with a glass of something chilled. This porch isn't just an add-on; it's the stage for life's little moments.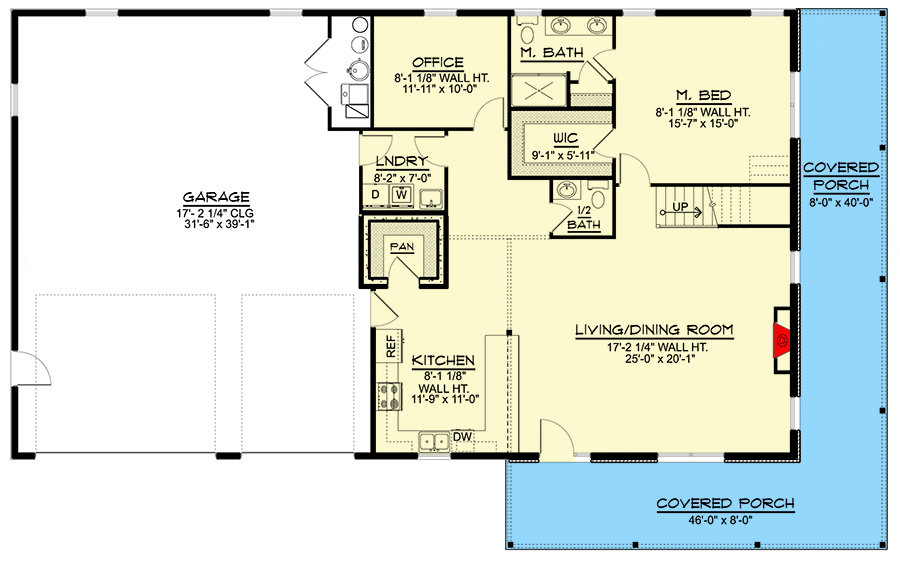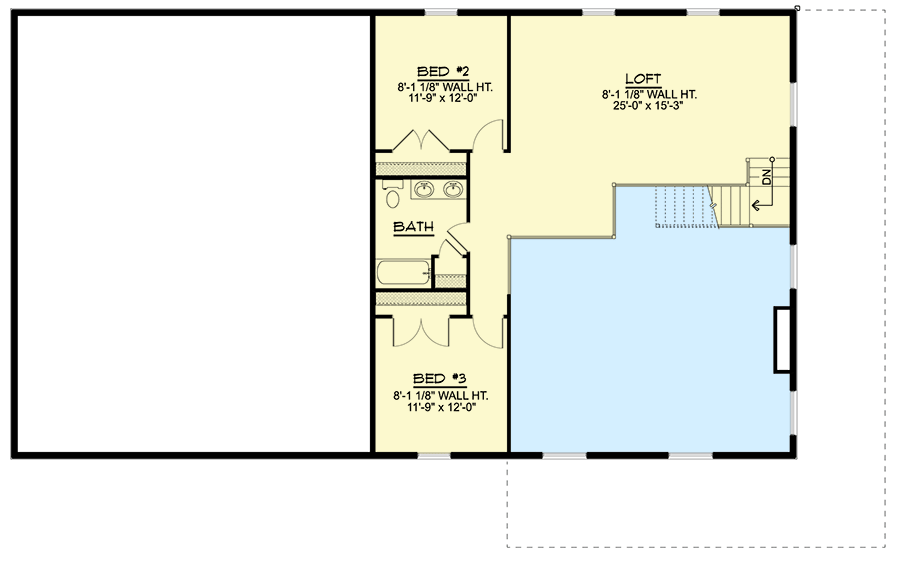 Now, step inside to the heart of the home – the open-plan living, dining, and kitchen area. If walls could talk, these would be buzzing with tales of laughter-filled dinner parties, cozy family movie nights, and perhaps the occasional dance-off.
The open plan is perfect for keeping an eye on the kids, socializing with guests, or just enjoying the feeling of space around you.
But let's not forget the pièce de résistance on the main floor – the master bedroom. This isn't just a room; it's a retreat. With a 5-fixture bathroom and a walk-in closet, it's like having your own personal spa. Who needs a weekend getaway when your bedroom feels like a luxury hotel?
For those of us who've embraced the work-from-home life (or just need a space to pay bills and scroll through social media), the home office is a dream. Positioned with a view over the backyard, it's the perfect spot to find inspiration or just daydream between emails.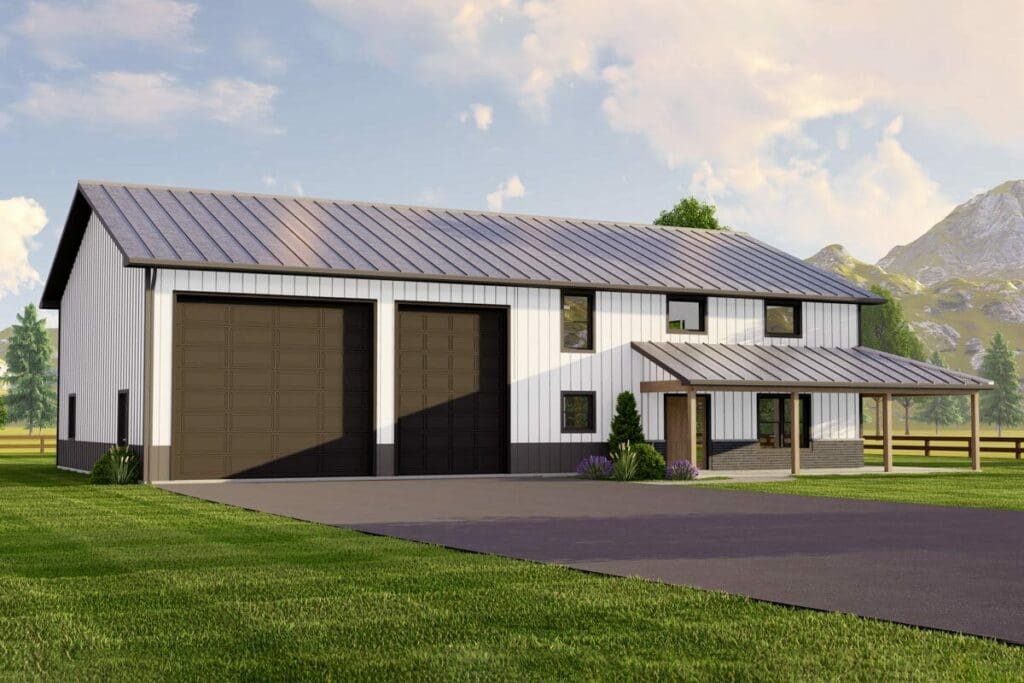 Heading upstairs, you'll find a loft that's begging to be a game room, a reading nook, or a hideout for teens. The two bedrooms, separated by a Jack-and-Jill bathroom with two sinks, are perfect for siblings who enjoy their privacy but still need to negotiate over sink time in the mornings.
Now, let's chat about the exterior. Corrugated metal siding gives this Barndominium a modern, industrial edge. It's like the home is wearing a stylish, steel jacket that not only looks cool but also laughs in the face of harsh weather.
But wait, there's more! The 3-car garage with oversized doors is not just a garage; it's a potential man cave, a workshop, or just a really spacious place to park your cars.
With room for three vehicles, it's perfect for the car enthusiast, or for those who just hate playing musical chairs with their cars every morning.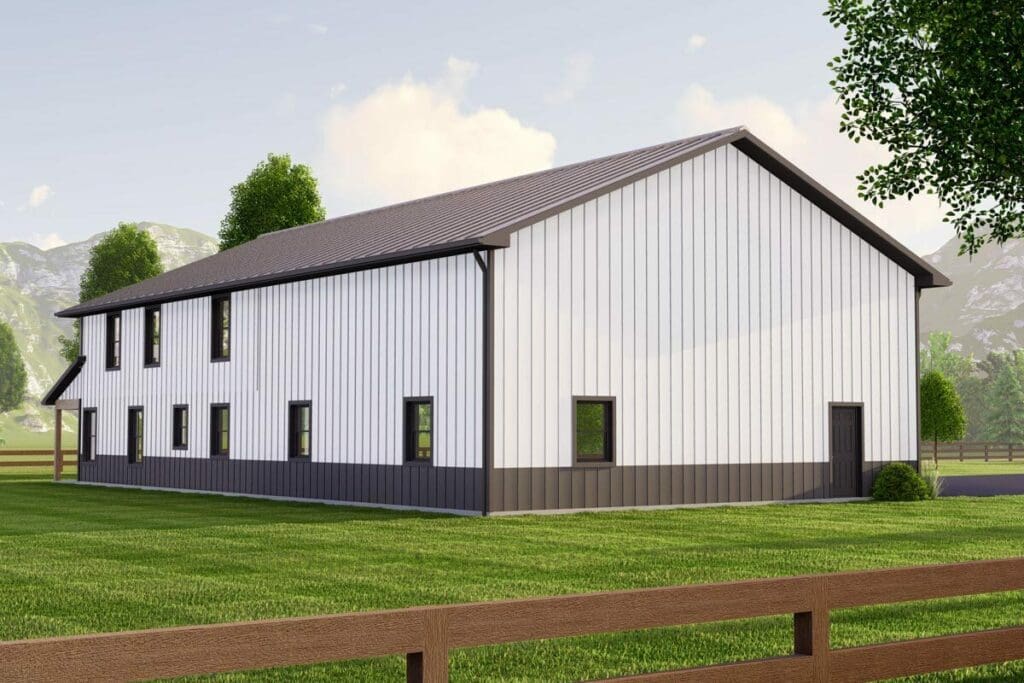 This Barndominium is more than a house; it's a character. It's the kind of home that doesn't just sit on a street; it makes a statement.
It's for the family who wants the charm of a traditional home with a modern twist. It's for the couple who loves to entertain. It's for the individual who wants their home to be a reflection of their unique style.
In a world where homes often look like cookie-cutter replicas of each other, this Barndominium stands out. It's a blend of functionality, style, and a little bit of that 'wow' factor. With 2,456 square feet of living space, it's just the right size to feel spacious without being overwhelming.
The 3 bedrooms ensure that everyone has their own space, while the 2.5 baths mean fewer morning traffic jams. And let's not forget the two stories – because who doesn't love a home with a bit of vertical variety?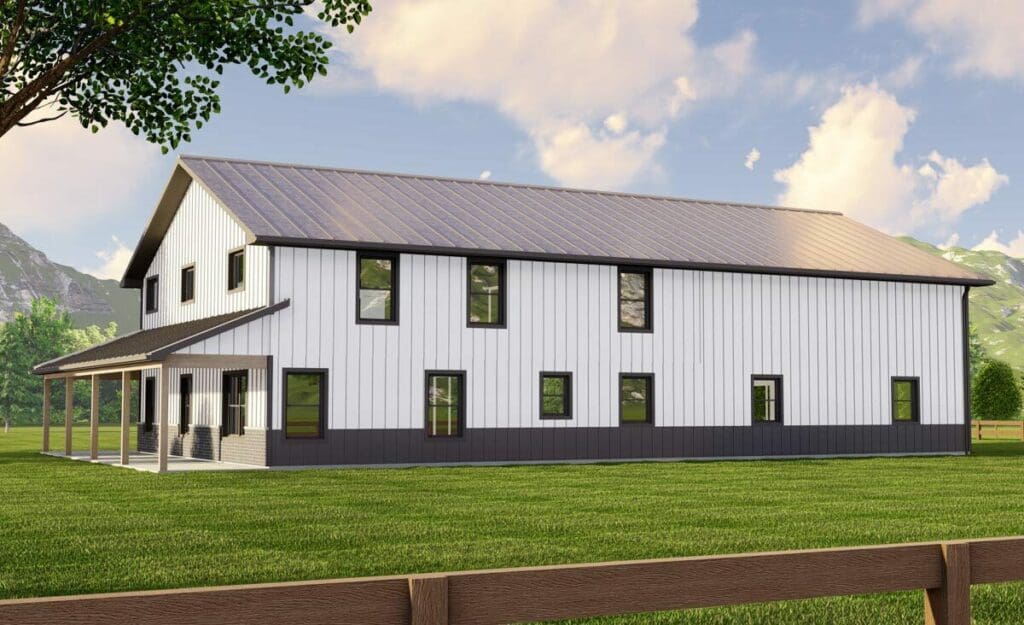 But it's not just about the specs. This home is about creating a space that feels both welcoming and impressive. It's about having a place where every room has a purpose and every design element tells a story. It's about creating a home that's as unique as the people who live in it.
So, if you're in the market for a home that breaks the mold, this 3-bed Barndominium with an office and an oversized garage might just be your match made in architectural heaven. It's practical, it's stylish, and it's waiting for someone like you to fill it with life, laughter, and memories. Welcome home!