Specifications:
2,776 Sq Ft
4 Beds
3 Baths
2 Stories
4 Cars
Ah, the barndominium – it's like the mullet of home designs: business in the front, party in the back! Only in this case, the party is a colossal 3,570-square-foot garage perfect for car enthusiasts, hobbyists, or anyone who just needs a little extra space to breathe.
Today, let me walk you through a barndominium that's not just a feast for the eyes, but also a functional marvel, boasting 2,776 square feet of living space, 4 bedrooms, 3 bathrooms, and towering 2 stories.
Let's dive in and explore what makes this house plan a dream come true for many!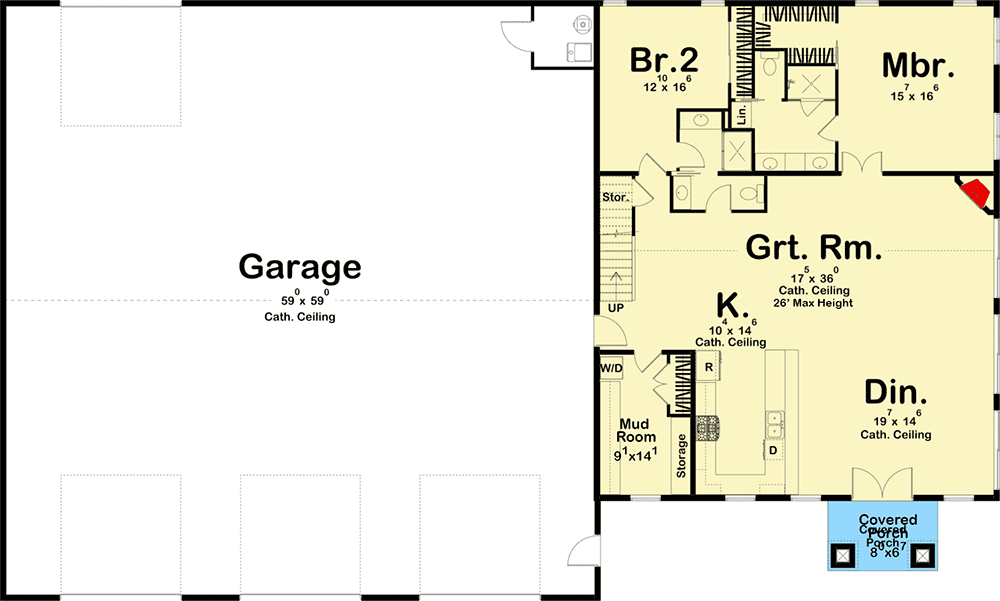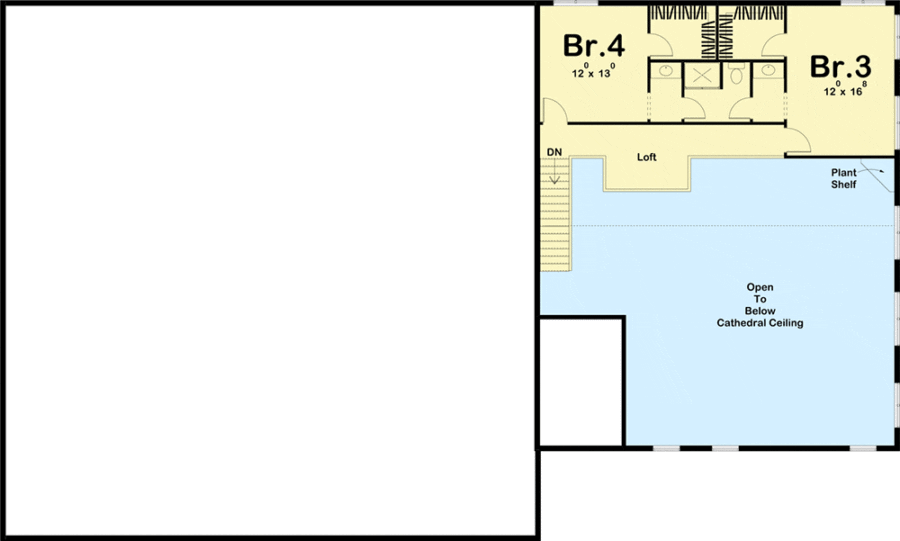 First things first, let's talk about that massive garage. Four cars? No problem! This space is so big; you could probably host a dance party in there and still have room to park your cars. The beauty of having such a massive garage is the versatility it offers.
It's a blank canvas ready to adapt to your hobbies and storage needs. Want to set up a home gym? Go for it! Need space for your woodworking projects?
You've got plenty of it! And of course, for the car enthusiasts out there, this garage is nothing short of automotive paradise.
Moving on to the living space, the first thing you'll notice as you step inside is how the wide-open floor plan makes you feel like you've walked into an airy, expansive haven.
The dining area, kitchen, and great room are all part of a grand visual feast, crowned by a stunning 26-foot-high cathedral ceiling. It's like the Sistine Chapel of living rooms, only you don't have to travel to Italy to see it!
The kitchen is a chef's dream, featuring a snack bar for those informal meal times or quick bites, and a large walk-in pantry ensuring you have all the space you need for your culinary creations.
It's the perfect setting for cooking up a storm or just hanging out with a glass of wine, pretending you're on a cooking show. "And here, we have the secret ingredient to elevate our dish…"
Now, let's talk about the sanctuary of tranquility – the master bedroom. Conveniently located on the main level (because who wants to climb stairs after a long day?), this room is a haven of comfort.
It boasts his/her vanities, ensuring morning routines are a breeze, and a walk-in closet that might just make you feel like royalty. Another bedroom is nestled on this floor, sharing a bathroom with the living space, perfect for guests or family.
Venture upstairs, and you'll find yourself in the loft area, a space that overlooks the living room in all its cathedral-ceiling glory. This lofty space houses 2 additional bedrooms, ensuring that there's ample room for family or friends to enjoy a peaceful night's sleep.
The beauty of this barndominium is in its thoughtful design, effortlessly blending grandeur with coziness. The two-story layout ensures that there's a clear distinction between communal and private spaces, providing room for lively gatherings and quiet retreats alike.
Whether you're hosting a movie marathon in the great room or seeking solace in the master bedroom, this house plan understands your needs and delivers on all fronts.
At the end of the day, what makes a house a home is how well it aligns with your lifestyle. This barndominium, with its massive garage, open floor plan, and thoughtful bedroom placement, offers a living experience that's as versatile as it is delightful.
It's a space where memories are made, hobbies are nurtured, and everyday life feels a little bit more extraordinary.
So, if you've ever dreamed of having a home that's as spacious as it is stylish, this barndominium might just be the perfect blueprint for your next adventure in living. Welcome home!