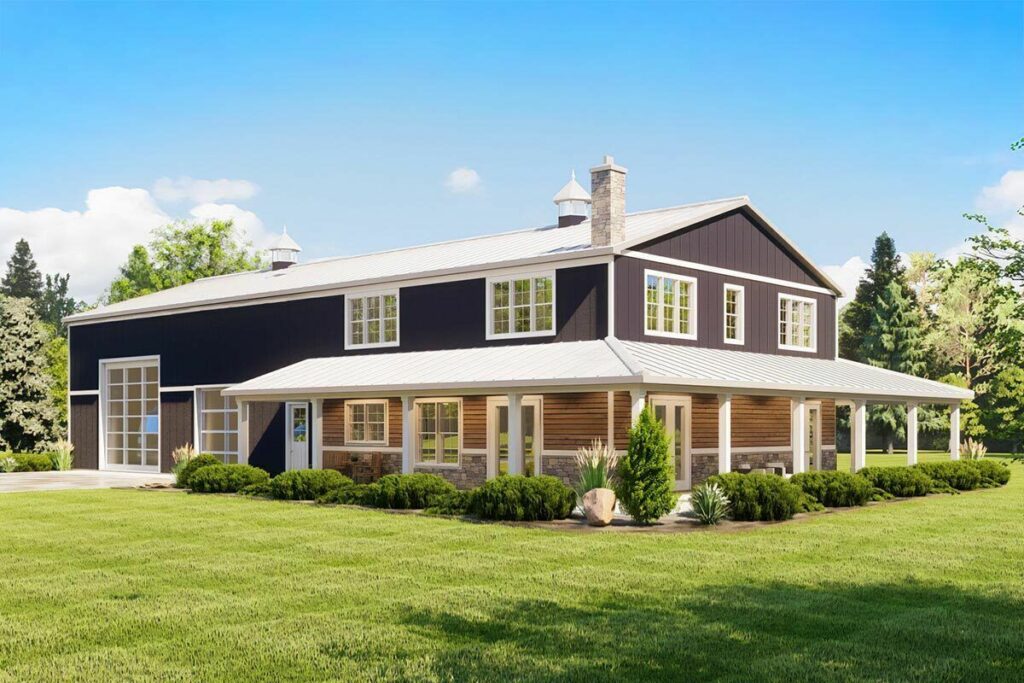 Specifications:
2,682 Sq Ft
3 Beds
3.5 Baths
2 Stories
2 Cars
Ah, the dream of country living – where the air is fresher, the stars brighter, and the homes… well, they're something straight out of a modern-day pastoral fantasy.
Today, let's mosey through the charming nooks and crannies of a house plan that's as unique as it is practical: a Country-Style Barndominium with a Drive-Through RV Bay and a Wraparound Porch. Sounds like a mouthful, but trust me, it's a handful of delight!
Picture this: 2,682 square feet of pure, unadulterated country bliss. This isn't just a house; it's a statement.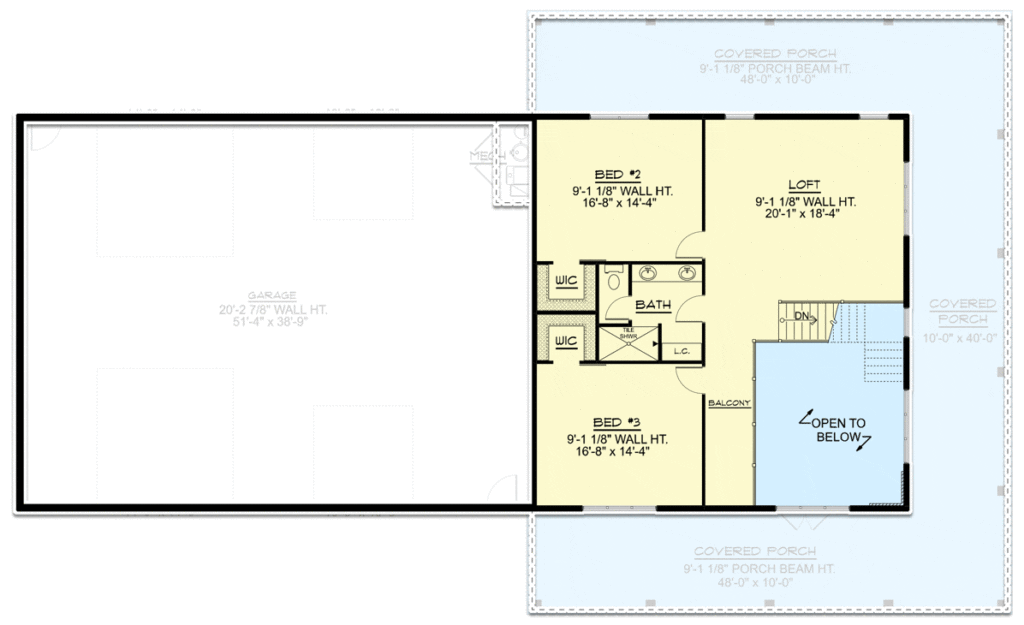 With a mix of vertical and clapboard siding topped off with a sturdy metal roof, this Barndominium-style house plan is the architectural equivalent of a firm handshake – it means business, but with a friendly smile.
Step inside, and you're greeted by a living room that's so open and inviting, you half expect a Disney princess to be singing in the corner with woodland creatures harmonizing.
The living room seamlessly flows into an eat-in kitchen, where the aroma of freshly baked pies seems to linger in the air. It's a space that's perfect for both cozy family dinners and raucous game nights.
The master bedroom, conveniently located on the main level, is more than just a place to crash after a long day. It's a retreat.
The attached bathroom boasts a tile shower that's so spacious, you could perform a Broadway musical in there. And let's not forget the shortcut to the laundry room – because who hasn't wished for a magic portal to avoid carrying laundry across the house?
Ascend to the upper level, and you'll find a loft that overlooks the living room. It's the perfect spot for a reading nook, a home office, or a place to ponder why we never see baby pigeons.
The two additional bedrooms, each with walk-in closets, share a full bath. These rooms are so cozy; guests might need a crowbar to pry themselves out.
Now, let's talk about the garage – because this isn't just any garage. It's a 2,123 square foot wonder with two drive-through bays.
The left bay, with its 14′ by 14′ overhead doors, can accommodate an RV. That's right, your very own rolling home can have a home inside your home.
The other bay, with 10′ by 10′ overhead doors, is perfect for cars, bikes, or a secret superhero vehicle – no judgment here!
The crown jewel of this country-style barndominium is, without a doubt, the wraparound porch. It's not just a porch; it's a lifestyle.
Picture yourself sipping iced tea on a lazy Sunday afternoon, waving at neighbors, or simply watching the world go by. This porch wraps around the living room and master suite like a warm hug from an old friend.
In a house like this, every space is thoughtfully designed. The shortcut from the master suite to the laundry room isn't just convenient; it's a game-changer.
And the loft upstairs isn't just a space; it's a versatile haven. Whether you're setting up a home theater, a library, or a space for your yoga mats, this loft is ready for anything.
While the wraparound porch might steal the show, let's not forget the rest of the outdoor space. With 2,682 square feet of living area, there's plenty of room for gardens, a fire pit, or even a small army of garden gnomes. The possibilities are as endless as the horizon.
This barndominium is more than just a summer fling; it's a home for all seasons. Imagine the fall colors surrounding you as you enjoy a hot cocoa on the porch, or watching the snowfall in winter, cozy and warm in your spacious living room.
Spring brings blooms and birdsong, and summer, well, that's porch season at its finest.
So, is this Country-Style Barndominium with a Drive-Through RV Bay and a Wraparound Porch the dream home? Absolutely. It's a blend of practicality and whimsy, a place where every corner holds a new delight.
From the spacious garage to the cozy upstairs bedrooms, from the sprawling porch to the inviting living spaces, this house plan is more than just a set of blueprints.
It's a blueprint for living a life full of warmth, comfort, and a touch of country magic.
In conclusion, if you're in the market for a home that combines the charm of country living with modern amenities and a dash of unique flair, this barndominium is calling your name.
And who knows? Maybe those Disney princesses and their woodland creatures will show up after all. One can always dream, right?