Specifications:
2,155 Sq Ft
3 Beds
2.5 Baths
2 Stories
3 Cars
Grab your flannel shirts and let's saddle up, folks!
We're about to embark on a journey into rustic living at its finest, and we're doing it Barndominium-style.
Let's start the journey!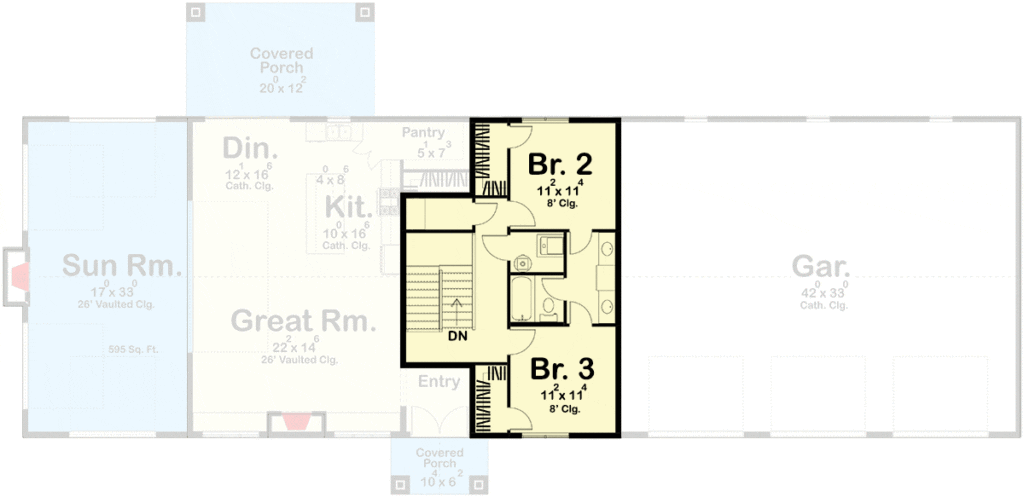 Imagine walking up to a house with a simple roofline, adorned with natural wood siding, that screams "I'm rustic, but I also have a touch of elegance." Before you stands our featured Barndominium – a house that deftly combines the barn's rustic charm with a modern condominium's comforts.
It's a house that says, "Yes, I love the rural lifestyle, but I also enjoy my creature comforts, thank you very much."
Now, hold onto your cowboy hats as we swing open one of the house's most exciting features: overhead doors. Picture this – you're sitting in the massive sunroom, basking in the warmth of the crackling fireplace.
With a mere push of a button, the room transforms, opening up to the great outdoors with not one, not two, but FOUR overhead doors. Breathe in the fresh air, listen to the birds chirping, and maybe even invite a squirrel in for a quick chat.
That's not all, another overhead door in the sunroom, leads directly into the main living area, creating an effortless connection between indoor and outdoor living spaces.
You'll feel like you're outside even when you're comfortably lounging on your favorite couch. It's nature's version of reality TV, only without the scripted drama.
Let's mosey on into the heart of this Barndominium – the great room, kitchen, and dining room. This open floor plan makes the space feel both expansive and inviting.
Imagine sipping your morning coffee by the roaring fireplace, encased by built-in bookshelves teeming with your favorite novels and mementos.
Or how about concocting a sumptuous dinner in the kitchen, complete with a large island and a walk-in pantry so massive, it could hide a year's worth of canned beans.
When the sun sets, retreat to the luxurious master suite tucked quietly behind the kitchen. The master bath, complete with his-and-her vanities and an enclosed toilet area, makes getting ready for the day a delight.
And let's not forget the oversized laundry room on the main floor, complete with a large folding counter. Yes, you might actually start to enjoy laundry days!
The second floor of this stunning Barndominium includes two bedrooms sharing a Jack and Jill bathroom. Perfect for siblings, guests, or maybe just an impromptu pillow fight.
Just when you thought we were done, let's ride over to the three-car garage. With its three 9′ by 8′ garage doors, you'll have plenty of space to park your favorite vehicles. And yes, that includes your horse, if the mood strikes you.
In a nutshell, this 2,155 sq ft rustic Barndominium house plan with its 3 beds, 2.5 baths, two stories, and a three-car garage is more than just a home.
It's a retreat, a sanctuary, a place where you can wrap yourself in the comforting embrace of nature, all while enjoying the modern amenities we've come to cherish. So, giddy-up and embark on your Barndominium adventure today! Yee-haw!
Plan 62384DJ