Specifications:
1,373 Sq Ft
3 Beds
2 Baths
1 Stories
2 Cars
Howdy there, future homeowners and home enthusiasts!
Today, I'm thrilled to take you on a delightful tour of a 3-bedroom New American Country home plan that's brimming with rustic charm and modern comforts.
This 1,373 sq ft gem boasts an open concept living space that's perfect for hosting family gatherings, entertaining friends, or simply enjoying your own company.
So put on your imaginary hard hats, and let's dive right into this amazing abode!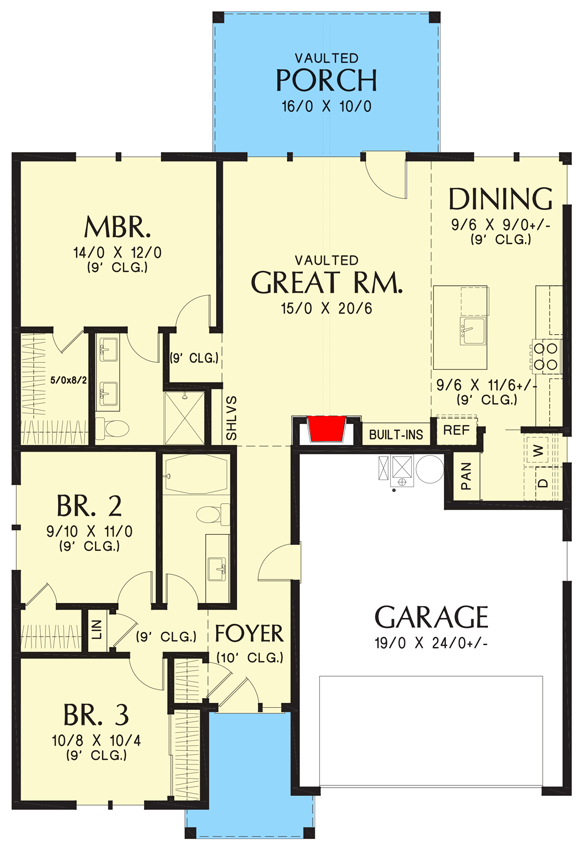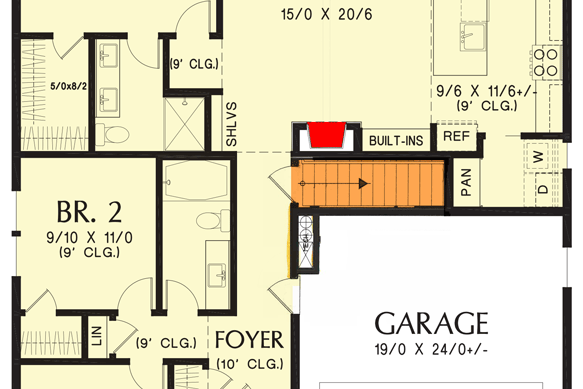 First impressions matter, and this country home plan knows how to make a grand entrance!
The rustic, vertical siding gives the house an enchanting allure, drawing your gaze upward to the steeply pitched gables that adorn the roofline. It's like love at first sight – the kind that makes you say, "I'm home!"
As you step through the double garage or the formal entryway, you'll be greeted by a coat closet, waiting eagerly to house your personal items and outdoor gear.
Hey, even our jackets and scarves deserve a cozy spot, right? A place for everything and everything in its place – that's the mantra here!
Now, let's head to the heart of the home, where memories are meant to be made – the shared living spaces. And boy, do we have a treat for you!
The open layout encourages family and friends to come together, mingle, and create unforgettable moments. Whether you're cheering on your favorite sports team or hosting a cooking showdown, this home has got you covered!
Calling all aspiring master chefs and culinary wizards – the kitchen is your domain! Picture this: a spacious kitchen island, perfect for prepping ingredients or casually sipping your morning coffee.
Oh, and the adjoining dining area? Just the spot to share laughs and delicious meals with your loved ones. And here's a secret surprise – a pocket door that reveals the laundry room! Multitasking made easy – cheers to that!
The great room is aptly named, and for good reason! Three oversized windows line the rear wall, allowing an abundance of natural light to flood the space.
Sun-kissed mornings and cozy evenings – the choice is yours. Imagine gazing out onto your back covered porch, where lazy afternoons and stargazing nights await you. Ah, bliss!
After a long day of work or play, we all need a private sanctuary to unwind and recharge. Welcome to the master bedroom – your peaceful retreat.
Slip into relaxation mode as you find yourself enveloped in tranquility. But wait, there's more!
A 4-fixture bathroom and a walk-in closet await, making your morning routines smoother than a well-choreographed dance!
Not to be outdone, a hallway just off the foyer guides you to bedrooms 2 and 3. It's like a path of cozy wonders leading to dreamland!
These charming bedrooms share a hall bath, adding a touch of convenience to your daily life.
In conclusion, dear friends, this 3-bed New American Country home plan is a masterpiece of coziness and modern living.
With its charming rustic exterior, open concept living space, and thoughtful design, it promises to be a place where you'll create cherished memories and embrace the joys of homeownership. So, what are you waiting for? Start planning your future in this enchanting abode – you won't be disappointed!
Remember, a house is not just a building; it's a place that holds laughter, love, and the sweetest moments life has to offer.
And with this New American Country home plan, those moments are bound to be extraordinary! Happy house hunting, my friends, and may your dreams of a perfect home come true!
Plan 69774AM