Specifications:
1,425 Sq Ft
3 Beds
2 Baths
1 Stories
Welcome, ladies and gentlemen, to a guided tour of your dream abode.
A cozy 3-bed Southern Country Home Plan that's all about charm, comfort, and, drumroll please…space efficiency!
Come, let's tiptoe through its lovely corridors.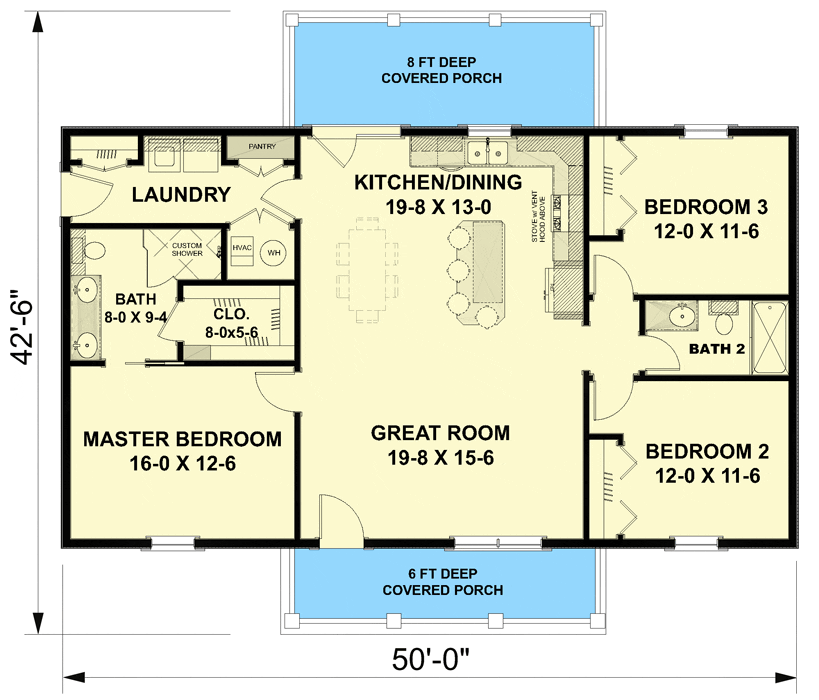 An unassuming rectangle at first glance, this beautiful ranch-style home is much more than just four walls and a roof. It's like a well-wrapped present – simple on the outside, but filled with delightful surprises within.
In the spirit of the phrase "good things come in small packages," our humble 1,425 sq ft space plays a perfect tribute.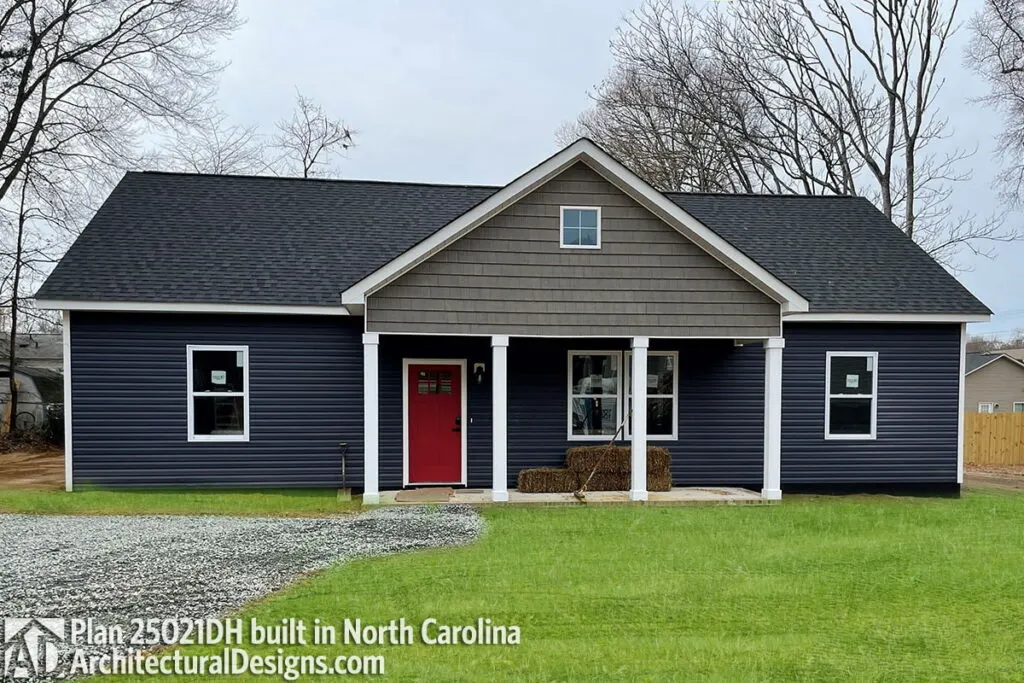 Let's start from the front porch, a picture of warm hospitality. Poured a cup of southern sweet tea yet? This porch and its twin at the back are just the spots for sipping it while you take in the sounds and sights of nature. They serve as your personal grandstands for those glorious sunrises and sunsets.
Here, you can hold court with Mother Nature herself, with the occasional squirrel dropping by for guest appearances.
Right behind the welcoming door is the formal entryway, from where you step into the house's nerve center – the heartbeat, if you will.
A fusion of the great room and the eat-in kitchen, it's where you'll host everything from Netflix binges to the Thanksgiving spread, and maybe even that legendary 'floor-is-lava' match.
The kitchen island, complete with a counter-high wrap-around snack bar, is the home's piece de resistance. It's like having your own personal Starbucks, minus the overpriced lattes.
As for the 8′ deep porch, it makes for an ideal grilling station, letting you show off your inner MasterChef while offering a front-row seat to the starry countryside nights.
Now, let's walk you over to the master suite. Positioned strategically on the left side of the home, it's your personal sanctuary, perfectly encapsulating the phrase "my space". It flaunts a walk-in closet that's roomy enough to double as a mini fashion runway.
Add to that a luxurious 4-fixture bath with dual sinks – because who wants to jostle for mirror space during the morning rush, right?
On the flip side of the house, bedrooms 2 and 3 sit like perfect twins, separated only by a handy hall bath. These bedrooms prove that hospitality and privacy can indeed go hand in hand.
Imagine your guests waking up to the smell of freshly brewed coffee without the fear of bumping into someone still in their PJs!
Lastly, tucked away quietly is the superhero of home spaces: the laundry / mudroom. This unassuming powerhouse comes equipped with a utility sink and a coat closet, proving once again that we're all about optimizing spaces here.
Whether it's muddy boots, wet raincoats, or that stubborn ketchup stain, this room has got your back.
In short, this 3-Bed Southern Country Home Plan is the perfect blend of simple elegance and practical functionality. It's not just a house, it's a home that understands you. The spaces are intelligently designed for modern needs while maintaining the charm of a traditional southern ranch.
With a floor plan that encourages both togetherness and personal space, this house is ready to embrace you, your lifestyle, and your memories.
As they say, "Home is where the heart is". Well, this home is ready to win yours. Over and out!
Plan 25021DH