Specifications:
2,607 Sq Ft
4 Beds
2.5 Baths
1 Stories
2 Cars
Let's get real for a second: house hunting or planning can be a downright exhausting ordeal.
There are countless Pinterest boards full of dream homes, but sometimes, dreams aren't exactly… practical.
Enter the 2,607 sq ft modern farmhouse plan. This isn't just a house; it's the set of the next blockbuster rom-com where you're the star.
And here's why: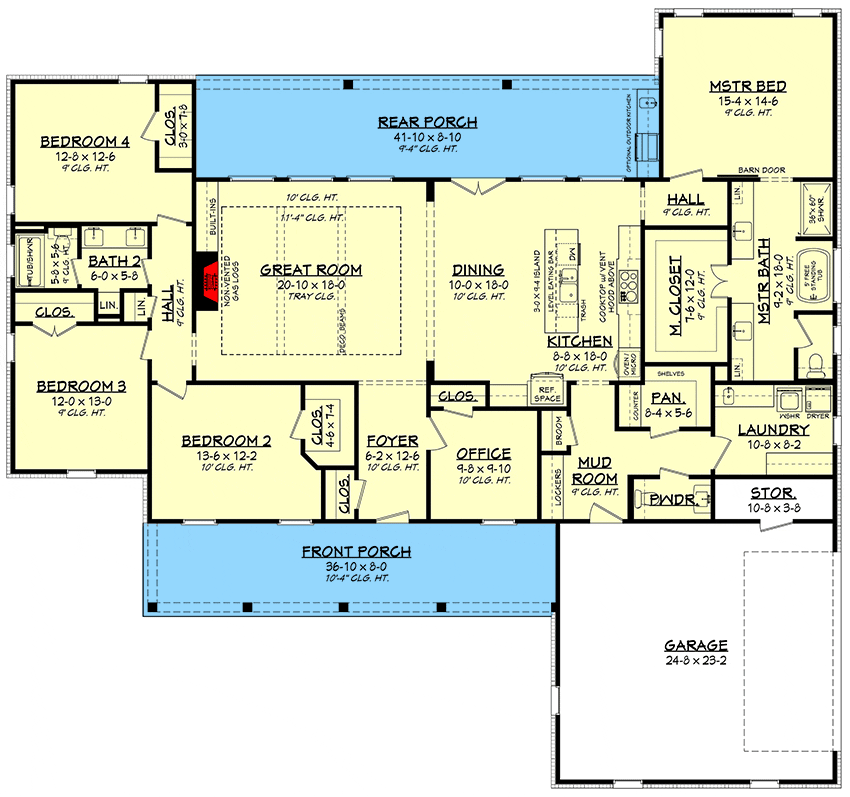 Isn't life complicated enough without adding stair workouts to our daily routine? With this modern farmhouse plan, one story means all your daily essentials are just a hop, skip, or lazy shuffle away.
With 4 bedrooms, a spacious living space, a home office, and not one but two porches, it's clear that this home was designed for those who want to have their cake and eat it too (right in that spacious eat-in kitchen).
Walk into the foyer and what do you see? A coat closet strategically placed so guests don't see that jacket collection you swore you'd downsize. And on the right? Your own home office – because "working from home" shouldn't mean "working from bed… again."
With wooden beams overhead, this great room feels rustic and modern all at once. The gas fireplace? It's not just for marshmallow roasting (though we recommend it).
With views overlooking the rear porch, it's the perfect backdrop for those family gatherings or romantic movie nights. I mean, who needs Netflix when you have this view?
Admit it: we've all had kitchen envy. But with this oversized kitchen island and eat-in setup, you're about to be the envy of all your friends. And for those secret snacks or the Costco hauls?
The walk-in pantry in the neighboring mudroom has got you covered. And right across? A powder bath for that quick freshen up.
If bedrooms could win Oscars, this one's taking it home. With its very own foyer, it makes a statement. Slide past that trendy barn door and prepare to be wowed.
The master bathroom, with a standalone tub perfect for those bubble bath dreams, is an invitation to relax. And the walk-in closet? Let's just say it might need its own zip code.
Three additional bedrooms mean space for family, guests, or that gym room you promise you'll use. And with a shared compartmentalized bath sporting two sinks, morning routines just got a whole lot easier. No more jockeying for sink space!
While the double garage offers a grand entry from the side, it's not just for your cars. A dedicated storage room means your lawn supplies have a home, and you might just have a fighting chance of keeping the garage organized.
As for coming inside, forget the trail of mess! The built-in lockers and coat closet make sure those muddy shoes and rain-soaked jackets stay where they belong.
So, there you have it. This modern farmhouse is more than just bricks and beams; it's a space crafted with love, attention to detail, and a sprinkle of magic (okay, maybe not magic, but definitely some top-notch architecture). It's not just a house; it's a home waiting for stories, laughter, and memories.
Now, if you'll excuse me, I need to go and make my own Pinterest board titled "Dream Home Achieved". Care to join?
Plan 51841HZ