Specifications:
3,340 Sq Ft
3-4 Beds
4.5 Baths
1 Stories
4 Cars
We've all heard of "Don't judge a book by its cover."
Well, don't judge a house by its front door either. However, if you were to do so for this Modern French Country house, you'd be spot on – it's a stunner inside and out.
So, sit back, grab a croissant, and let's journey through this architectural masterpiece.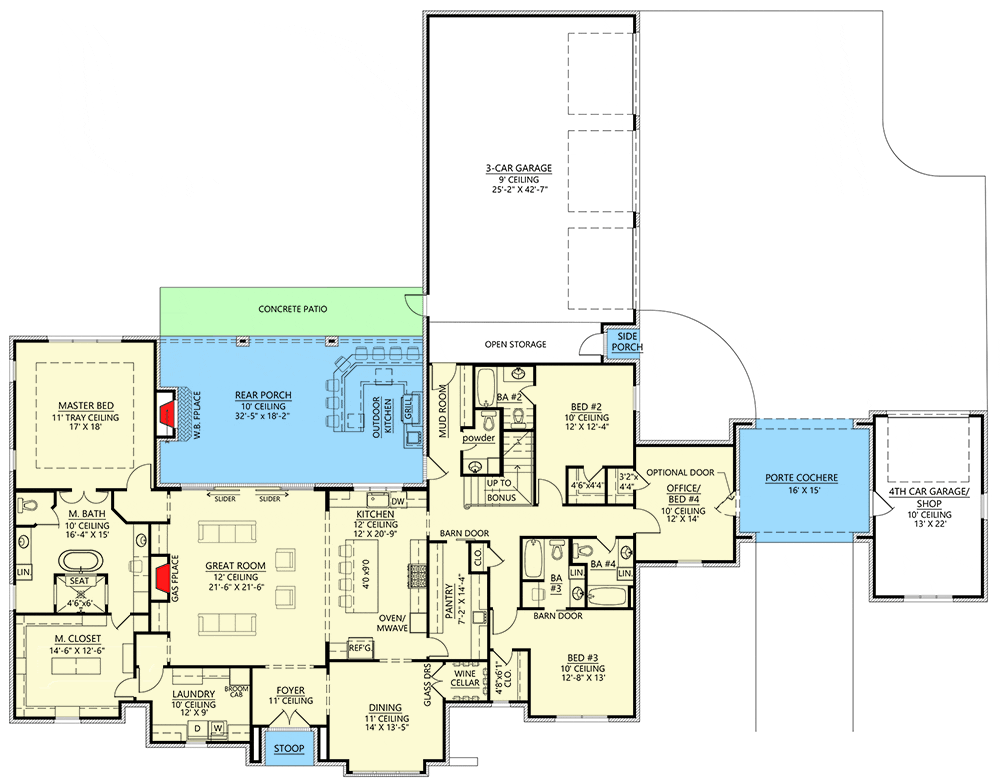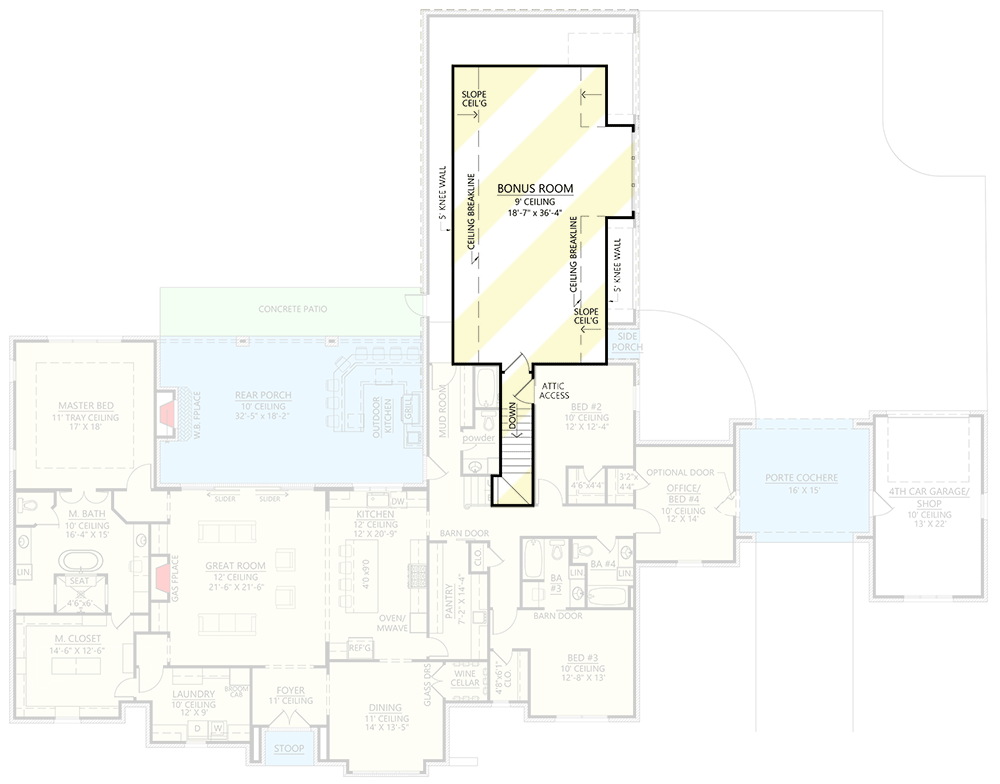 Firstly, can we just talk about that sweeping roofline that seems to have popped straight out of a fairytale? It's like Rapunzel just might let down her hair from one of the windows. Below that dreamy roofline, an arched entry gives a theatrical wink to guests, whispering, "You're in for a treat!"
But wait, what's to the right? Is that a… porte cochere? It is! For those uninitiated into fancy architectural jargon, a porte cochere is like a carport's more elegant cousin.
It's where you roll in style, perhaps in a vintage Citroën or a modern Tesla, and get covered access to the motor court that boasts, not one, but four garage bays. No more playing musical cars every morning!
If the exterior was a delicious French appetizer, the great room is the main course. And trust me, it lives up to the "great" in its name.
Picture this: you're lounging with a riveting book, the gentle warmth from a gas fireplace caressing your feet, and to add some drama – oversized sliding doors teasing you with glimpses of an expansive rear porch.
And because this house seems to think of everything, there's an outdoor kitchen on that porch. Because why should barbecues be ordinary?
Oh, and speaking of food…
Okay, I might be exaggerating, but this gourmet kitchen is what dreams are made of. Got a big family? No worries. Friends that pop in unannounced?
Bring them on! With an island large enough to fit a small village (okay, slight exaggeration again), there's room for everyone to gather around. And for those classy dinners, there's a formal dining room that screams, "Break out the fine china!"
Bulk shopping aficionados, rejoice! The adjacent pass-thru pantry is spacious enough to store your apocalypse-ready supplies, and then some.
On to the left side, we have the pièce de résistance: the master bedroom. And let me tell you, it's more luxurious than a Parisian suite. The ensuite bathroom showcases a standalone tub, and not just any tub. This diva sits right in front of a shower, stealing all the limelight.
And for the shopaholics reading this, there's a walk-in closet. But this isn't any ordinary closet. It's one with an island. You can now pretend you're choosing outfits from a boutique every single day. Bonus? Direct access to the laundry room. So when you spill wine on that white shirt, help is just a step away.
For the work-from-home warriors or budding novelists, there's a cozy office on the main level, flanked by two family bedrooms that promise the sweetest dreams. But wait!
As the proverbial infomercial goes, "But there's more!" An expansive 774 sq ft bonus room awaits upstairs, ready to be whatever your heart desires – a cinema, gym, or maybe a secret chocolate stash room? Your pick!
In conclusion, this Modern French Country house isn't just a plan; it's a lifestyle. It's for those who enjoy the finer things in life, like a perfectly baked baguette or a buttery croissant, and want their home to reflect that passion. So, here's to the art of living well – à la française!
Plan 56522SM