Specifications:
2,600 Sq Ft
2-3 Beds
2 Baths
1 Stories
3 Cars
Ever felt like Goldilocks, searching for that home that's "just right?"
Not too big, not too small, but that perfect blend of rustic charm and modern comforts.
Well, pull up a chair and let me serve you some delightful details about this 2,600 square foot beauty that's more seductive than a cinnamon roll on a cold morning!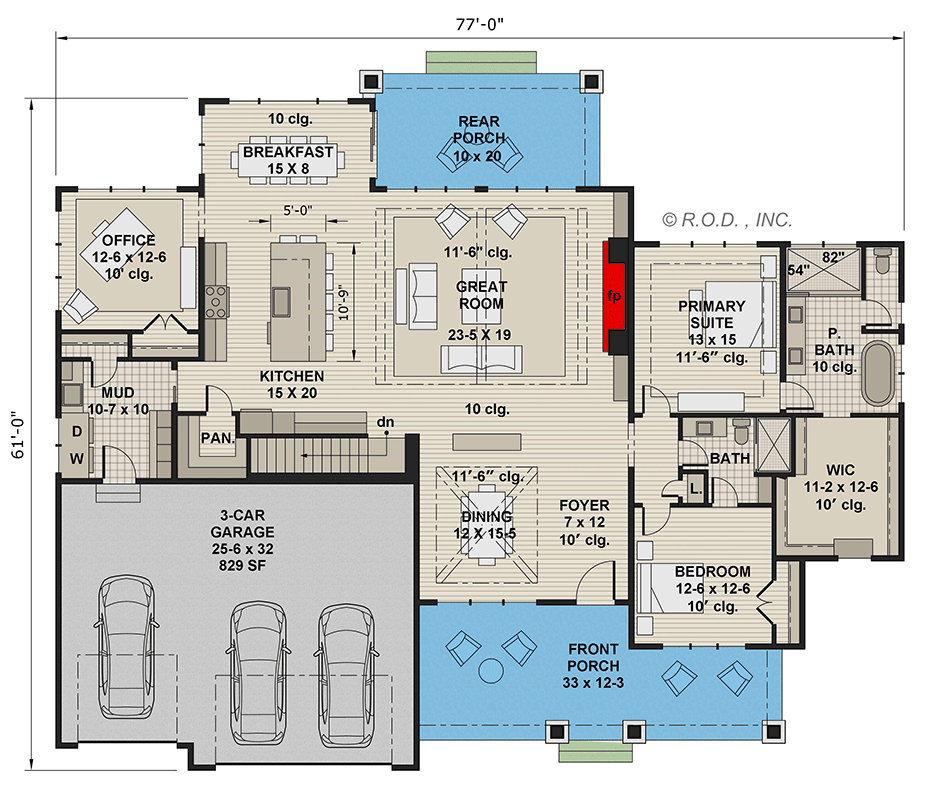 This isn't just a house; it's a statement. Rustic traditional design gets a saucy makeover with a blend of wood, stone, and steel.
And those three decorative dormers? They're like the house's version of a wink, ensuring anyone passing by will have a serious case of home envy.
Step inside, and prepare for your jaw to drop. This isn't your grandma's old cottage. An open layout means the inside feels as expansive as your future in this home.
Those abundant windows aren't just there for show; they invite every sunbeam they can catch, turning your home into a luminous masterpiece every sunrise.
Remember that kitchen island you always daydreamed about? The one you envisioned yourself leaning on, sipping wine, or laying out a spread that would make Martha Stewart weak at the knees?
Here it is: a 5′ by 10'9″ piece of real estate begging for cheese boards and cocktail nights.
And don't get me started on that walk-in pantry; it's so close to the garage you could practically do your grocery shopping in your pajamas. I mean, theoretically.
At the heart of this home sits a great room that deserves its title.
Picture this: snowy evening, large roaring fireplace, you in a cozy blanket, hot cocoa in hand, surrounded by loved ones. Life. Made.
The rear porch isn't just any porch—it's a 20-foot-wide stage for you to live out your wildest outdoor dining dreams.
Want to host a summer BBQ bash? Or maybe a chill wine night with the gals? At 10 feet deep, this porch has more than enough room for all of the above and then some.
After a long day, you deserve a sanctuary. This master suite isn't just a bedroom; it's a zen zone.
With enough walk-in closet space to make a fashionista faint and a private bath that'll be your spa escape, this suite is the unsung hero of the house.
Tucked away is a corner office that's just right for those "work-from-home" days or, let's be honest, those online shopping sprees.
We mustn't forget the unsung heroes of any home: the spaces that keep our messes hidden and our lives in order.
This house boasts a mudroom that's the stuff of organized dreams, plus a laundry setup that might actually make you enjoy washing clothes.
Did I also mention the spacious covered front and rear porches? Ideal for those rainy days when you want to watch the world go by, hot tea in hand.
In short, this 2,600 square foot rustic-traditional wonder is the house of Goldilocks' dreams.
Not too rustic that you'll find bears in the bedroom, not so traditional that you'll feel like you're stuck in a time warp, but just right for memories, laughter, and a life well-lived.
Plan 14754RK