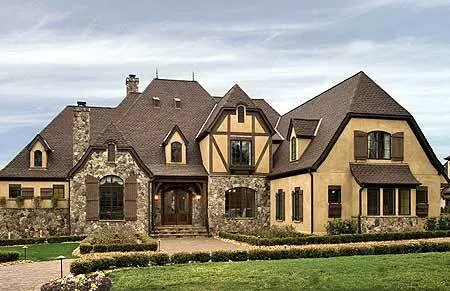 Specifications:
5,495 Sq Ft
4 Beds
4.5+ Baths
2 Stories
3 Cars
Ever thought your home should look as good leaving as it does coming?
Me too! The world's too short for just front-sided fabulousness.
So, let's talk about a house that looks dashing not just from the front, but also says, "Hey, look at me!" from the back.
Your home isn't just about that initial "wow" when someone drives by. It's also about that lasting "oh la la" when they're leaving. This house design not only turns heads from the street but, if houses could flirt, this one would be sending cheeky winks from the rear too.
Especially if your rear overlooks a golf course, a gentle waterbody, or even just your own exquisite lawn.
There's an old saying that goes, "It's not about the size of the curb appeal; it's about how you use it." Okay, I might've made that up, but it sounds legit, right?
Just to give you the digits: we're talking a spacious 5,495 sq ft. That's like, what, 10,000 pizzas laid out? Or is my pizza math off?
Either way, it's HUGE! Now, for the bedroom enthusiasts (which sounds way saucier than intended), you've got 4 to choose from.
And for those who understand the difference between a bath and a half-bath – this home offers 4.5+ of them. You can practically have a different bathroom for each day of the workweek.
Plus, it's spread over two stories, meaning you can finally realize your dream of dramatically descending a staircase while your theme song plays (we all have one, right?).
Cars? Yep, we're not leaving them out. 3 of them. That's a car for you, one for your significant other, and one for, let's say… your weekend escapades? Ferrari Fridays, anyone?
The covered lanai is where things get wild – in a sipping-tea-while-watching-sunsets kind of way. Whether you're peering into a tranquil waterfront or taking in the serene sounds of your nature-kissed backyard, the lanai is where you'd want to be.
And hey, why just peer? The grilling station on the lanai practically screams barbeque parties, and there's enough space to dine.
So, you can savor those medium-rare steaks or charred veggies (for our vegan friends) with the backdrop of nature's live theatre.
Now, let's get to the blueprint. No, not Jay-Z's album, but close in terms of awesomeness. This isn't one of those skimpy 2-page IKEA instructions that leave you scratching your head and with 5 extra screws.
This is a 12-page (plus a cover sheet) detailed plan. It's like having a roadmap to Narnia.
The precision, the detail, the articulation – it's more detailed than my grandma's stories from the '40s. And we all know how specific those can get!
Look, homes are a reflection of our personalities. And with this house, you're not just making a statement, but you're crafting a narrative. From its unrivaled curb appeal (front and back, mind you!) to its sprawling space and lanai charms, you're not just buying a house; you're getting a lifestyle.
A lifestyle that shouts, "I've arrived!" from the front and whispers, "Don't forget about my back!" as you saunter away. Now, if that's not a home with personality, I don't know what is. Happy dwelling!
Plan 17535LV