Specifications:
2,270 Sq Ft
3 Beds
2.5 Baths
1 Stories
2 Cars
Welcome to the world of rustic elegance and country charm! Imagine stepping into a home that seamlessly blends the cozy appeal of a country cottage with the craftsmanship of a craftsman-style abode.
Nestled under 2300 square feet, this one-story country craftsman home plan is sure to captivate your heart and imagination.
With 3 beds, 2.5 baths, and 2-car garage, it effortlessly combines functionality with style.
So, get ready to embark on a virtual tour of this enchanting dwelling that will have you longing to call it your own.
Let's dive in!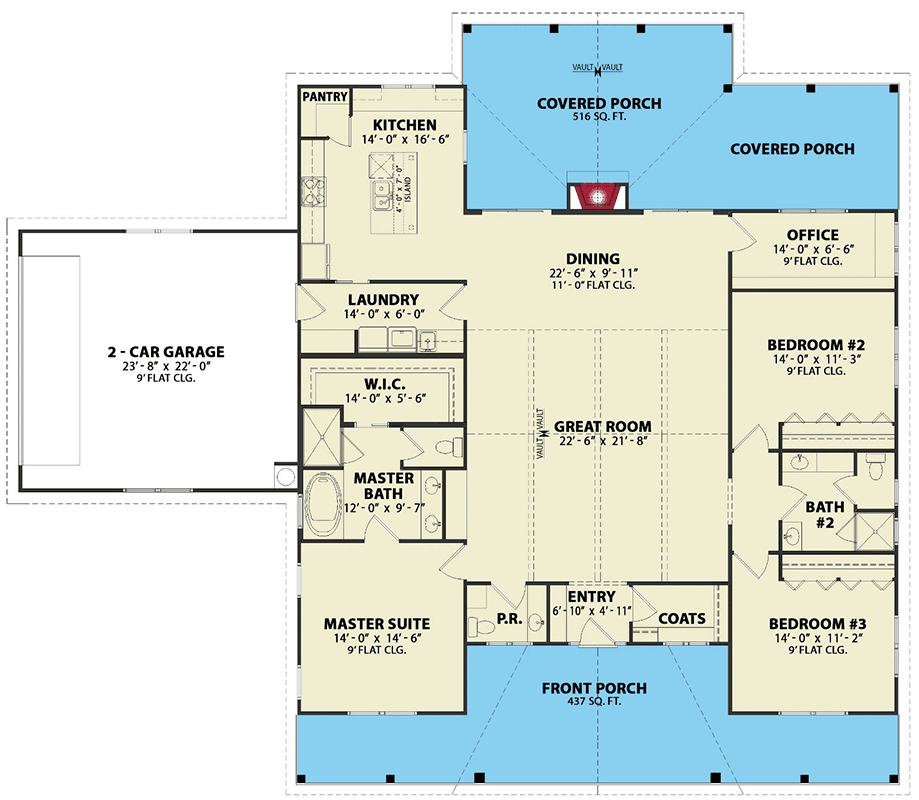 As you approach the entrance, the board and batten exterior with delightful timber accents sets the tone for what lies inside.
A charming mix of classic and rustic elements awaits you, beckoning with open arms. Step through the door and into the foyer, where a handy coat closet greets you with its accommodating presence.
Open the doors to the spacious great room, and prepare to be wowed by its vaulted and beamed ceiling, reminiscent of a grand lodge.
Sunlight dances through two sets of sliding doors that lead to a rear porch adorned with an outdoor fireplace—a perfect spot to gather with loved ones and enjoy the serene beauty of the great outdoors.
To the back-right corner of the home, a hidden gem awaits: a cozy home office boasting delightful views of the backyard. Whether you're tackling important projects or daydreaming with a cup of coffee, this private space offers tranquility and inspiration in equal measure.
Speaking of inspiration, the well-appointed kitchen is a chef's dream come true. Picture yourself whipping up culinary masterpieces on the sleek island with convenient seating, perfect for entertaining guests or engaging in family conversations while preparing meals.
And let's not forget the corner pantry, a treasure trove of storage space that will keep your kitchen organized and clutter-free.
After a long day, retreat to the luxurious master suite, where comfort and relaxation take center stage. Pamper yourself in the five-fixture private bathroom, complete with all the amenities you could desire.
A large walk-in closet stands ready to house your stylish wardrobe, offering a peaceful haven for your cherished belongings.
Across the home, two additional bedrooms await, sharing a well-appointed bathroom adorned with dual vanities. Whether it's family members or cherished friends, they will feel right at home in these cozy and inviting spaces.
With ample room for personalization, each bedroom becomes a canvas to reflect the unique personalities of those who inhabit them.
No home is complete without a safe haven for your vehicles. Fear not, as this plan includes a 2-car side-entry garage with a generous 542 square feet of parking space.
Bid farewell to the worries of parking on the street or searching for that elusive spot. Your vehicles will have a cozy home of their own, sheltered from the elements and always within reach.
In this rustic one-story country craftsman home plan, you'll find yourself embraced by warmth, character, and a sense of timeless beauty. From the inviting great room to the thoughtfully designed kitchen, every detail exudes charm and functionality.
The master suite and additional bedrooms provide peaceful sanctuaries, and the side-entry garage adds a touch of convenience to your daily life.
Embrace the allure of this picturesque dwelling, where rustic charm meets modern comfort. Whether you're entertaining guests, pursuing your passions, or simply basking in the serenity of your own sanctuary, this home plan promises to be your perfect companion.
So why wait? Step into the enchantment of a rustic country craftsman home, and let your dreams find their forever abode.
Plan 25800GE