Specifications:
4,206 Sq Ft
5 Beds
4.5 Baths
2 Stories
3 Cars
"Home Sweet Home" has a whole new meaning with this gorgeous Craftsman house plan!
Picture this: it's 4,206 square feet of sheer delight, five bedrooms, four and a half baths, and an inviting mother-in-law suite that has 'comfort' written all over it.
Welcome, my friend, to a house that makes you want to break into an impromptu happy dance.
Now, come on in. Let's take a closer look at this beauty, shall we?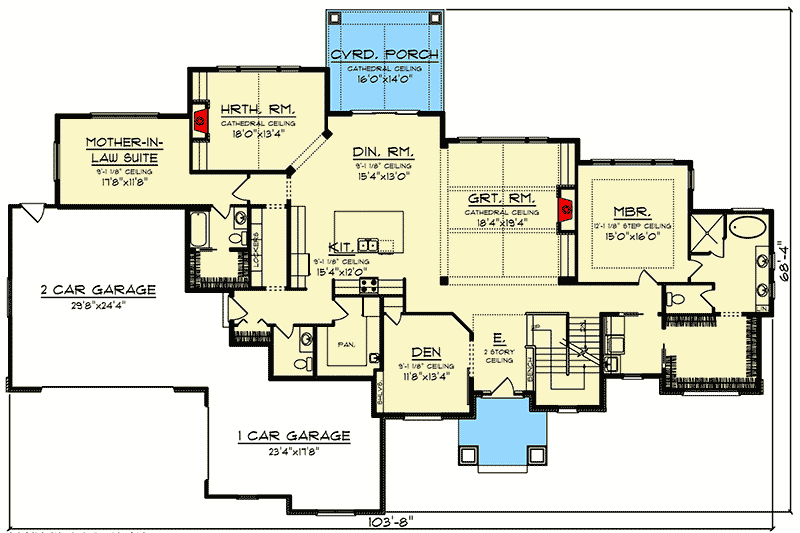 First things first – the open layout. Imagine being able to see from one room to the next with ease. It's like having the world's most charming set of binoculars, except you don't have to squint or hold anything up to your face.
I mean, who needs walls when you have gorgeous, sweeping sight lines? It's like living inside a panoramic photo – but with way better furniture.
And speaking of furniture, let's talk about that vaulted great room. It's basically the Super Bowl of living rooms. Those built-ins on either side of the fireplace?
They're begging to display your prized collection of vintage board games or maybe your Star Wars figurines. Don't worry, we won't judge. It's your castle, and you're the monarch of decor here.
But hold onto your socks, because we're just getting started. Another cathedral ceiling soars above the hearth room (read: cozy hangout space).
This one also boasts a fireplace and built-ins. It's like they say: the more the merrier! Think of the hearth room as the less formal, cool cousin of the great room. Perfect for a game night, binge-watching your favorite show, or just enjoying a cozy evening with a good book and some hot cocoa.
And now, we come to the pièce de résistance: the master suite. Nestled in the right wing of the home, it's a slice of paradise complete with a massive walk-in closet. But wait, there's more!
The closet opens directly into the laundry room. Because who wants to lug a heavy laundry basket across the house? Not you, that's who. You're smarter than that. You live in a home that thinks of these things.
Of course, we can't forget about the rest of the clan. Upstairs, three spacious bedrooms are practically begging for pillow fights, blanket forts, and Saturday morning giggles.
Plus, they all have easy access to the playroom. It's like having a mini amusement park right at home! The kids will love it. You'll love it. Even the mother-in-law will love it (we hope).
Last but certainly not least: a three-car garage. Yes, you read that right. A garage spacious enough to house your vintage car collection, or maybe it's where you'll start that rock band you've always dreamed about.
Or hey, it's just a great place to store all your stuff. Either way, it's the cherry on top of this deliciously beautiful house sundae.
So there you have it. Five bedrooms, four and a half baths, open layout, a mother-in-law suite that's as comfortable as a hug, and enough space to swing a troupe of cats (not that we recommend it).
A gorgeous Craftsman house plan that's big, beautiful, and just waiting for you to call it 'Home Sweet Home.'
Now, if you'll excuse me, I need to go convince my house it's not as cool as this one. Wish me luck!
Plan 890089AH