Specifications:
1,631 Sq Ft
3 Beds
2 Baths
1 Stories
My friends, if you've been in the market for a snug, homey place to call your own, I've got just the ticket for you.
Have you ever dreamt of living in a fairy tale?
Well, then this is your chance to step into a storybook setting with a whimsical bungalow that is the very definition of "dream home."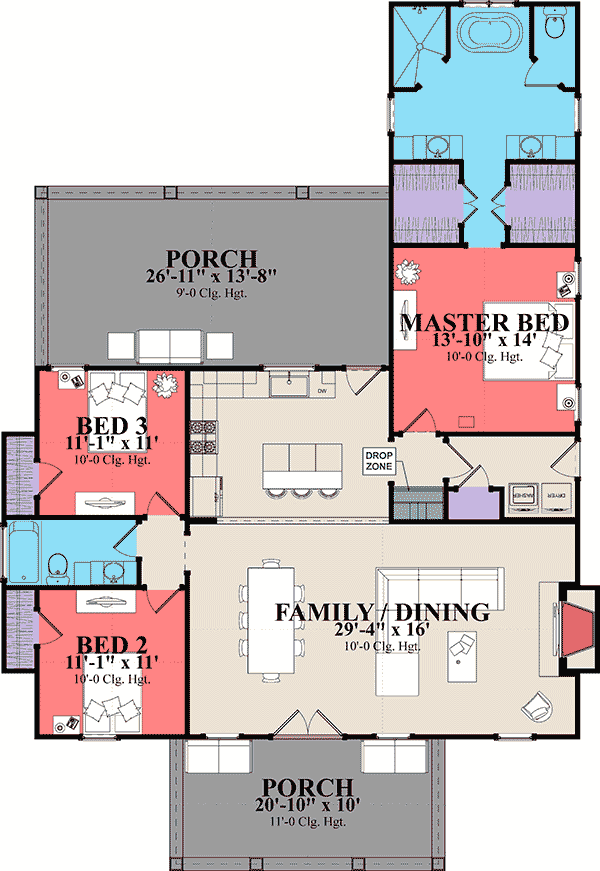 Picture this: a cross-gable roof, the quintessential style for a bungalow, sits proudly atop your future dwelling. Shake siding accents add a splash of texture to the expansive front porch, like sprinkling just the right amount of paprika on your deviled eggs.
Oh, and don't get me started on the brick skirt wrapping around the house! It's like a fashionable belt, cinching the design together and adding the perfect balance of rustic charm.
Step through the French doors (fancy, right?) into the home's heart: an open layout embracing the family room, dining area, and kitchen.
It's like an all-you-can-eat buffet of living space! The multi-use island in the kitchen is the cherry on top, a natural gathering spot that offers seating for three. It's perfect for Saturday morning pancake flipping contests, I tell ya!
The shared living space boasts a cozy fireplace that seems to whisper, "grab a blanket, a good book, and make yourself comfortable!" It radiates a warmth that permeates every corner, creating an atmosphere that makes even the coldest winter day feel like a snugly sweater.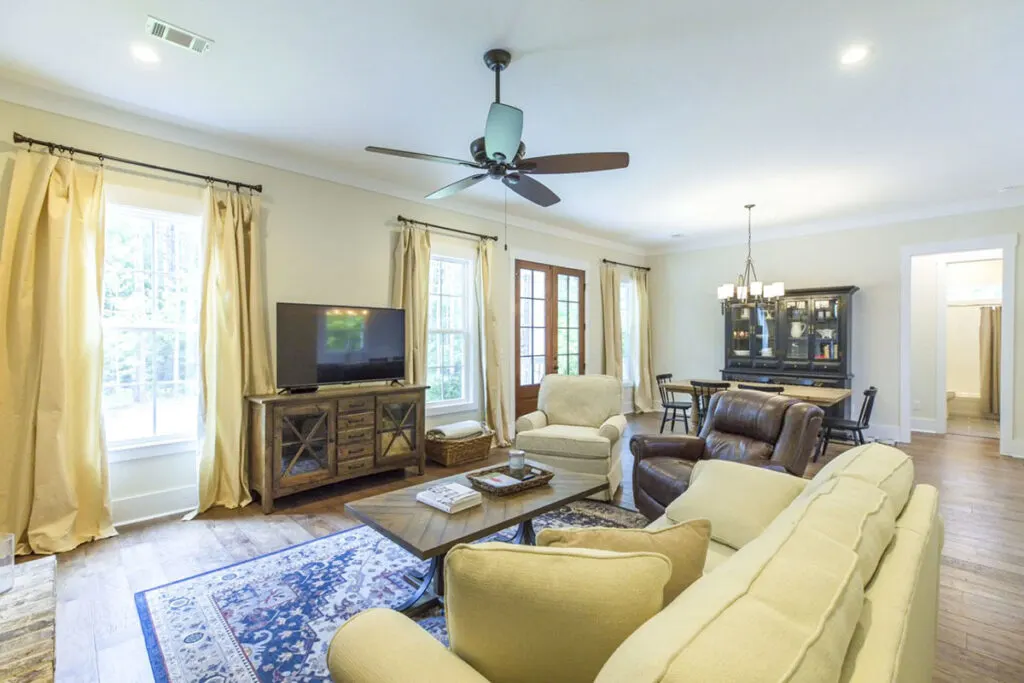 Behind the main living area, you'll find a spacious back porch that's just itching for a summer barbecue. It's spacious enough for a grill, lounge furniture, and maybe even a few impromptu dance-offs under the stars!
But the magic doesn't stop there. The master bedroom is a private sanctuary tucked away near the back of the home. If a room could be a VIP club, this would be it!
It features not one, but two walk-in closets (because we all know there's no such thing as too many shoes) and a master bath that screams luxury. With a private toilet room and a freestanding tub, this is the spa day at home you've always dreamt of.
On the opposite side of the home, away from your master hideaway, are bedrooms 2 and 3. They share a full bath, creating a perfect setup for children, guests, or an expansive home office (or perhaps a secret hideout, you decide!).
Of course, no fairy-tale bungalow would be complete without some practical features thrown in. Near the kitchen, you'll find a drop zone and laundry room that are as handy as Batman's utility belt.
They're perfect for keeping your home tidy, even on the busiest days. Plus, a door leads out to the side yard for quick access to the great outdoors or a speedy escape route when in-laws drop by unexpectedly!
In conclusion, this 1,631 Sq Ft storybook bungalow comes with more than just 3 beds, 2 baths, and large front and back porches.
It offers a lifestyle, an ambiance that whispers, "home sweet home." This is not just a house, my friends. It's a setting for the story of your life, ready for you to move in and start writing your next chapter!