Specifications:
1,614 Sq Ft
2 Beds
2 Baths
1 Stories
2 Cars
Welcome to the world of barndominiums, where rustic charm meets modern living in a package that's as big-hearted as a Texas rancher.
Today, I'm beyond excited to take you on a virtual tour of a stunning 4,100 square foot barndominium style house plan that's sure to leave your jaw on the floor and your heart set on country living.
Picture this: space, style, and a man cave that's the stuff of legends. Intrigued? Grab your virtual cowboy hat, and let's dive in!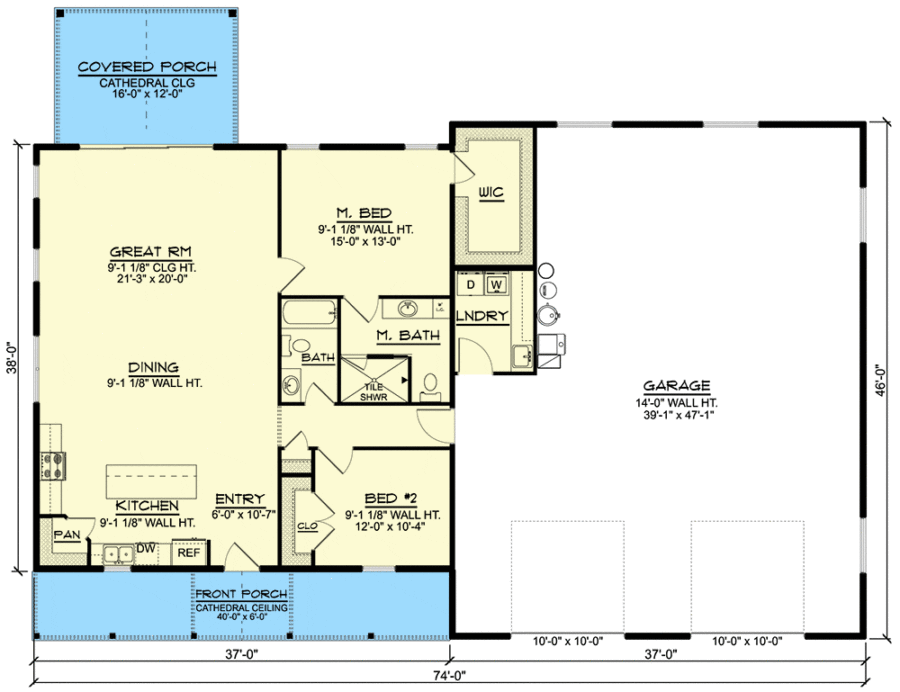 First things first, let's talk about what a barndominium is for the uninitiated among us. Imagine a barn that decided one day it wanted to retire from the farm life and become a cozy, stylish home instead.
That's a barndominium in a nutshell – or should I say, in a hay bale? It's a genius way to blend work and play, offering both a generous living space and a workspace or shop for those of us who like to tinker, create, or just have a really, really big garage.
Now, on to our 4,100 square foot beauty. At a sprawling 1,614 square feet, the main living space is all on one level – because who needs stairs when you've got this much room to spread out?
With two bedrooms and two bathrooms, it's perfect for small families, empty nesters, or anyone who wants to live large in the country.
Speaking of living large, let's talk garage space. This barndominium boasts a massive 1,519 square foot garage, taking up the entire left side of the design. It's like the garage of your dreams and your neighbor's dreams combined.
With two oversized 10′ by 10′ overhead doors, there's plenty of room for your cars, trucks, tractors, or heck, even a small plane if that's your thing.
And let's not forget about the man cave potential here. With this much space, you could create the ultimate hideaway, workshop, or game room. The sky's the limit!
As you step from the garage into the main home, you're greeted by a 6′-deep front porch that's just begging for a couple of rocking chairs and a lazy Sunday afternoon.
Inside, the kitchen seamlessly flows into the dining area and great room, creating an open, airy space that's perfect for entertaining or just kicking back with the family.
The kitchen itself is a chef's dream, with plenty of counter space, storage, and room to move. And with the dining area right there, you can go from stove to table in seconds flat.
But wait, there's more! Head out the multi-panel glass door, and you'll find yourself on the covered porch, a serene spot to enjoy the surrounding views, rain or shine.
Imagine sipping your morning coffee or unwinding after a long day, all while soaking in the beauty of nature. It's like having your own private oasis, and it's all included in the floor plan.
Now, let's talk bedrooms. The master suite is a true retreat, complete with a walk-in closet and an attached bath that boasts a luxurious tile shower. It's the perfect spot to relax and recharge, with all the space and amenities you need to feel pampered.
The second bedroom is no slouch either, with its own walk-in closet and easy access to a full bathroom. It's perfect for kids, guests, or even a home office if you're looking to bring work home in style. And because we're all about style here, let's take a moment to appreciate the exterior of this barndominium.
Spec'd for corrugated metal siding, it's got that perfect blend of rustic and modern, creating a look that's both timeless and on-trend. It's like the house equivalent of a well-worn pair of jeans – comfortable, stylish, and ready for anything.
In conclusion, this 4,100 square foot barndominium style house plan is more than just a home – it's a lifestyle. With its generous space, modern amenities, and unbeatable style, it's the perfect place to hang your hat, kick up your feet, and live the good life in the country.
So why settle for ordinary when you can have extraordinary? Grab this floor plan, and start living the barndominium dream today!