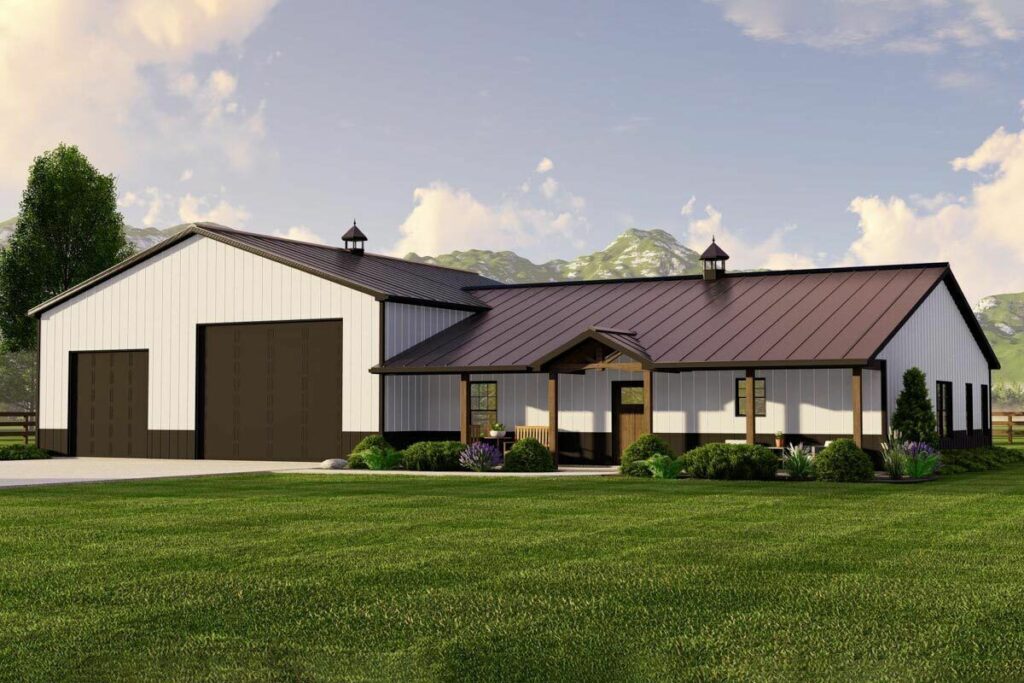 Specifications:
1,783 Sq Ft
2 Beds
2 Baths
1 Stories
2 Cars
Let's embark on a journey where our home doesn't just house our dreams but actively participates in them. Imagine a cozy dwelling where your passion for tinkering in an expansive workshop coexists peacefully with your desire for a snug and stylish living space.
Now, nestle into your favorite chair, clutch your warmest mug, and let me spin you a tale of a house where the essence of 'living and working under one roof' is not just maintained but celebrated – The 2-Bed Barndominium with an exceptionally generous garage/workshop space.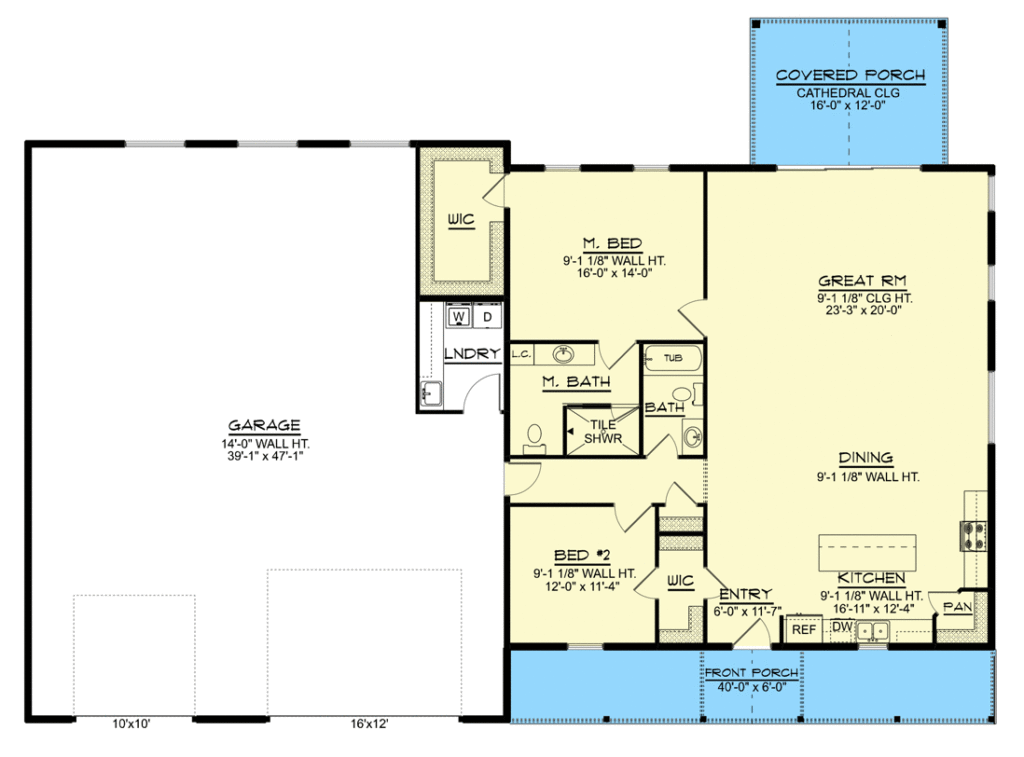 Knocking on the hefty door of our story is the alluring concept of a barndominium.
With 1,783 square feet of meticulously planned living space, the highlight has to be the whopping 1,734 square-foot garage, gleefully swallowing up the left side of the design.
Can we just take a moment to marvel at the oversized (and we mean oversized) overhead doors?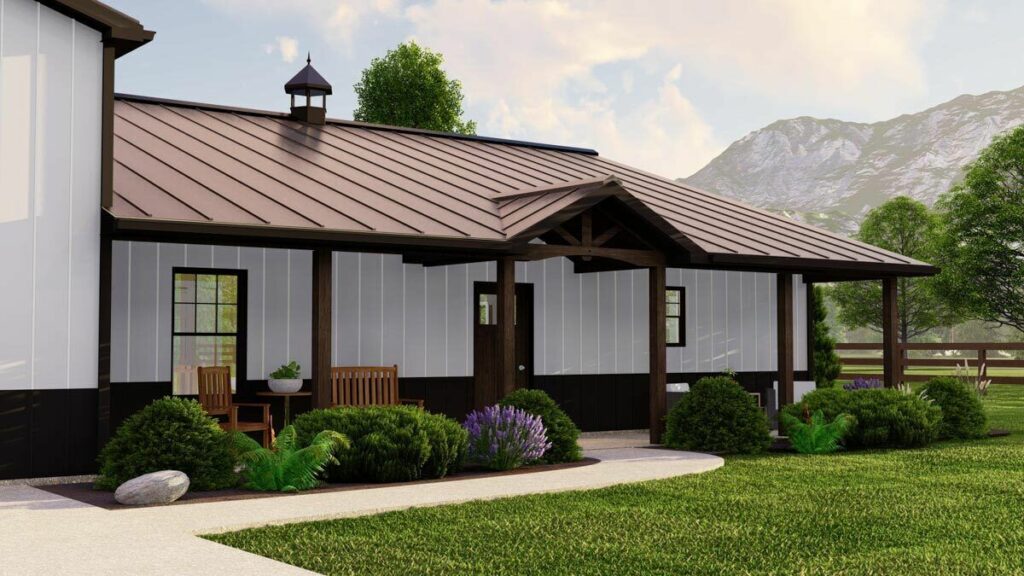 Measuring a jaw-dropping 10′ by 10′ and 16′ by 12′, these doors don't just offer access, but they elegantly scream, "Welcome to the Realm of Unlimited Creations!"
Here, vehicles, woodworking projects, or perhaps your ambitious sculpture pieces find more than just space; they find a home where they can be admired, worked on, and showcased.
Swiveling away from the garage, the main home opens its arms, caressed by a 6′-deep front porch that whispers gentle hellos and hearty goodbyes. Ah, and the kitchen!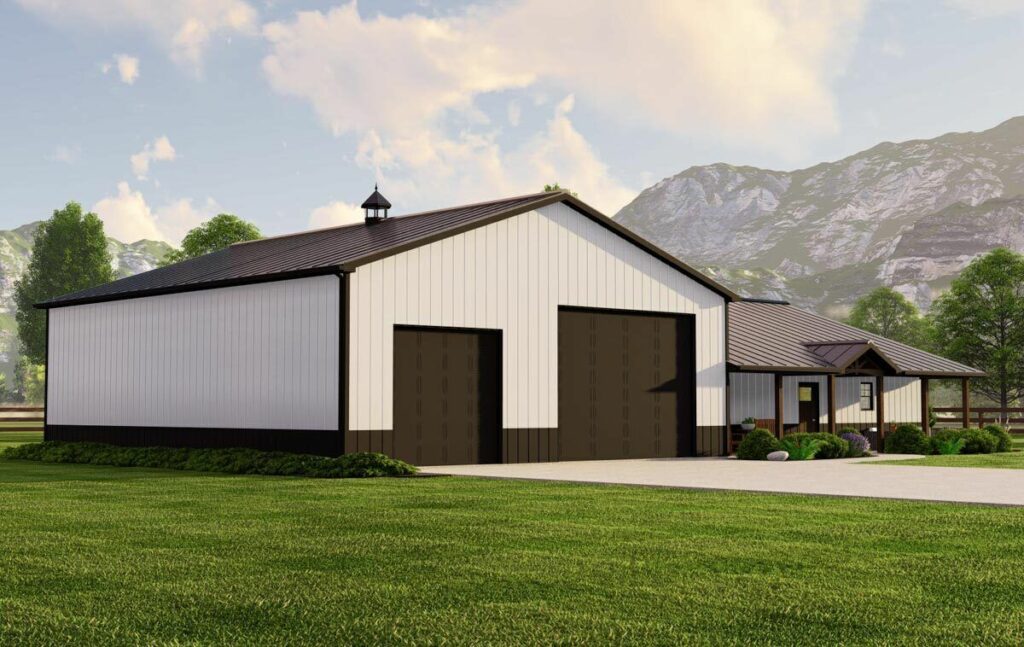 Picture it – gracefully dancing into the dining area and great room, intertwining culinary delights with laughter and warmth from shared stories and adventures.
This isn't just a kitchen; it's a sanctuary where flavors mingle with life's vibrant aromas.
Navigating through the heart of the home, a multi-panel glass door gallantly stands as a gateway from your intimate indoor moments to a picturesque retreat into the tranquil embrace of a covered porch.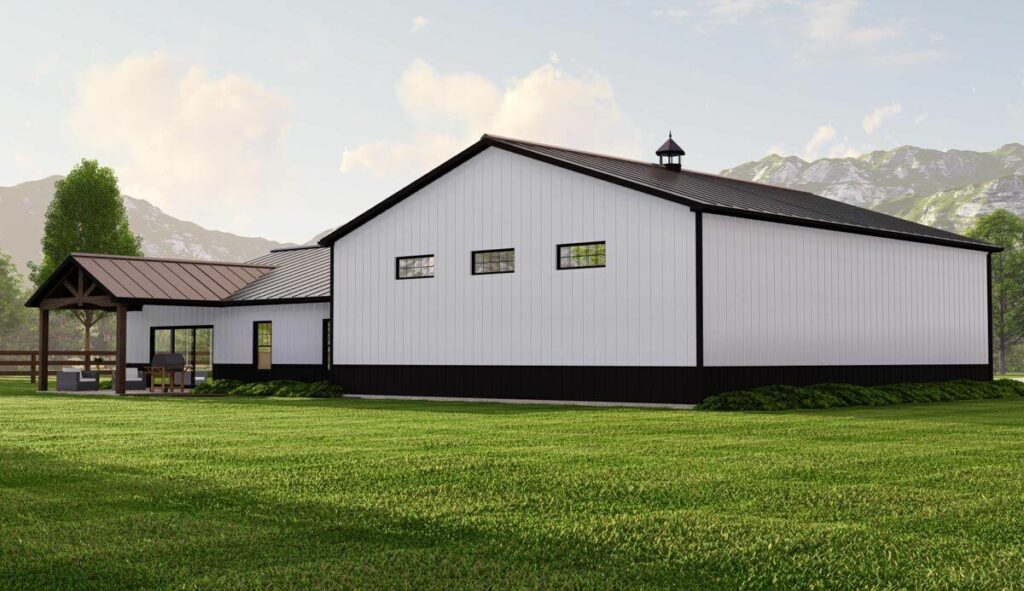 Whether basking in a gentle sun-dappled glow or enjoying a serene rain without the dreariness, every element can be savored safely in this shielded outdoor haven.
Venture deeper, and the master bedroom entices you into a realm of relaxation, flourishing with a spacious walk-in closet begging to cradle your wears and treasures.
An attached bath, boasting a slick tile shower, promises a refreshing escape from the toils of the day (or perhaps, the dust from the workshop).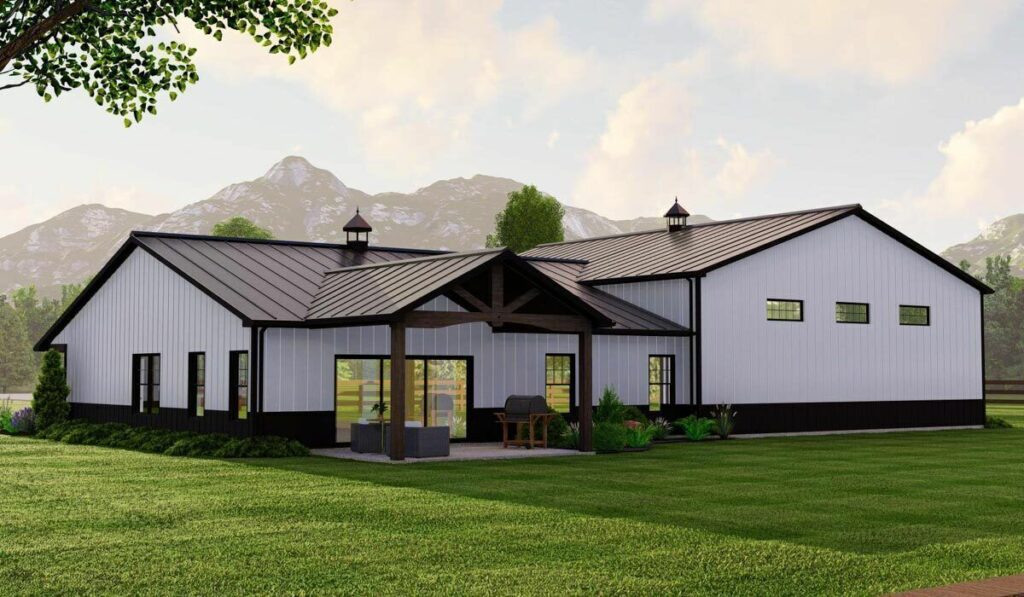 On the other side, the second bedroom, strategically placed across from a full bathroom, weaves its own tale of comfort and convenience, also flaunting a generous walk-in closet. Yes, dear reader, this home ensures your beloved possessions always have a snug spot to call their own.
Don't you worry, we haven't forgotten about the 'dress' our abode is wrapped in – a stunningly spec'd corrugated metal siding.
A choice that champions resilience while simpering at the aesthetic appeal, this exterior finish is a metaphor for what lies within – strength, durability, and a dash of rugged charm, mingling effortlessly with finesse and grace.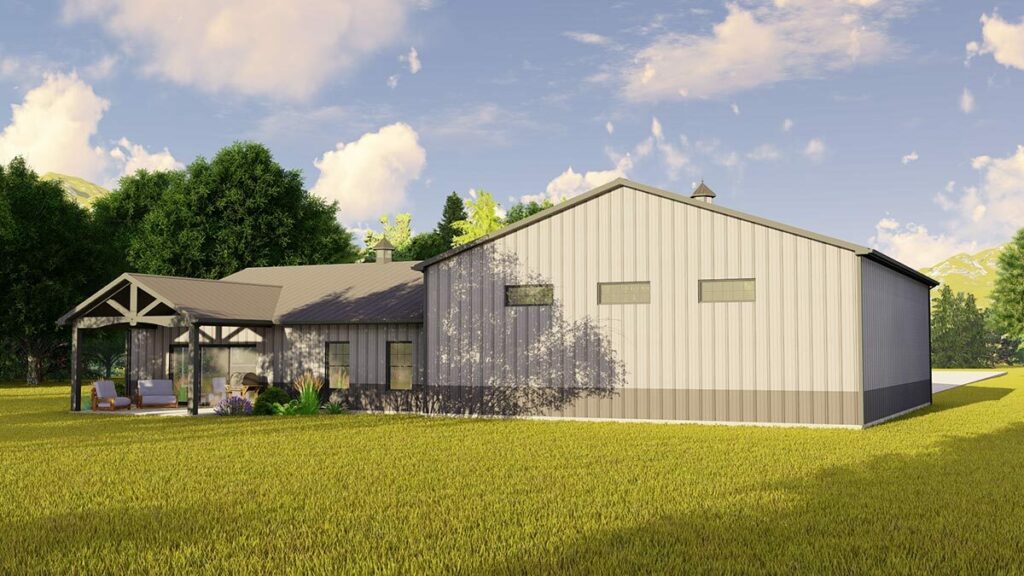 What we behold in this 2-Bed Barndominium is more than mere walls and rooms; it's a canvas that invites you to paint your dreams, tales, and adventures with a palette that never ceases to inspire.
From the broad, welcoming arms of the oversized garage, through the eloquent fluidity of the living spaces, and into the tranquil retreats of its bedrooms, every nook and cranny whispers possibilities of stories yet to be woven.
A barndominium isn't just a type of house; it's a lifestyle, a statement, declaring boldly that work and life, creation and relaxation, chaos and calm can, indeed, dwell under a single roof, not just coexisting, but enhancing, embellishing, and celebrating each other.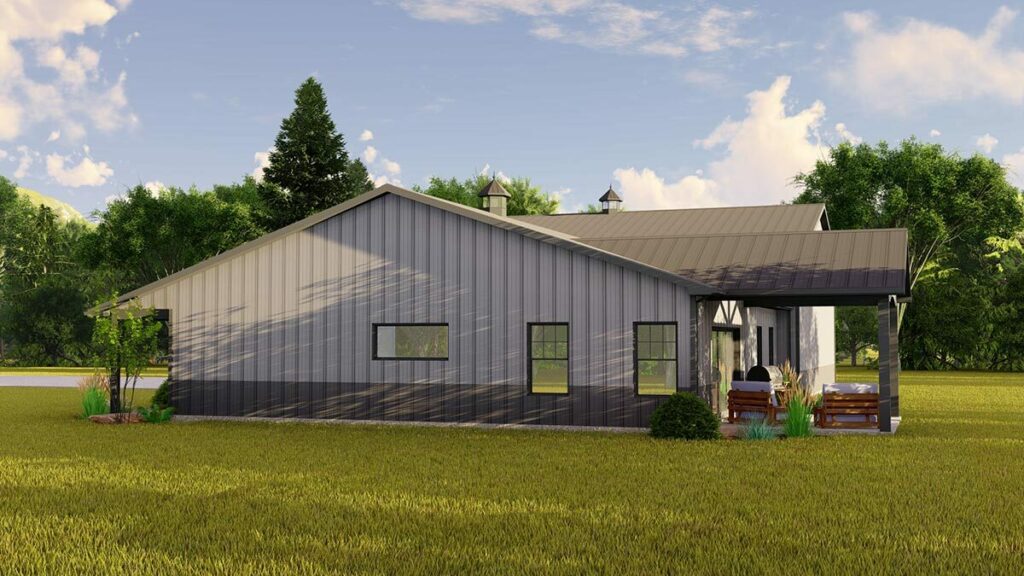 In the embrace of this carefully crafted space, every wrench and pot, every wheel and pillow, every creation born from the workshop and every memory forged in the living spaces finds a sacred spot, a place to belong, and a stage to shine.
And, there, in the midst of it all, you find your own space, a niche where your dreams don't have to wait for 'one day.' In a home like this, 'one day' is splendidly intertwined with the everyday, and the dreamer and the doer within you find a harmonious rhythm.