Specifications:
2,085 Sq Ft
3 Beds
2 Baths
1-2 Stories
3 Cars
Hello, dear home enthusiasts! Ever dreamed of owning a house that makes you feel like you're on a constant mountain retreat? You know, something that has that "I just climbed a mountain, now let me relax by a fireplace" vibe?
Well, pull up a chair and put on your virtual real estate goggles.
Let's explore a house plan that's not just a structure of bricks and wood but a lifestyle in itself: the Mountain Craftsman House with an oh-so-snazzy angled 3-car garage.
Buckle up, folks; it's about to get homey.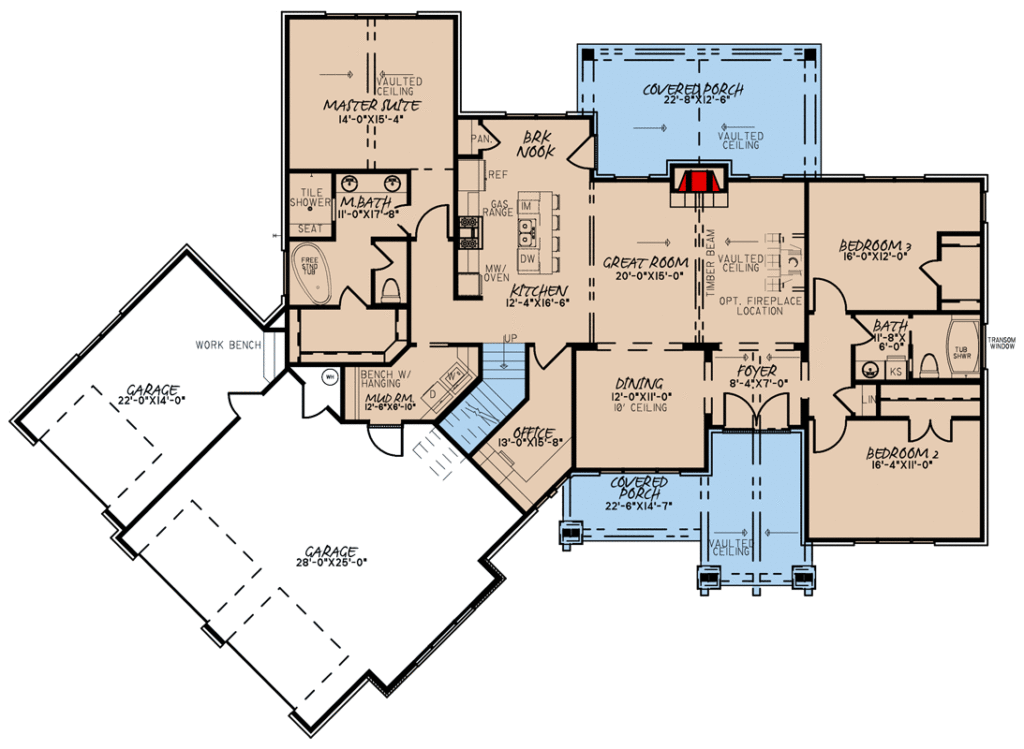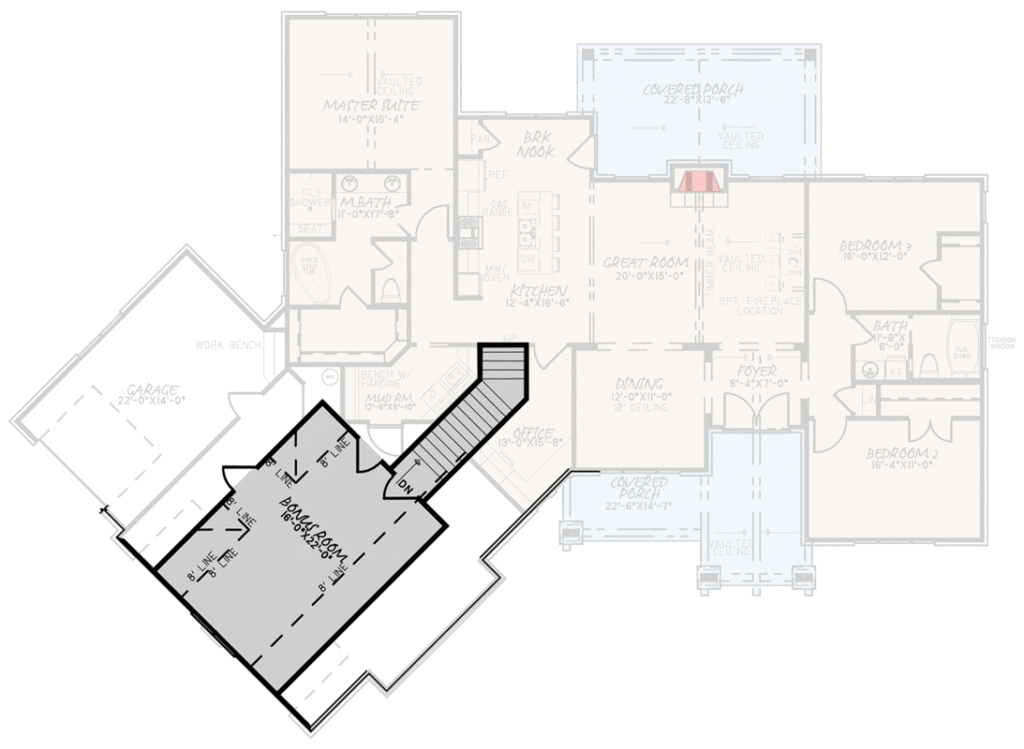 Okay, let's talk numbers. With 2,085 Sq Ft of pure architectural delight, this beauty isn't trying to be the largest mansion in the neighborhood. Nope, it's going for the "just-right" feel. Three beds, two baths, and spread across one to two stories.
And for those who can't decide whether they need space for their convertible, SUV, or that old Beetle they swear they'll fix up someday? A 3-car garage is waiting.
One glance, and your heart skips a beat. It's like this house has done a course in "How to look drop-dead gorgeous without even trying". The Craftsman detailing is not just a feature; it's a statement. And it screams class, sophistication, and, "Yes, I belong to the mountains."
If walls could talk, the great room would probably hum a tune from an epic movie soundtrack. Thanks to the vaulted ceiling that stretches gracefully above the fireplace and sneaks onto the rear covered porch.
It's like the Sistine Chapel, but instead of looking up to see Adam's hand, you're looking up after a hearty laugh with friends, thinking, "Is that a cloud? Or did I just have one too many wines?"
Planning to host a dinner?
With this house, every meal is like a scene from Goldilocks: the formal dining room for when you're feeling fancy, the kitchen island when it's pizza night and everyone's fighting for the last slice, and the breakfast nook for those Sunday mornings where pancakes and PJs are the only things on the agenda.
Hidden near the stairwell, like a magical portal to Narnia (only less snowy), there's a home office that beckons. Whether you're the next best-selling author or just pretending to work while watching cat videos, this space will wrap you up in productivity (or, you know, procrastination).
Ever had that dream where you're a royal? This master suite is pretty much that dream in 3D. Set apart from the other bedrooms (because privacy is golden), this suite boasts a vaulted ceiling. And the bathroom?
A freestanding tub awaits, perfect for those "Calgon, take me away" moments. The 5-fixture setting makes it feel like a spa, and did I mention the walk-in closet? It's like Narnia again, but with clothes.
On the right side of this palace, ahem, house, Bedrooms 2 and 3 are like the dynamic duo of sleep spaces. Perfect for kids, guests, or if you want to turn one into a room dedicated to your collection of antique spoons. They share a compartmentalized bath – an architectural term for "nifty and neat."
Above that 3-car garage, there's an extra 378 square feet of space just waiting to be filled with possibilities. Man cave? She shed? Teenager's retreat? Or perhaps a secret dance studio where you practice your moonwalk? You decide.
In conclusion, this isn't just a house; it's a scene from a story where every day feels like a mountain escape. With craftsman charm, functional features, and spaces that beckon you to relax, this Mountain Craftsman House Plan isn't just about living; it's about living well.
So, lace-up those mountain boots (or, you know, your cozy slippers) and take a step into a dream home. Happy dwelling!
Plan 70684MK