Specifications:
4,489 Sq Ft
4 Beds
4.5+ Baths
2 Stories
2 Cars
Stop the press, people!
Buckle up and put your dreaming caps on, because today we're diving headfirst into a mansion that effortlessly blends luxury with convenience.
This dazzling house plan, with 4,489 square feet of pure 'wow,' is just begging to become the backdrop of your new favorite family photos.
Now, I know what you're thinking, "What's so special about this mansion?" Oh, where do I even begin…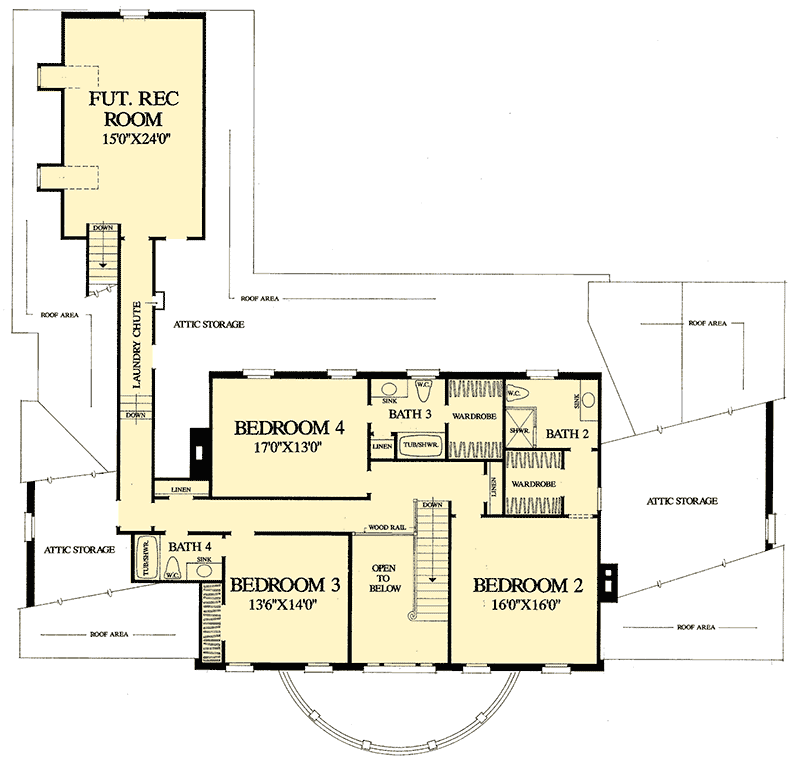 Well, first off, this house proudly sports not one, not two, but three different porches. Yes, you heard right, three! Picture this, my friends. It's a balmy summer evening. The first porch, a semi-circular marvel, is where you greet your guests with a pitcher of ice-cold lemonade.
It screams, "Welcome to my humble abode, but watch your step, because we're just getting started!"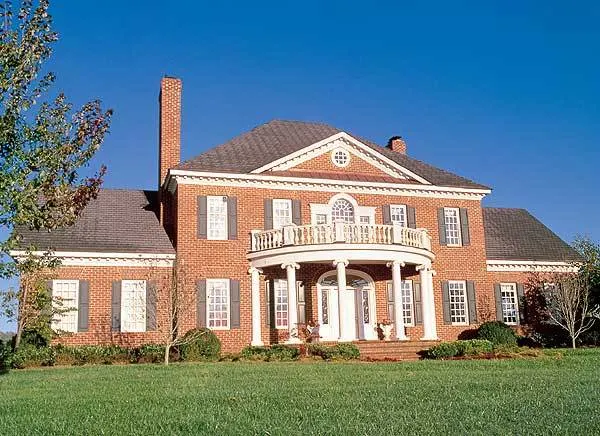 The second porch, more of a low-key, laid-back space, is where you, clad in your most comfortable pajamas, kick back with a good book and let the world fade away. This porch is the best kind of secret— the family kind. And the third?
Oh, it's reserved for the wild card, the entertainer's paradise. Whether it's a sun-kissed Sunday brunch or a lively midnight soiree, this back porch is your ultimate partner-in-crime for both relaxation and festivities.
Once you step inside, the expansive foyer sets the stage for the grandeur to follow, giving you a glimpse of the home from front to back.
The sense of space is amplified with the openness to the library. The library, my friends, isn't just a space—it's an experience.
Nestled to the right of the foyer, this cozy nook, flanked by an inviting fireplace and built-ins, is a bibliophile's dream.
For the non-bibliophiles, just imagine cozying up with a good book and a warm blanket next to the fire. It's like Netflix, but old school.
Next stop, we have the family room. Now, you might think, "It's just a room." Oh, how wrong you are, my friend. This is where real magic happens.
Not the card-trick kind of magic, but the "gather around the fireplace, share stories, laugh, cry, and bond with your loved ones" kind of magic.
With direct access to the back porch, it's also perfect for impromptu marshmallow roasting sessions on cool summer nights. Remember folks, s'mores not included!
But that's not all. The kitchen is where every foodie's dreams come to life.
It's roomy enough for a waltz and features a breakfast bar (casual cereal munchers, unite!), a breakfast area (yes, there's a designated area for that), a walk-in pantry (hello, late-night snack raids!), and easy service to the formal dining room (fancy pants alert!).
With this kind of kitchen, the phrase "too many cooks spoil the broth" simply does not apply.
Now, the master bedroom. It's like your private retreat away from the world, complete with oversized walk-in closets—his and hers, because let's face it, we all know who's the real fashionista in the house. The whole thing is private and tranquil, perfect for a 'do not disturb' kind of evening.
And for those muddy days? There's a back mudroom to transition from the outdoors. It's like having a bouncer at your own house—no mud allowed inside, thank you very much!
The second floor continues the wonder, with three bedrooms that each boast their own walk-ins and baths. Yes, every bedroom is a master in its own right!
Oh, and above the garage? There's space for a rec room. Imagine a game room, a home theater, or a haven for your stamp collection. The choice is yours!
So there you have it, folks! This house isn't just a living space—it's a lifestyle. It's the perfect blend of elegance and ease, of luxury and convenience. The kind of home that isn't just designed for living, but for living well. In this mansion, every day feels like a staycation.
So, go ahead and make your home in this house of dreams. And remember, home isn't just a place—it's a feeling. With this beauty, that feeling is nothing short of magnificent.
Plan 32526WP