Specifications:
3,908 Sq Ft
4 Beds
3.5 Baths
2 Stories
3 Cars
Hey there, fellow house lovers!
Ever dreamed of a majestic farmhouse that gives off modern vibes, coziness, and sheer awe?
I mean, who hasn't, right?
So, buckle up and let's explore a house plan that might just get your heart racing and your Pinterest boards overflowing. Trust me, I'm as excited as you are!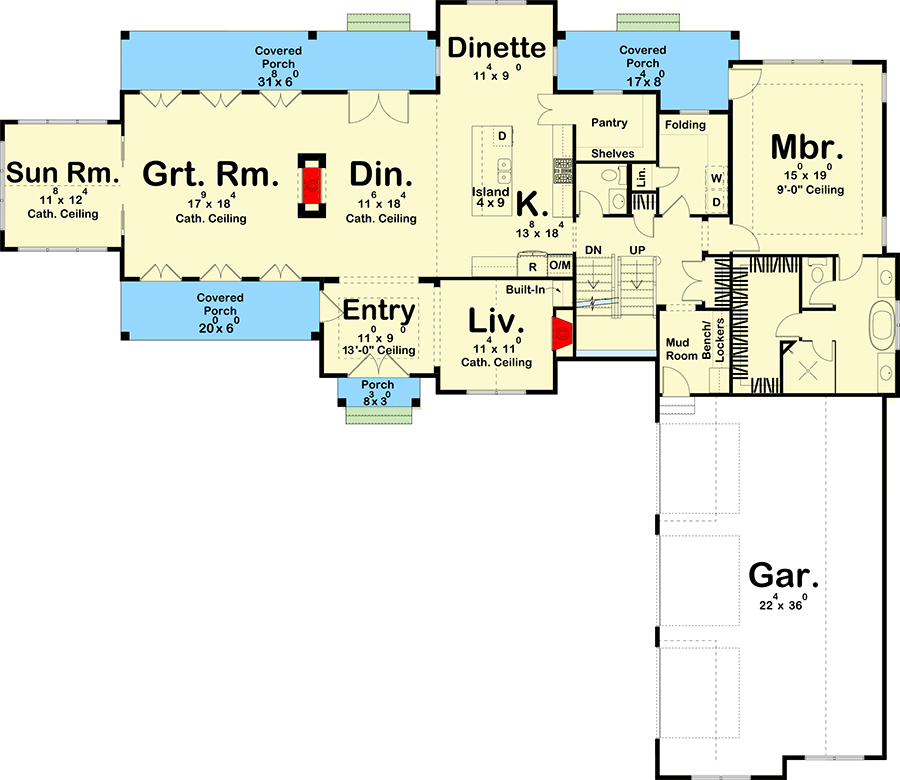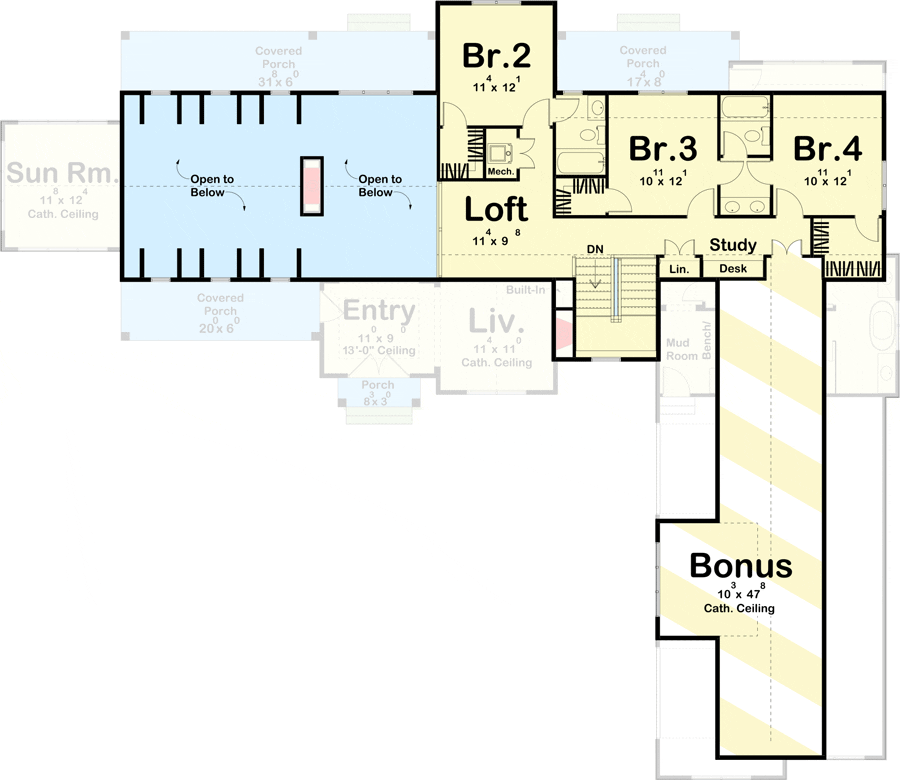 Imagine this – a magnificent Modern Farmhouse Plan that's sprawling over 3,908 square feet. No, don't just imagine, sink your toes into this fantasy.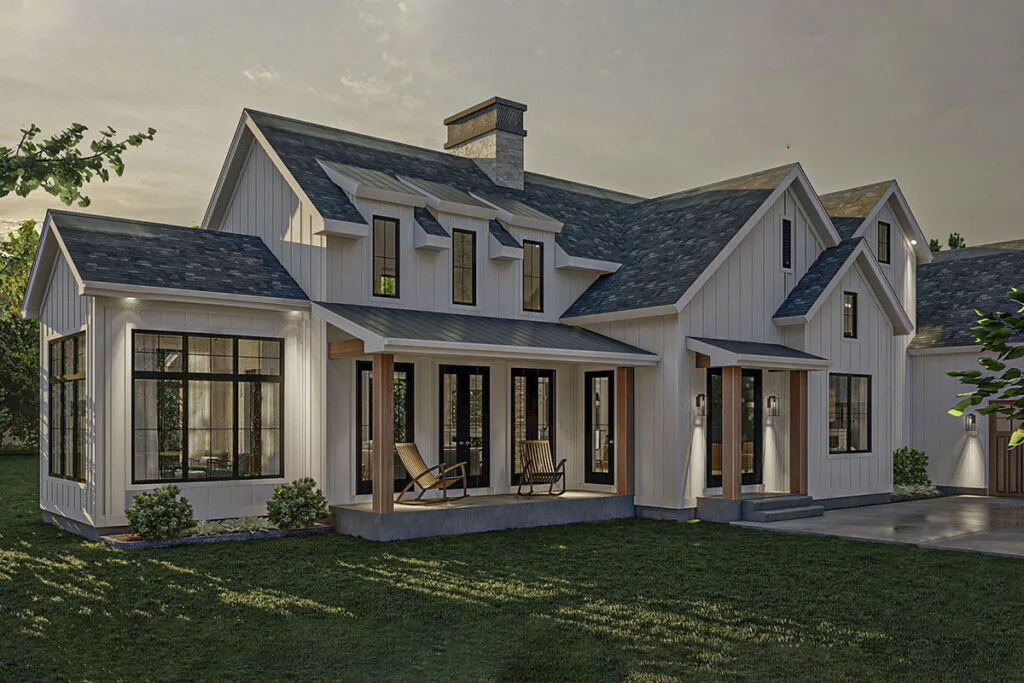 This behemoth of a home provides ample space for your antique knick-knacks, your secret chocolate stash, and your in-laws when they unexpectedly drop in for a week! With 4 luxurious bedrooms and 3.5 well-appointed baths, even Goldilocks would find her 'just right' here.
When you approach the house, the exterior simply screams elegance with its 3-car courtyard garage – ample space to house your family's fleet or even start your mini vintage car collection. Add to that board and batten siding and charming dormers that practically wink at passers-by.
Yes, we're talking the kind of curb appeal that makes people slow down their car just to get a good look! And, oh boy, does it look good.
Inside, you're greeted by an entry with 10-foot-high ceilings that might make you feel like you've shrunk. A warm welcome that offers tantalizing views right through to the back. But before you get lost in the stunning views, take a quick detour to the formal living room, situated conveniently on the right.
This cozy corner is adorned with a crackling fireplace, making it an ideal spot for sipping hot cocoa on a winter evening or catching up with friends over a glass of wine.
Beyond this lies the true star of the show – a 2-story cathedral-ceilinged great room that practically demands to be filled with laughter and memories. Sharing a two-sided fireplace with the dining room, this space seamlessly blends warmth and style.
French doors abound, three sets leading to the front porch for those after-dinner soirees, and another three to the back porch for sun-soaked brunches. Plus, a set of sliding doors opens to a sunroom, because who doesn't love lounging in the daylight without actually having to go outside?
Now, let's talk about the place where all the magic happens – the kitchen. No, not that kind of magic, I mean culinary wizardry! This dreamy kitchen is adorned with a large island featuring a snack bar and a walk-in pantry that could easily double as Narnia. I'm kidding, but seriously, it's huge!
Don't think I forgot about the pièce de résistance! The master suite, tucked away on the right side of the main level, is the epitome of luxury and privacy.
This impressive haven features a soaking tub (bubble bath, anyone?), his/her vanities (because sharing is overrated), a walk-in shower, an enclosed toilet area (for the best seat in the house), and a massive walk-in closet that might require its own GPS system.
Moving upstairs, you're greeted by three additional bedrooms and a large optionally finished bonus room above the garage.
This room is perfect for anything – a home gym, a theater, or maybe even a secret superhero lair! Bedrooms 3 and 4 share a bathroom (great for sibling bonding), while bedroom 2 enjoys the luxury of its own private bathroom.
This house, my friends, isn't just a structure of bricks and wood. It's a sweet symphony of architectural charm, thoughtful design, and modern luxury. It's a place where memories will be created and cherished.
Whether it's weekend barbecues, holiday feasts, or justcozying up with a book by the fireplace on a lazy Sunday, this modern farmhouse plan offers a setting as special as the moments themselves.
And honestly, it's not just about the stunning features this house offers. It's about that unmistakable feeling of 'home', the sigh of contentment as you walk through the front door, the heart-flutters you get every time you pull into the driveway.
From the towering ceilings to the sunroom where you can almost taste the sunshine, this house is a love letter to comfortable, stylish living.
Sure, this place might make your current digs look like a doll's house, but hey, we all need something to aspire to, right? And this house, my dear readers, is aspiration wrapped in architectural brilliance and tied with a bow of modern charm.
It's the perfect blend of a rustic farmhouse feel with the elegance of modern design. So go ahead, keep dreaming, keep planning, and maybe one day, you'll find yourself in a place just like this – a place that doesn't just feel like home, but feels like your home.
So, this was our tour of the magnificent Modern Farmhouse Plan, with a sunroom and 2-story great room. If you're still here, chances are you're as smitten as I am. And if this house plan has set your heart aflutter, remember – the only thing standing between you and your dream home is an action plan.
So get out there, start planning, and make those dreams come true. After all, your very own sunroom is waiting!
Plan 62329DJ