Specifications:
3,655 Sq Ft
3-5 Beds
3.5 Baths
2 Stories
3 Cars
Well hello there, dear reader!
Do come in and put your feet up as we take a stroll through the marvelous architectural wonder that is the Classic Two-story Craftsman Plan.
Think of me as your friendly guide, not a stuffy professor.
So, let's chuck that professorial tone out the nearest window, shall we?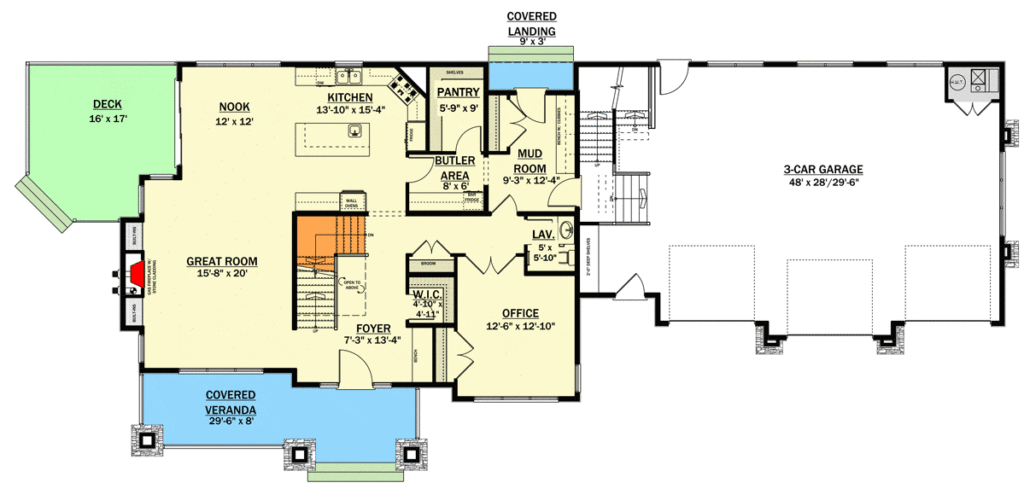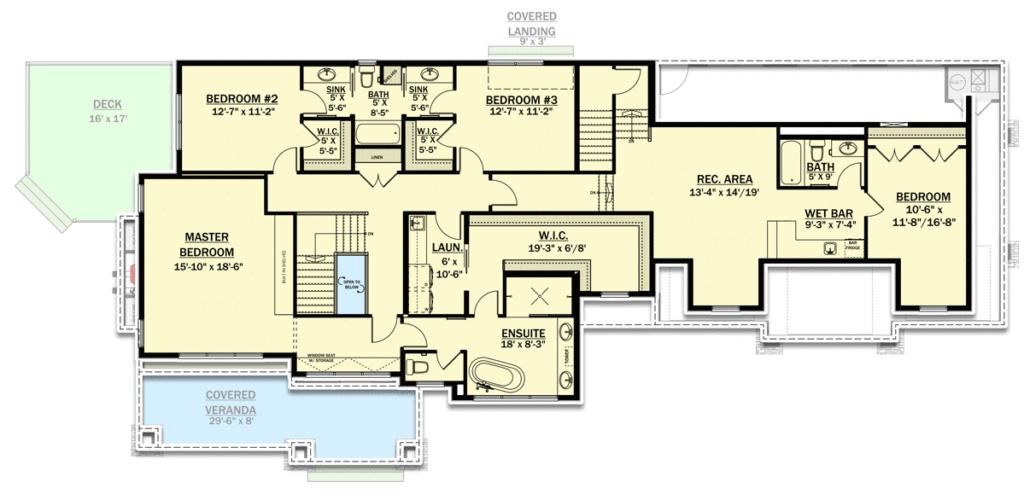 When it comes to houses, bigger is not always better. But who am I kidding? When we're talking about a whopper-sized, 3,655 square-foot Craftsman, one can't help but swoon. And when it has 3-5 bedrooms and 3.5 bathrooms, it's hard to keep a straight face, isn't it?
Now, prepare yourself to be introduced to the diva of the house – the front elevation. There's nothing like a multitude of nested gables to say, "Yes, I am indeed the bee's knees." It has an air of regal elegance that I assure you is both classic and timeless.
It's like Audrey Hepburn, but in house form, and she comes with a snazzy 3-car garage. But here's the kicker: this isn't just any garage. Oh no! This one harbors a secret, a little gem tucked away overhead.
An in-law suite! Yep, you heard me right. We love our in-laws, but sometimes distance makes the heart grow fonder, right? Here, they get a taste of independence, and you get… well, you get your house back!
When you step inside, you are greeted by a covered lanai, waving hello with the charm of a Southern belle. To the left, we have a great room. 'Great' may be an understatement, though, because this is where you can host your legendary soirees or curl up with a good book on a lazy Sunday.
It has easy access to the dining nook and kitchen – a culinary enthusiast's paradise. The cherry on top is the butler area and walk-in pantry, where you can hide all those cooking experiments gone awry. Not that you'd have any, of course!
As you wander past the delicious aroma of the kitchen, the home office beckons. It's sizable, it's quiet, it's just what you need to pen the next great American novel or balance your checkbook. Then, just when you think you've seen it all, the mudroom pops up to complete the main level.
A room entirely dedicated to muddy boots and wet coats? That's what I call a functional beauty!
As we ascend to the upper realms of this architectural haven, you'll be welcomed by the master bedroom – and, oh boy, is it a treat. Providing a window seat where you can sip your morning coffee while contemplating life's mysteries, it also boasts a 5-fixture bathroom and walk-in closet.
The access to the laundry room from here is so convenient you might actually start to enjoy doing laundry. Who am I kidding? That's never going to happen.
Across the hall, you'll find two bedrooms sharing a Jack-and-Jill bathroom – a cute little arrangement that evokes a sense of camaraderie and many "you go in first" debates.
As we retrace our steps, the secret in-law suite appears, complete with a rec area and a wet bar. Accessed via the garage or the main house, this place is a little universe in itself.
Now, let's take a quick detour to the basement, because you are not going to want to miss this. Designed for your leisure and pleasure, the basement holds yet another gathering space complete with a wet bar (yes, another one!), home theatre, fourth bedroom, and exercise room.
I mean, who wouldn't love to have a private movie theater and a bar in their house? With an additional 1,253 square feet of living space, this basement is not just a basement; it's an entertainment paradise.
So, there you have it, folks. This is no ordinary Craftsman; it's a perfect blend of classic charm and modern amenities. It's the house that keeps on giving, with room to grow, laugh, and make lasting memories.
I can't promise that living here will make you the next star of a home improvement show, but who knows? With a house this good-looking, anything is possible. Now, if you'll excuse me, I must attend to my jealousy. I mean, if I can't live here, the least I can do is be green with envy!
Plan 81737AB