Specifications:
2,317 Sq Ft
4 Beds
3.5 Baths
2 Stories
2 Cars
Ahoy, home dreamers and nest builders!
Grab your favorite brew, kick back, and let's embark on a virtual tour through a home where modern farmhouse charm marries practicality in a dazzling 2,317 Sq Ft of pure domestic bliss. Buckle up; it's going to be a cozy ride!
Who could resist the warm embrace of a 4-bedroom, modern farmhouse featuring an enviable blend of traditional and contemporary elements?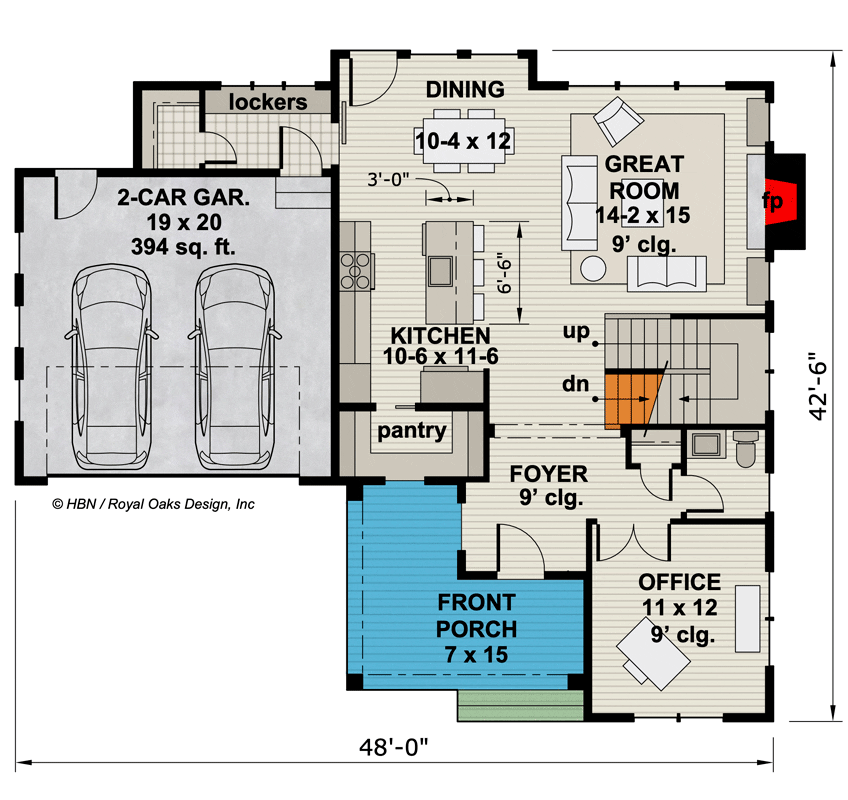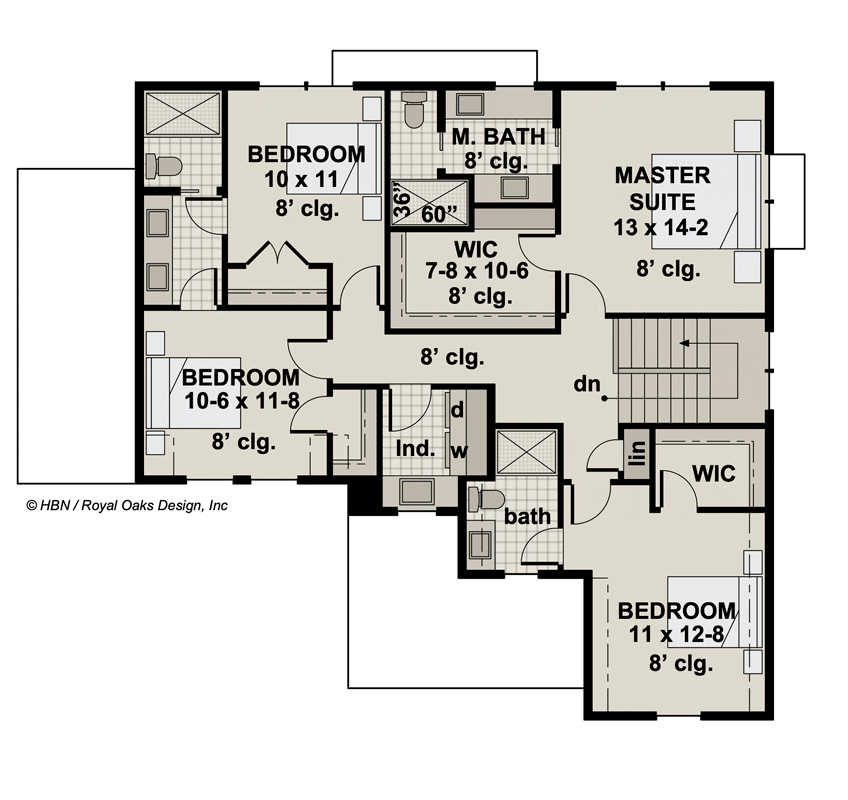 Not I, and certainly not anyone with a penchant for board and batten and clapboard siding – a nod to timeless architectural aesthetics.
Imagine pulling into your driveway, greeted by the 7′-deep entry porch held up with robust wood pillars, whispering sweet nothings about evenings with lemonade and soft sunset hues.
Stepping through the doorway, your eyes may dance around, but ah-ha, the French doors coyly positioned off the foyer will undoubtedly steal a second glance.
Concealed behind these classic doors, behold a private home office, brightly lit with windows gazing out upon two sides of your domain.
Who says work-from-home vibes can't marry tranquility and productivity in a single, elegant room? When nature calls – or simply when you crave a coffee refill – a chic powder room is merely steps away, promising convenience in the midst of those Zoom calls.
Progressing deeper into the heart of the home, the open floorplan graciously ushers us from the great room, where a cozy fireplace begs for evening chitchats, through to the dining area, and onto the kitchen.
Ah, the kitchen, a realm where culinary magic simmers and memories are garnished amidst friendly banter. Picture this: you, perched at the generously-sized kitchen island, coffee in hand, as scents of Saturday morning pancakes waft through the air.
And fear not, storage scavengers – with numerous cabinets and a walk-in pantry, there's ample room to stash your snacks and secret seasonings.
Ascending to the second story, a realm of rest and relaxation awaits.
Each of the four bedrooms is a sanctuary in its own right, with the master suite indulging in a dash of luxury boasting two vanities, a secluded toilet, and a walk-in shower – neatly tucked behind a pocket door.
Just imagine sinking into a world where your biggest dilemma is deciding between a brisk morning shower or an extended evening skincare routine.
And oh, the capacious walk-in closet with built-ins simply completes the suite with a dash of glamour and a sprinkle of practicality.
But let's not forget the three additional bedrooms, each extending a warm welcome with their massive closets, awaiting to cradle clothes, secrets, and perhaps a hidden candy stash.
Amidst these rooms of repose, the upstairs laundry room subtly winks, offering a lifestyle where hauling baskets up and down stairs becomes a nostalgic tale of the past.
Venturing back to the domain's entrance, one can't help but appreciate the thoughtfully positioned mudroom, residing just behind the practical 2-car garage.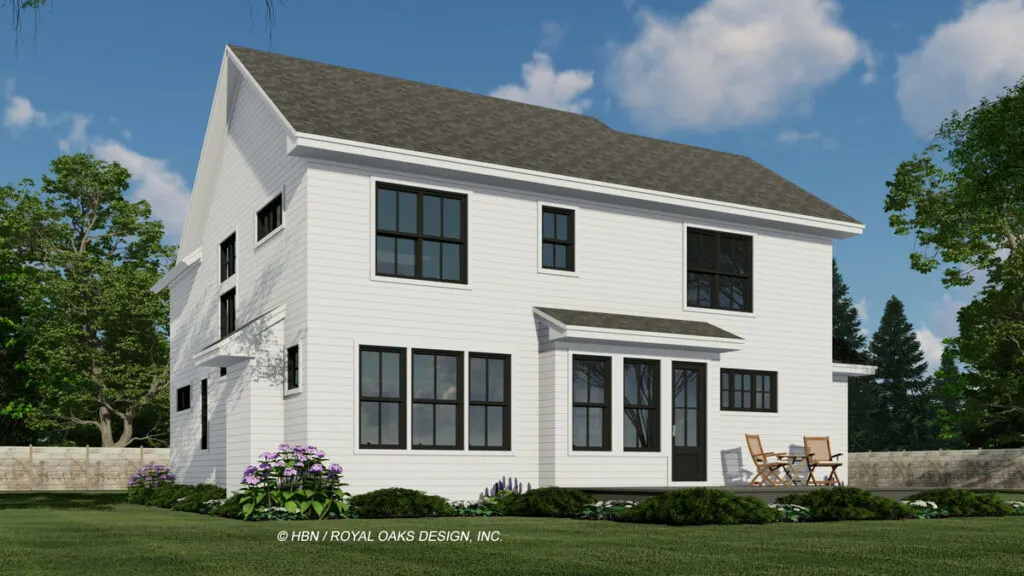 Adorned with lockers, it's more than a mere transitional space; it's a guardian against clutter and chaos, ensuring muddy boots and rain-soaked jackets remain at bay, safeguarding the serenity of your home.
In a nutshell, or rather, in the heart of a splendid 2,317 Sq Ft, our modern farmhouse twirls gracefully through two stories, bestowing upon its inhabitants a world where charm, functionality, and warmth exist in a harmonious ballet.
It's more than a house; it's a canvas where life unfurls in all its messy, joyful, pancake-scented glory.
I wager you might be envisioning festive gatherings, lazy Sunday mornings, or perhaps the simple joy of a quiet evening by that inviting fireplace.
Whatever your dream, this modern farmhouse, with its intimate corners and open embraces, stands ready to cradle them all in understated elegance and unspoken comfort.
And there we have it, dear reader: a glimpse, a taste, and a virtual stroll through a home where dreams perch on wooden pillars and where every square foot is a step through a story yet to be written.
May your walls know joy; may each room hold laughter, and every window always invite beams of sunshine or moonlit serenades into your meticulously crafted realms.
In a world that sometimes feels as chaotic as a dropped pancake flip, isn't it just splendid to find a spot that seems to whisper, ever so softly, "Welcome home"?
Plan 14725RK