Specifications:
2,292 Sq Ft
3 – 4 Beds
2.5 Baths
2 Stories
2 Cars
They say dynamite comes in small packages; well, this isn't that small, but it packs a punch of charm!
Let me take you on a tour of the coziest farmhouse that whispers stories of family gatherings, morning coffees on the porch, and endless games in the spacious playroom.
The moment you step into the great room, your eyes will be drawn to those gorgeous wooden beams.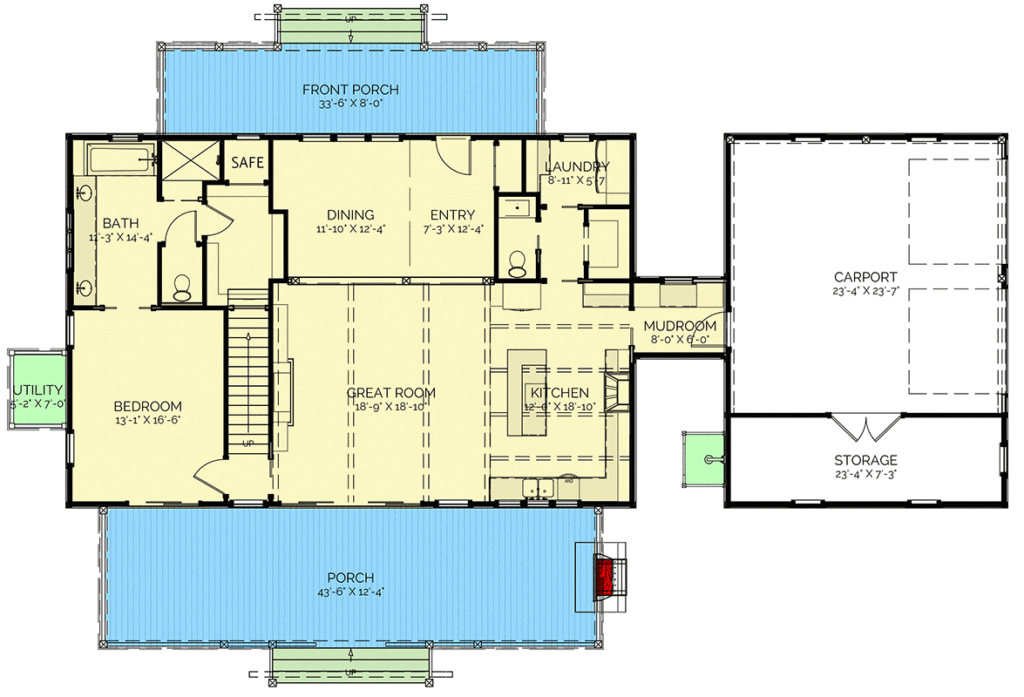 It's like the room's jewelry! But these aren't just any beams; they are reminiscent of the old-world charm, evoking nostalgia for those farmhouses that have stood for centuries. It's not every day you find modern construction that brings in such rustic warmth.
And yes, if you're wondering, they're fantastic for hanging fairy lights during the holidays or even those funky indoor plant hangers. You know, for when you're trying to prove to everyone that you can keep a plant alive.
If you've ever lived in a cramped apartment or home, you know the awkward dance that ensues when you're trying to navigate a tight space with family or friends. This farmhouse? Say goodbye to those weird shuffles! The open layout is like a breath of fresh air.
Imagine hosting dinner parties where you can chat with guests from the kitchen while they lounge in the great room or dine in style. And you thought your dance moves in the kitchen were a secret!
I know what you're thinking: "A garage is a garage, right?" WRONG! Not in this farmhouse. It's like Aladdin's cave.
Not only does it house your precious four-wheel wonders, but it comes with double doors that open to what could be a magic wardrobe!
Okay, it's a storage closet – but it's HUGE. Whether you're storing winter decorations, old photo albums, or turning it into a DIY workshop, this space is a game-changer. So, crafters and DIY enthusiasts, rejoice! Your dream workshop is just a renovation away.
You know those hotel rooms that you never want to leave? That's what the master bedroom feels like. Tucked away on the first floor, it's your private haven. And, the adjoining master bathroom?
Ah, pure bliss! With ample counter space, you can finally have room for all your skincare products, fragrances, and maybe a little corner for those random beauty samples you swear you'll use someday.
Heading upstairs is like stepping into another world. The delightful bunk room screams sleepovers and story nights. And if the kids or your guests need a breather, there's a spacious playroom (or perhaps a meditation room if you're into that zen stuff).
That triple window is like Mother Nature's widescreen TV – bringing in an abundance of light and setting the perfect backdrop for countless memories.
A farmhouse without porches is like peanut butter without jelly. Incomplete! Whether you're a sunrise coffee enthusiast or a sunset wine connoisseur, these porches are the places to be.
Plus, they're an excellent arena for those crucial family debates – like whether marshmallows belong on sweet potatoes. (They do, by the way.)
To sum up, this farmhouse isn't just a house; it's an experience, a memory creator, and most of all, a charming home that beckons you to be a part of its story.
With its blend of rustic charm and modern amenities, it truly is a sweet little (but not too little) farmhouse that might just be the dream home you've been searching for!
And hey, even if you're not moving in, it's worth a visit, if only to imagine the kind of romance-novel life you'd lead here. Who knows? Maybe you'll find a cowboy hat and start yodeling. Anything's possible in this farmhouse dream!