Specifications:
3,170 Sq Ft
4-5 Beds
3.5+ Baths
2 Stories
2 Cars
Welcome to your very own modern country farmhouse – an epitome of rural charm, infused with contemporary features.
This dreamy abode promises comfortable living, fine dining, and spectacular design aesthetics that will make your heart skip a beat.
Trust me, it's going to be love at first sight!
Let's dig into it.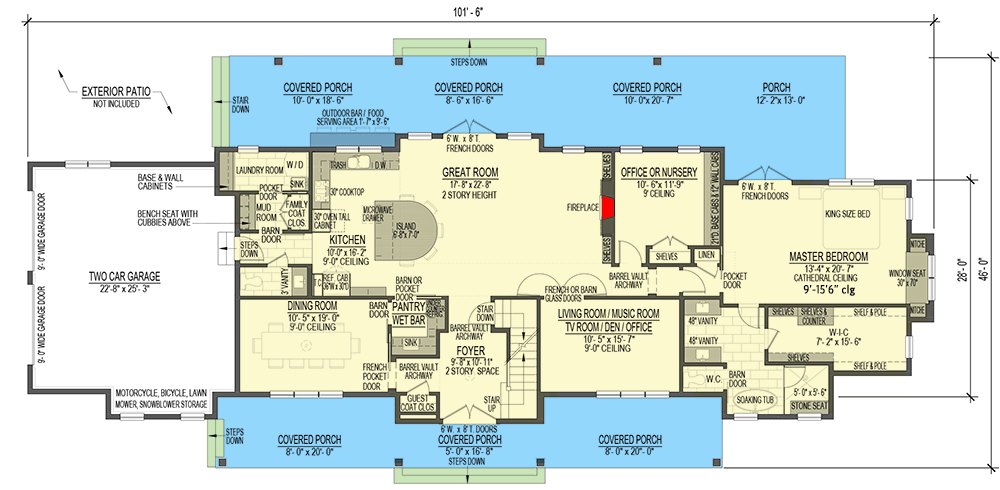 As a resident of the bustling city, the tranquil countryside was always my sanctuary, my utopian dream. In this sprawling farmhouse, of a generous 3,170 square feet, that dream comes alive.
With 4-5 bedrooms and 3.5+ baths, there's room for a large family, a horde of pets, or even a soccer team. I'm not saying I've tried it, but the idea seems tempting!
Every moment in this home is like a country song that plays out in real life. From the sun-dappled porch in the front, to an even larger one at the rear, it's got the charm of a classic Dolly Parton number.
And whether you're planning an intimate tea party or a rowdy barbecue, these outdoor spaces are your perfect stage.
Barrel-vaulted archways add a dramatic flair to the whole place. You'll feel like a star each time you cross them, even if it's just to fetch a cup of coffee.
If that wasn't enough, the exposed timber beams over the great room shout "rustic chic" – it's like having a touch of the old barn charm without the barnyard smells.
The combined kitchen and great room is a scene straight out of a Hallmark movie. The rounded island, your new favorite family gathering spot, stands majestic in the center, with a wet bar slash pantry leading to the formal dining room.
The dimensions, 6'4″ by 6'7″, are enough to hide all your secret snack stashes. Don't worry, I won't tell!
Tucked away from the hustle and bustle is a home office, located across from a den or flex room. Now, even if you can't escape work, you can work in peace, or maybe in pajamas.
The master suite? Ah, it's the pièce de résistance of this country estate. With tall ceilings, French doors leading to the back porch, and a window seat, it is a retreat in the truest sense.
Its en suite bathroom is pure indulgence, boasting 5 fixtures and a large walk-in closet. Now, ladies and gents, there's enough space for all those shopping sprees.
Upstairs, three spacious bedrooms await, each with a character of its own. Two share a Jack-and-Jill bath (because sharing is caring), and one includes a compartmentalized bath.
There's also potential for a bonus room, offering an extra 222 square feet of living space. A home theater or a mini-gym, perhaps? The possibilities are endless!
Last but not least, a conveniently located mudroom and laundry room ensure that your love for outdoor adventures doesn't mess with the cleanliness of your sanctuary.
These rooms, connected to the 2-car side-entry garage, serve as a buffer between the merriment outside and the tranquility inside.
This modern country farmhouse is not just a house, it's a lifestyle. It's where every corner has a story, every room echoes with laughter, and every day feels like a vacation in the country. So, saddle up folks, because in this house, we're living the country dream, one beautiful sunrise at a time!