Specifications:
2,987 Sq Ft
4 Beds
3.5 Baths
1 Stories
2 Cars
Well hello there, home design enthusiast!
Welcome to my humble digital abode where I'll walk you through an architectural marvel that even Frank Lloyd Wright would give a nod to – a 4-bed modern prairie-style house plan that just falls under 3,000 square feet.
It's as fabulous as it sounds, I promise!
Let's dive in!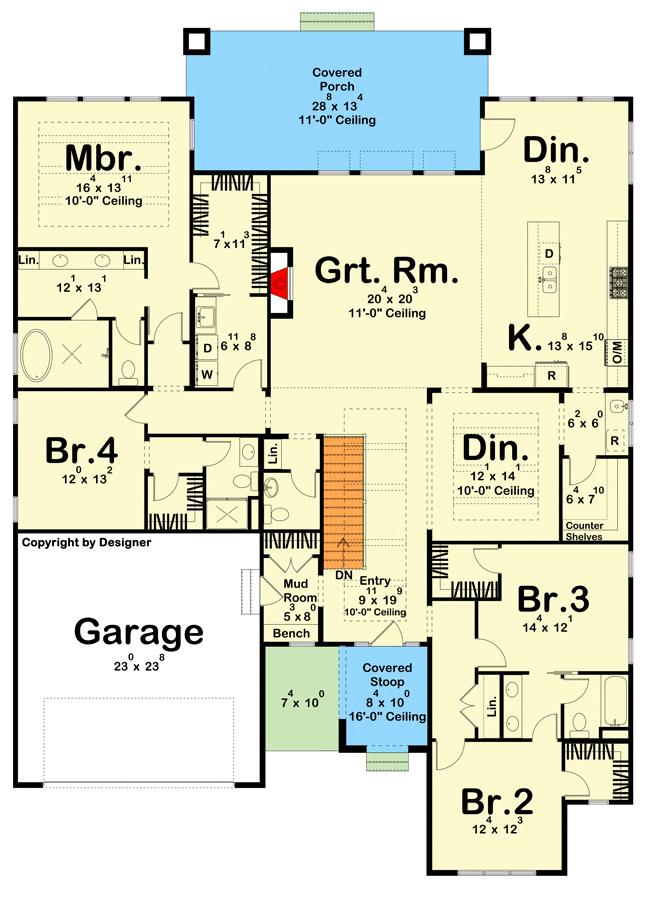 Now, allow me to paint a picture for you. Imagine pulling up to this contemporary prairie fortress after a long day's work. You drive past dark soffits, flanked by stone walls, and park in the commodious garage that's spacious enough for two cars (one for you and another for your mid-life crisis!).
Stepping out of your car, you walk into the mudroom. Perfect for hanging up those rain-soaked jackets, muddy boots, or, let's be honest, dropping the pile of miscellaneous objects that have somehow found their way into your car. It's a clutter collector's dream, really.
Just past the mudroom, you're met with the glorious sight of a high tray ceiling with exposed beams. The kind that would make even Michelangelo look twice, and no, I'm not exaggerating… okay, maybe a tad. The ceiling then ushers you into the bosom of your humble abode.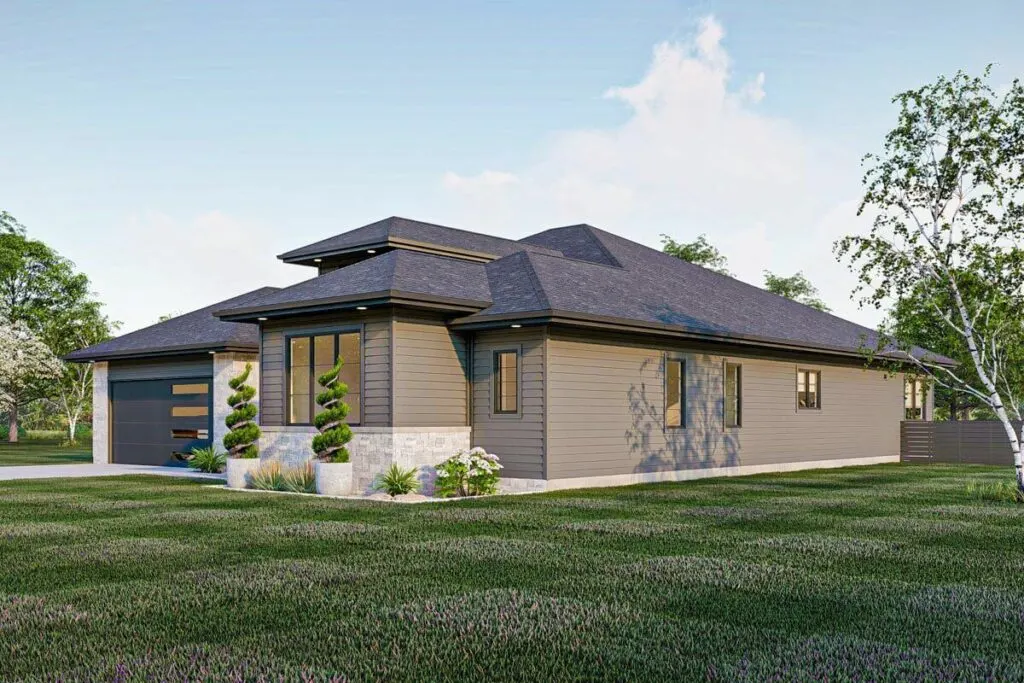 To your right, two rooms beckon with their shared Jack-n-Jill bathroom. A little sibling rivalry never hurt anyone, right?
But before you think it's all about shared spaces, let me assure you, this home respects your privacy and your love for extra bathrooms! The Jack-n-Jill bathrooms, while shared, offer enough private space for everyone.
Have a hankering for a family feast or a dinner party with friends? This house plan caters to your inner Julia Child with a formal dining room AND a casual dinette.
Because who doesn't love options? After the feast, your dinette opens to a large rear covered porch for an after-dinner digestif or just some quality stargazing.
Cooking up a storm will never be the same in the ultra-mod kitchen. This baby comes with a gigantic island that not only doubles as a breakfast bar but is also perfect for those cook-along YouTube tutorials you've been keen on trying.
What's more, the kitchen looks right into the great room – just perfect for those TV chefs among you.
A servery area conveniently links your kitchen to the walk-in pantry. Trust me, it's the kind of pantry that's so large, you could walk into Narnia.
Did I mention the ceiling in the great room steps up to 11 feet? If that doesn't scream 'majestic,' I don't know what does.
Now, let's talk about the piece de resistance – the master suite. Tucked away on the left side of the house, your private oasis awaits.
It's equipped with a bathroom that features a double vanity (because sharing sink space is so last century) and a shower room that promises to wash away the day's worries.
The walk-in closet, spacious enough for all your retail therapy results, connects to the laundry room, which then flows into the hall.
It's a perfect design if you like your dirty laundry aired in private. To top it off, there's an additional bedroom on this side with its own bath and walk-in closet. Your guests will thank you, trust me.
To sum it up, this modern prairie-style house plan is like a high-quality burrito, neatly packed with all the ingredients of comfort, space, and style.
It's the kind of house that prompts oohs and aahs, makes you the envy of the neighborhood, and perhaps even the talk of the town. Now that's what I call home sweet home!
Plan 623225DJ