Specifications:
2,769 Sq Ft
2 Beds
2.5+ Baths
2 Stories
3 Cars
Hey there! Let's talk about a house plan that's as charming as a Sunday morning, and trust me, it's worth every square foot of your daydreams.
We're diving into the world of a 2-Bed Barndominium under 3000 square feet, complete with a home office, sunroom, and a personality that'll make you want to set up a hammock and never leave.
Barndominiums (or barndos for the cool kids) are sweeping the countryside faster than a cat video on the internet.
They're like the Swiss Army knives of houses – versatile, sturdy, and always surprising. Picture this: a wraparound porch that's like a bear hug for your house. It's not just a porch; it's a lifestyle statement saying, "Yes, I like my coffee with a view, thank you very much."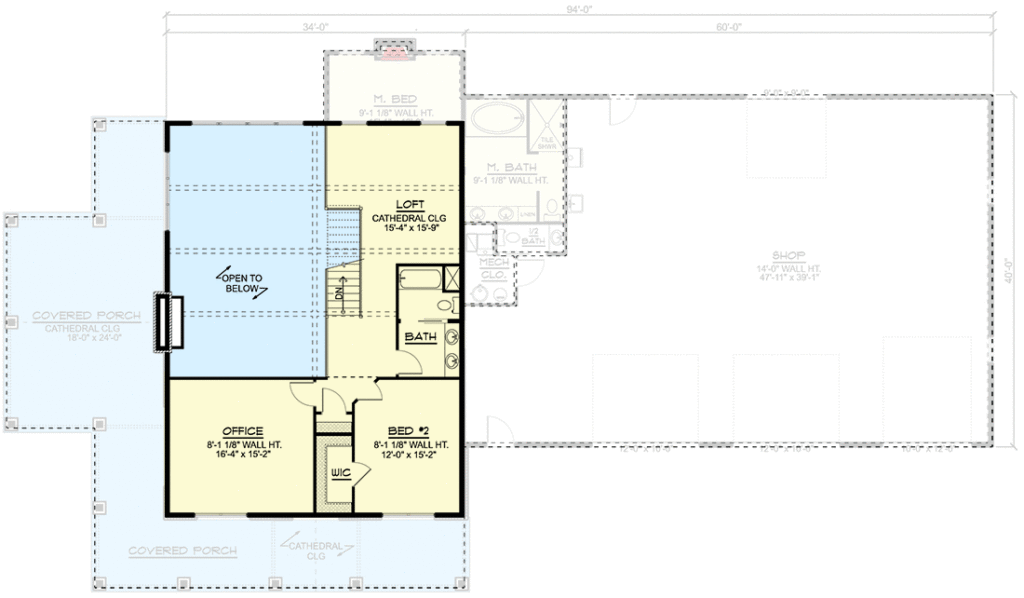 Now, let's waltz into the heart of this barndo. Imagine a living room with a two-story ceiling – it's like living in a cathedral but with cozier sofas and less echo.
The sunroom adjoining it is like having a personal slice of sunshine, perfect for those lazy afternoons when you want to read or pretend to be a cat basking in the sun.
And oh, the kitchen! It's spacious enough to swing a cat, not that you'd want to. This is where culinary magic happens, where you can cook up a storm while your friends sit around, wondering how you make it look so easy.
The master bedroom is on the main level, which means no more stairs after a long day. It's got a bathroom that's so luxurious; you might start planning your day around your bath time.
The walk-in closet connects to the laundry room – because life's too short to carry laundry across the house.
Upstairs, there's a home office for those days when you're feeling productive (or when you need to hide from the kids). Speaking of kids, there's a second bedroom and a loft that's like a mini kingdom for them. It's where imaginations run wild, and bedtime stories come to life.
The garage is a beast – 2,237 sq ft of space that can double as a workshop, storage, or a secret superhero lair (we won't tell). It's got an oversized door for your bigger toys because sometimes size does matter, especially when it comes to lawn equipment.
Now, let's not forget the exterior. It's dressed in corrugated metal siding, which is like putting your house in knight's armor. It's tough, low-maintenance, and has that rustic charm that'll make your heart go all warm and fuzzy.
In conclusion, this 2-Bed Barndo under 3000 square feet isn't just a house; it's a lifestyle. It's for those who love the blend of modern convenience and rustic charm. It's a home that tells a story, where every square foot is a chapter filled with warmth, laughter, and memories waiting to be made.
So, if you're in the market for a home that's as unique as your fingerprint and as welcoming as a grandmother's hug, this barndo might just be your happily ever after. Now, go make that dream a reality, and remember to send me a postcard from your wraparound porch!