Specifications:
1,690 Sq Ft
2 Beds
2.5 Baths
2 Stories
2 Cars
Imagine cozily nestling amidst the stylish yet unassuming charm of a 2-story Barndominium, with modern amenities whispering sophistication in every corner.
With a delectable design that melds efficiency and elegance, this domicile beckons you to explore the sleek, 1,690 sq ft of fabulous living space it enfolds.
"Oh look, it's a barn! Oh wait, it's a home? No, it's a Barndominium!" Picture yourself explaining this to your utterly perplexed, city-dwelling friends as they first lay eyes on your sleek, rectangular abode that astutely minds your budget while refusing to skimp on modern allure.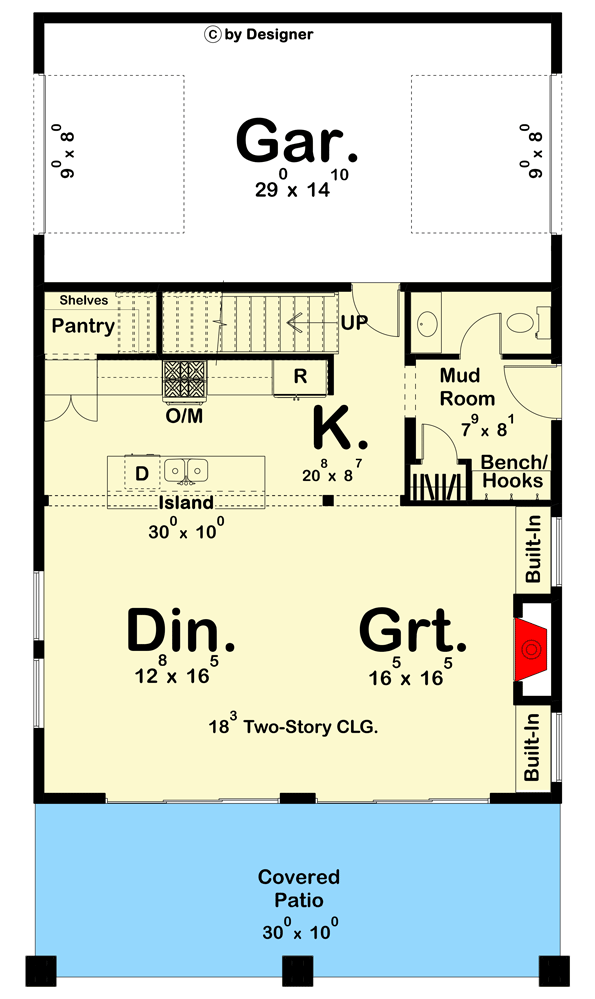 These beguiling structures combine the rustic charm of a barn with the comfort of a condominium, and oh boy, do they do it brilliantly!
The exterior subtly conceals the modern, open-floor interior lavishness, glowing warmly with natural lighting, beckoning an inviting ambiance throughout.
The cozy living room, seductively hugged by the builtins and illuminated by the gentle crackle from the fireplace, provides a perfect hideaway to sip on a glass of old scotch or get lost in a thrilling novel.
And, as you peer upward, the tall ceilings reluctantly reveal a sneak peek into the enticing world of the upstairs loft. Ah, the secrets a house holds!
As you wander into the island kitchen, a culinary playground awaits your gastronomic adventures.
The hidden pantry not only becomes your secret stash of those forbidden midnight snacks (shh, we won't tell!) but also a haven maximizing storage to stealthily conceal your kaleidoscope of spices and exotic ingredients away from prying eyes.
Near this mystical pantry, a mudroom stands gallantly, providing an exterior door to the side, guarding your home from muddy footprints and clutter, thus safeguarding your secret (and neat) world within.
Here's where it gets fun. Picture this: driving through your garage, not around, not past, but through it! The double garage, suavely attached to the rear, brings a smidge of fast-food drive-thru nostalgia, but for your car.
The overhead doors on either side allow you to zip through, making pesky 3-point turns in tight driveways a tale of the past. "Would you like fries with that smooth exit?" your garage seemingly jests every time you drive through with triumphant ease.
Delicately ascend to the second story, where the essence of convenience and privacy meld seamlessly. Two comfortably-sized bedrooms offer a tranquil retreat from the world, enveloped in the gentle embrace of meticulously designed walls.
The intimate laundry room ensures that neither you nor your wardrobe ever have to traipse downstairs to maintain that crisp, elegant appearance.
The pièce de résistance – the largest bedroom, meticulously reserved for you, the sovereign of this fine dwelling. Adjoined, a 4-fixture bathroom provides a sanctuary to refresh and rejuvenate, away from the prying eyes of the world below.
This Barndominium isn't just a house; it's a craftily designed adventure, a narrative that unfolds with each step through its cleverly utilized 1,690 sq ft.
Each room tells a story of thoughtful design, each corner whispers secrets of efficiency and hidden treasures (did someone say hidden pantry?!), all while being encased in a humble, rectangular footprint, unassumingly nestled in its serene surroundings.
The two-story, two-bedroom, 2.5-bath, and double-car (with an entertaining drive-thru feature) garage, infuse harmoniously to concoct a residence that isn't just lived in, but is a joyous exploration in itself.
It beholds tales of cozy fireside evenings, culinary explorations amidst hidden pantries, and mornings awoken with soft, natural light gently caressing your awakening world.
The Barndominium isn't just an abode; it's an experience, subtly veiled in the deceptive simplicity of a barn, quietly awaiting your discovery of the enchanting world that lies within.
Plan 623152DJ