Specifications:
3,959 Sq Ft
3-4 Beds
4.5 Baths
2 Stories
3 Cars
Alright folks, grab your spectacles and fasten your seatbelts because today, we're about to embark on a wild ride through a simply awe-inspiring Craftsman house plan.
This isn't your grandma's bungalow – no sir!
This is 3,959 square feet of pure architectural wonder that's designed to make your heart skip a beat (or three!).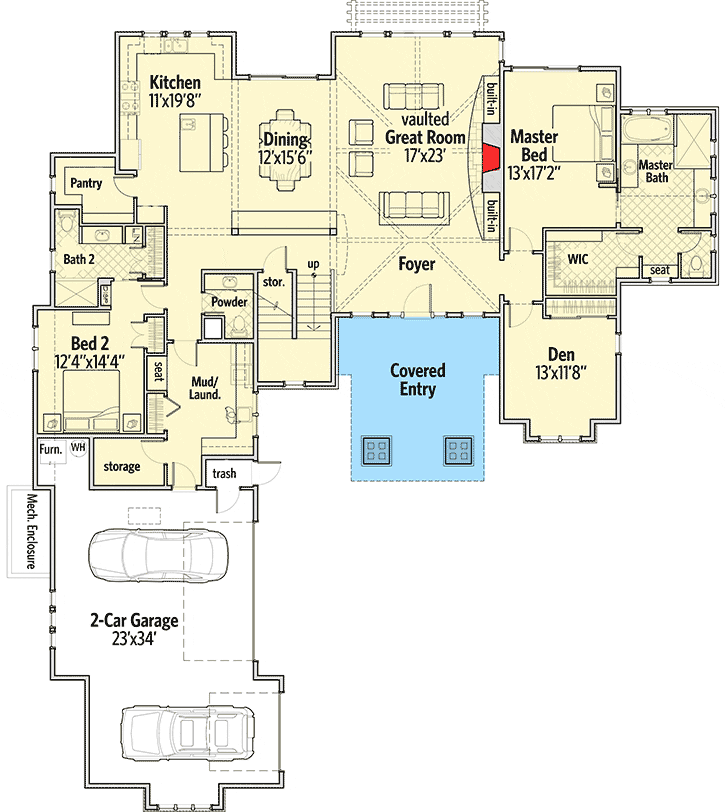 First, let's talk about this house's drop-dead gorgeous exterior. When you lay eyes on it for the first time, you might need to pinch yourself to make sure you're not dreaming.
This is thanks to its complex rooflines and exquisite wood trim that screams 'craftsmanship'! This house doesn't just step into the spotlight; it pirouettes, takes a bow, and leaves you gasping for more.
And oh boy, does it deliver more! The moment you step through the door, you're greeted by a wide, welcoming foyer that funnels your gaze straight into the expansive, vaulted great room.
"But wait," I hear you cry, "where are the walls?" Not here, my friend! In this architectural ballet, walls are a thing of the past. This home prefers to let the view speak for itself – and boy, does it have a lot to say.
Now, onto the kitchen, which is so upscale, it could be mistaken for the Alps. Bask in the warm glow of natural light from triple windows by the sink as you wash the day's worries away.
Marvel at the large island that stands like a culinary Colossus, overseeing the informal dining area and great room. It's more than just a kitchen; it's a command center from where you can rule the gastronomic world!
Speaking of gastronomy, this house plan understands the importance of digestion, and it gives privacy the importance it deserves.
Bedroom 2 is strategically distanced from the master suite, allowing each room on this floor the space to breathe. No more tiptoeing in your own house, afraid to wake the others. Strut your stuff like the king or queen you are – this house has got your back!
And if you're thinking, "Okay, so the bedrooms are awesome, but what about the less glamorous areas like the mudroom?"
Well, hold on to your hats! Even the mudroom in this house is designed to impress, complete with a walk-in storage closet, bench seating, and tons of counter space by the utility sink.
Who said mudrooms have to be messy? Not us, and certainly not this Craftsman house!
Let's not forget Bedroom 3, tucked away on the second floor like a hidden gem. This room is a private sanctuary filled with natural light from the skylights in both the bedroom and bathroom.
Whether you're stargazing or sunbathing, this room offers a unique blend of seclusion and open-air charm that's hard to resist.
And last, but by no means least, we've got the pièce de résistance – the grand bonus room! This isn't just any room, my dear readers.
It's a vaulted, multifunctional space that's part of the overall impressive square footage.
Whether you want to turn it into a home gym, a cinema, or just a place to hide from the kids, the possibilities are only limited by your imagination.
This Craftsman house is more than just a living space; it's a masterpiece designed with love, care, and a flair for the dramatic. Each of its 3-4 bedrooms, 4.5 baths, two stories, and a garage that fits three cars perfectly, exudes elegance and practicality.
So, whether you're a big family, a small one, or just someone with a penchant for the finer things in life, this Craftsman house is ready to sweep you off your feet!
Plan 54226HU