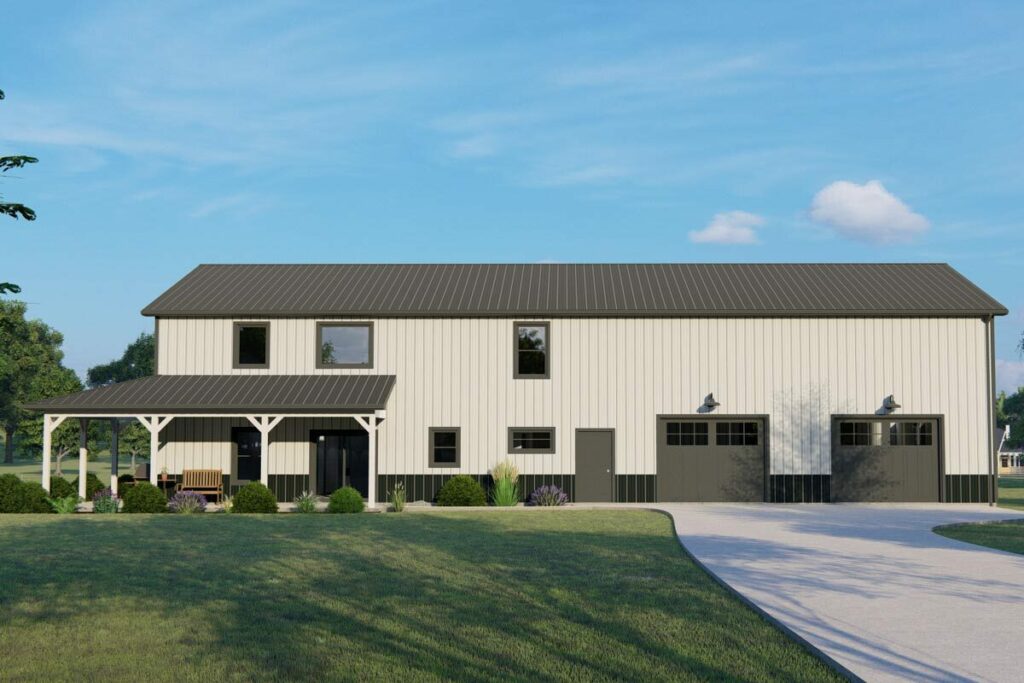 Specifications:
2,511 Sq Ft
4 Beds
3 Baths
2 Stories
3 Cars
Ah, the humble barndominium – a term that sounds like it was coined during a particularly wild round of Scrabble. But let's get real, who wouldn't be intrigued by a house plan that combines the rugged charm of a barn with the comfort of a condominium?
So, buckle up, because we're about to embark on a tour of a home that's as unique as its name: a Rectangular Barndominium with an L-Shaped Porch and Drive-Through Garage.
Size Matters: This isn't your average barn. Spread over a generous 2,511 square feet, this barndominium boasts four bedrooms, three baths, and a dual-story living space.
And, for the car enthusiasts, a three-car garage. Think about all that space – it's like having your own personal Costco, but with less bulk toilet paper and more cozy living areas.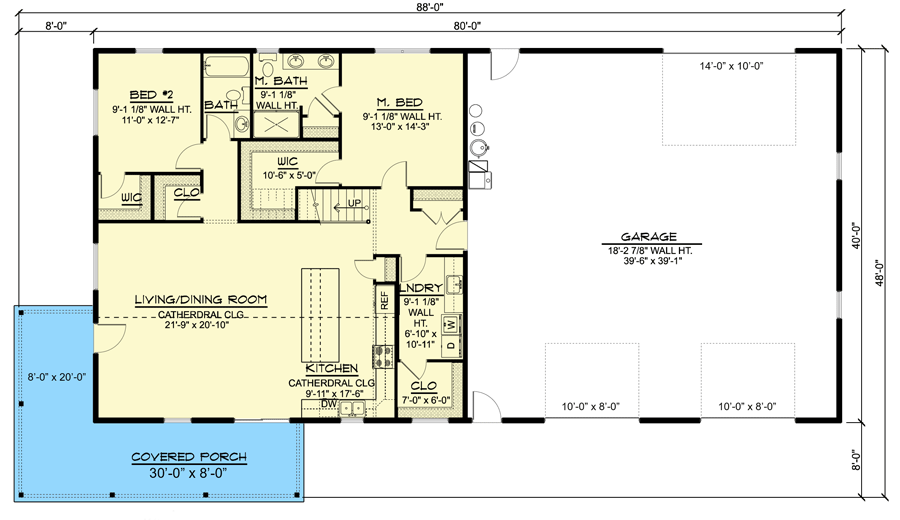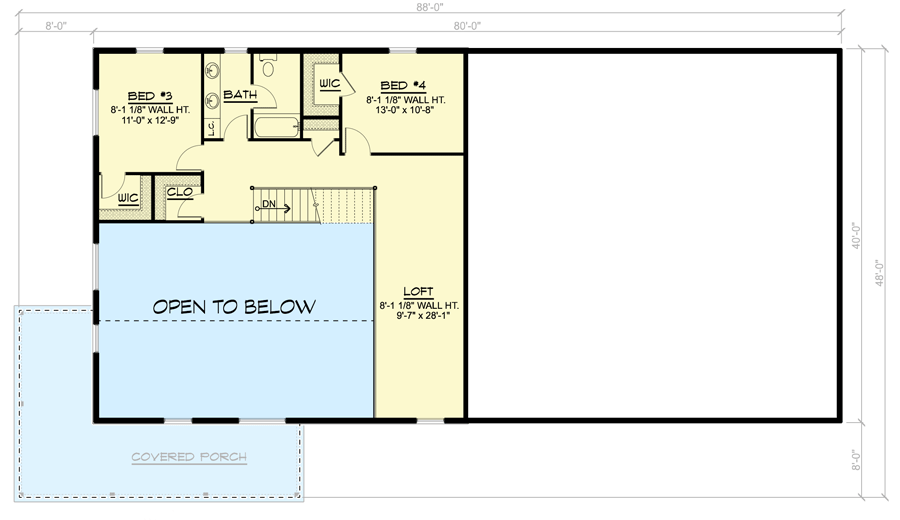 The L-Shaped Porch – Where L Stands for 'Love it!': Picture this: an L-shaped porch wrapping around your home like a cozy embrace.
Whether you're a fan of sunrises, sunsets, or just enjoy stalking your neighbors with a cup of coffee in hand, this porch has got you covered – literally.
It's the perfect spot for those who love the outdoors but also appreciate the comfort of being, well, almost indoors.
The Heart of the Home – An Open Floor Plan: Step inside, and it's like walking into a breath of fresh air – if air were made of spacious interiors and stunning design.
The open floor plan isn't just open; it's like the Grand Canyon of living spaces. Plus, with a kitchen island so massive, you could land a small aircraft on it, meal prep just got a whole lot more epic.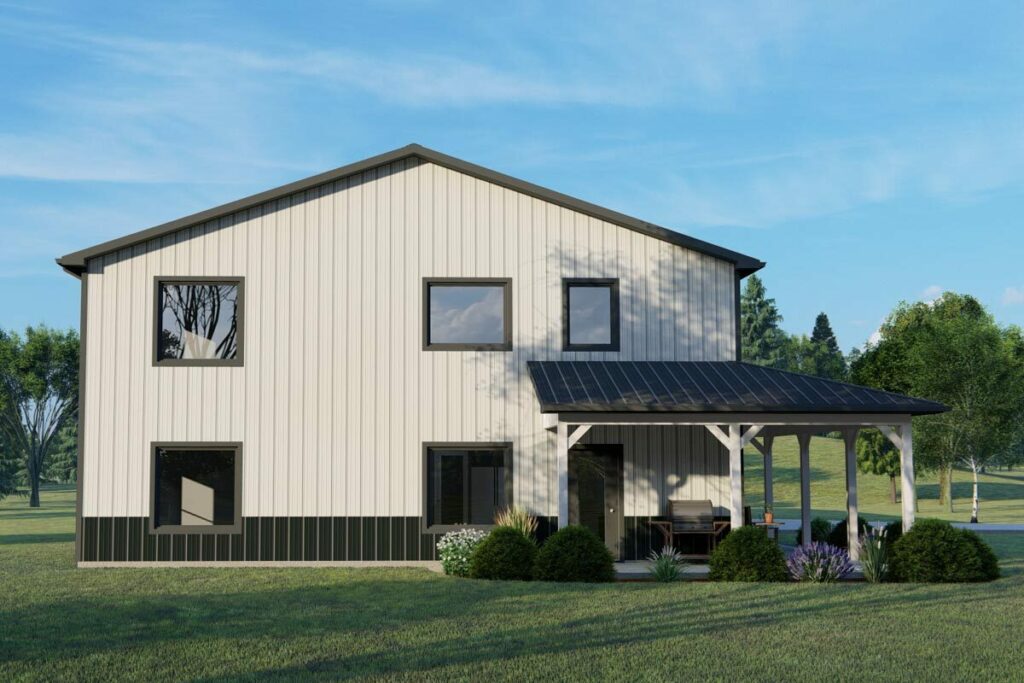 Bedroom Bonanza: The main floor houses two of the four bedrooms. This is perfect for those who prefer not to climb stairs or simply want to be closer to the kitchen for midnight snack raids.
Laundry/Mudroom – The Unsung Hero: Adjoining the garage is the laundry/mudroom. If laundry rooms were celebrities, this would be the Meryl Streep of mudrooms – versatile, functional, and probably deserving of an award.
Lofty Aspirations: Upstairs, a loft overlooks the living room – a perfect spot for a home office, a play area, or a place to throw your dirty laundry when unexpected guests arrive.
Two More Bedrooms: The back of the home houses two more bedrooms. That's right, two. It's like having your own private wing of the house where you can escape from, well, whoever you live with.
This isn't your average garage. It's a drive-through, which means you can pretend you're getting fast food, but instead, you're just driving through your house. Two bays have access to the front, and an extra-wide door at the back adds that drive-through charm. It's the little things in life, right?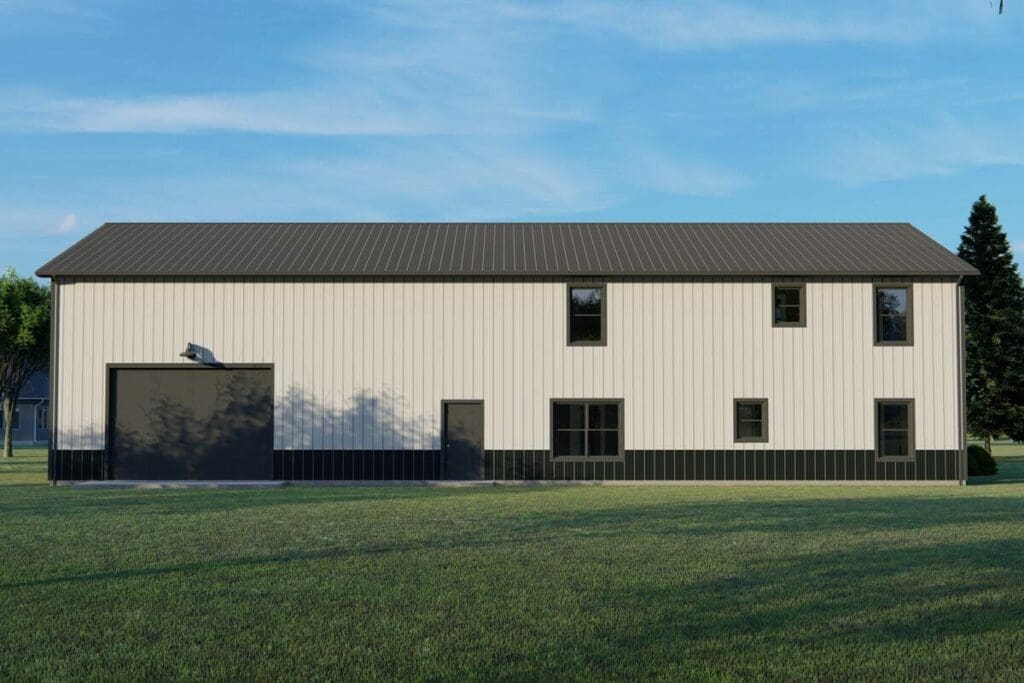 The exterior is spec'd for corrugated metal siding – giving it that chic, industrial look that says, "Yes, I'm stylish, but I can also withstand a zombie apocalypse." It's like dressing for a fancy dinner but wearing steel-toed boots – practical yet fashionable.
Efficiency at Its Best: The rectangular shape isn't just easy on the eyes; it's a budget-friendly footprint. It's like getting the most bang for your buck but in house form.
Versatility: This house is like a Swiss Army knife. Need a place for your cars? Check. Want a spacious kitchen? Double check. Dreaming of a porch where you can judge your neighbors silently? Triple check.
Unique Charm: Let's face it, living in a barndominium is a conversation starter. It's not every day you meet someone who lives in a stylish barn. You're not just buying a home; you're buying bragging rights.
Customizable: Like a good pizza, you can add your toppings. Want to change the interior? Go for it. Dreaming of a different exterior finish? The sky's the limit.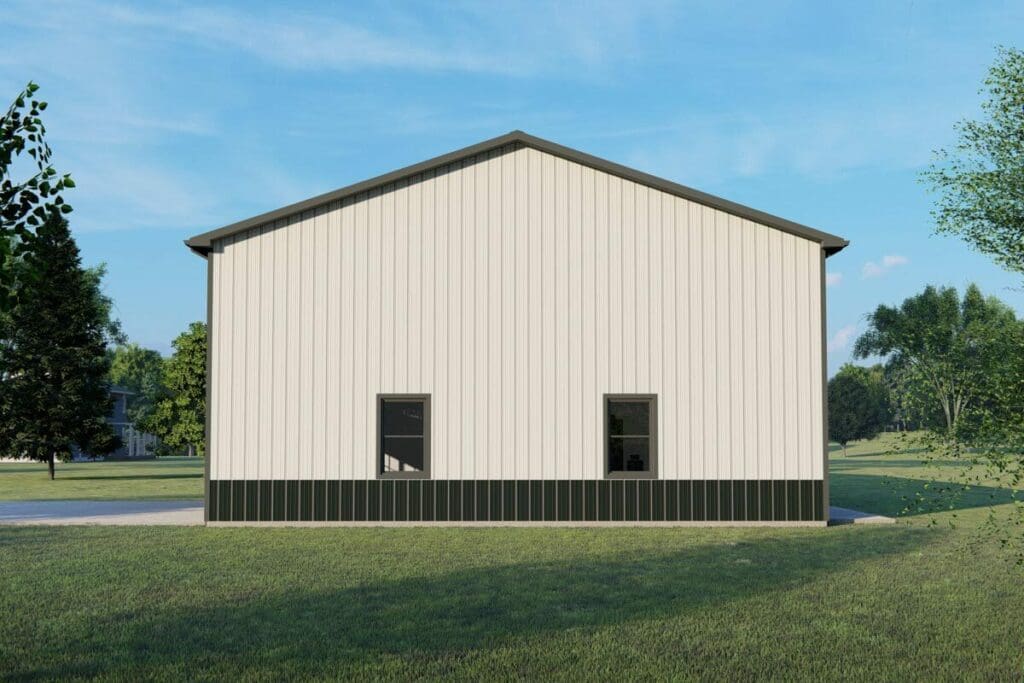 In conclusion, this Rectangular Barndominium with an L-Shaped Porch and Drive-Through Garage is more than just a home; it's a lifestyle. It's about embracing the quirky, the unique, and the downright practical.
It's a blend of modern living with a nod to the rustic, and honestly, it's just cool. So, if you're in the market for a home that's as unique as you, consider the barndominium.