Specifications:
2,734 Sq Ft
4 Beds
2.5 Baths
2 Stories
3 Cars
Pull up a chair and let's chat about a house plan that's going to rock your socks off.
Yes, friends, I'm talking about a 4-bedroom, 2,734 square foot barndominium-style house plan that will make even the most seasoned home aficionado do a double-take.
Curious about it?
Let's dive in!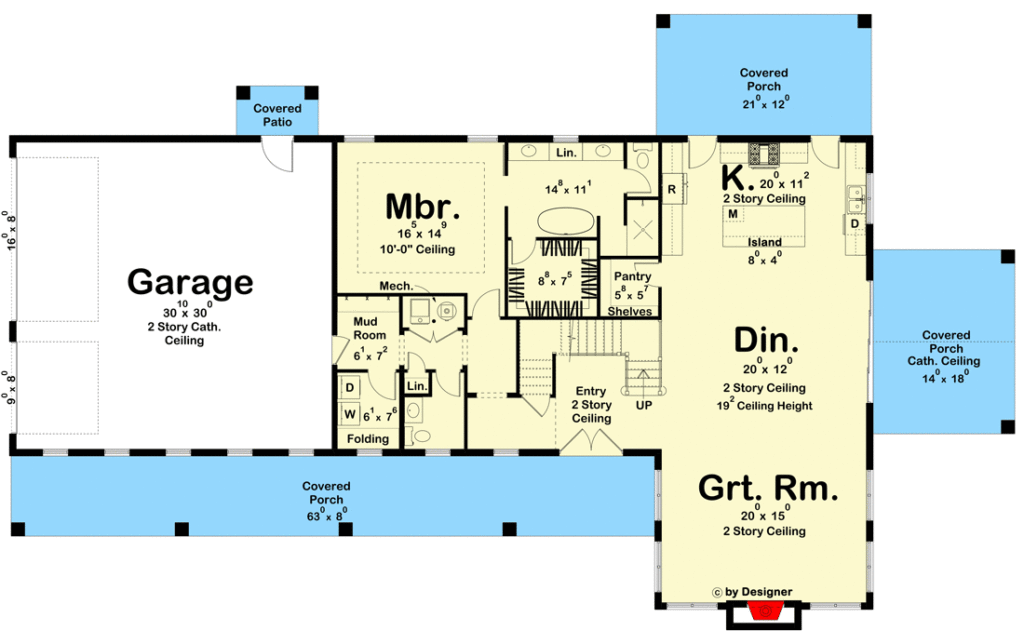 This isn't just a house; it's a dream carved into reality. One look at this property's huge, welcoming front porch and you'll be transported to a land of iced tea, rocking chairs, and cricket serenades.
We're talking 'Gone with the Wind' vibes, minus Rhett Butler and Scarlett's drama. But wait, there's more! Porches are in abundance here, not just in front, but one to the right and another in the back. Who said you can't have it all?
Dark and mysterious, with stone and wood accents, the exterior is as handsome as George Clooney in a tux. The curb appeal is enough to make the neighbors green with envy. The outside might scream rustic charm, but step inside and it's a whole new ballgame.
As soon as you open the front door, you're greeted by a majestic two-story ceiling, so tall you'll think you've stumbled into the Sistine Chapel.
Michelangelo's art not included, sadly. Then, the open-concept design brings you into the heart of the home – a stylish trio comprising the kitchen, great room, and dining room.
This living space is no ordinary space. We're talking a built-in fireplace for those chilly nights, a walk-in pantry ready to hide your snack obsession, and access to yet another porch. Because let's face it, you can never have too many outdoor spaces.
Next, let's venture into the master bedroom. Oh, the master bedroom! It boasts 10-foot ceilings, a walk-in closet large enough to satisfy a shopaholic, and a bathroom complete with a double vanity. You might just forget you're not living in a five-star hotel suite.
And just when you thought we were done, the hallway takes you to a stylish powder bath, a convenient laundry room, a practical mudroom, and – drum roll, please – a three-car garage with a two-story cathedral ceiling. If cars could speak, they'd surely say, "I've hit the jackpot!"
On to the second floor, which hosts the remaining bedrooms. Each bedroom comes equipped with a walk-in closet (because everyone deserves their own mini Narnia) and shares a bathroom, fostering that spirit of camaraderie.
So there you have it, folks. A 2,734 square foot barndominium-style house plan, overflowing with charm, character, and a little dash of flamboyance.
It's not just a house, it's a lifestyle. The only thing missing from this house plan is you… and maybe a Butler named Jeeves.
In a world where the line between home and haven gets blurry, this house plan stands as a sanctuary, an embodiment of luxury, comfort, and style. It's not just made of bricks and mortar, but of dreams and desires. After all, who wouldn't want to wake up in a house that feels like a permanent vacation?
So, dust off your dream journal, folks. We've got some serious house goals right here. And remember, the only thing standing between you and this house plan is an imagination and a little can-do attitude.
Let's face it, in a world where space is the new luxury, this house plan is the "crème de la crème." So, are you in or are you in?
Plan 623183DJ