Specifications:
5,375 Sq Ft
4 – 5 Beds
4.5 Baths
2 Stories
3 Cars
Welcome to the world of luxury living, where the traditional meets the extraordinary! Have you ever dreamt of living in a barn that's fancier than most houses?
Well, hold on to your horses (pun intended), because we're about to dive into the majestic realm of a luxury barndominium-style house plan that's straight out of a fairytale.
Covering a sprawling 5,375 sq ft, this exquisite abode is not just a house; it's a statement. With room for 4 to 5 bedrooms, 4.5 baths, and a space to park 3 cars (because one just isn't enough), this two-story wonder is here to make all your home dreams come true.
So, buckle up as we explore this architectural marvel, with a touch of humor and a whole lot of admiration.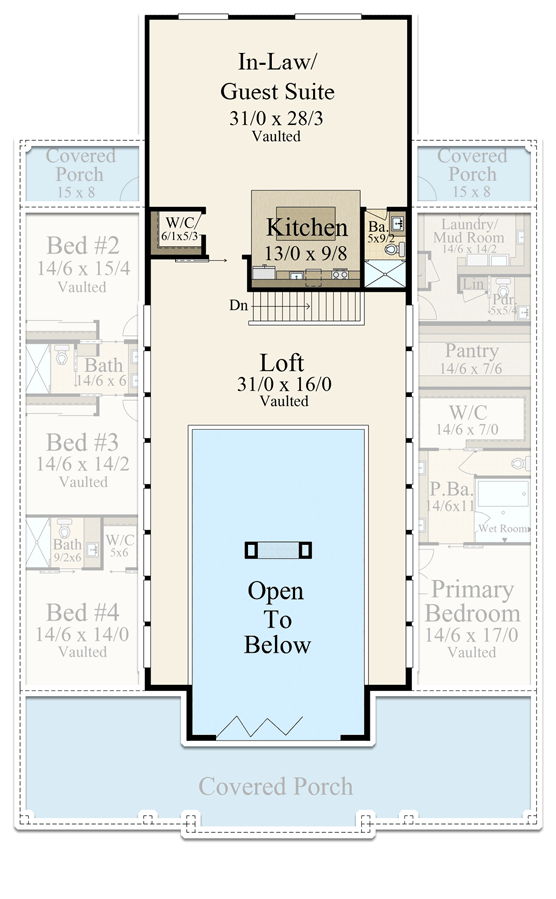 The barndominium-style house has been turning heads and raising eyebrows, and for good reason. The simplicity in its design, paired with efficient material use, is a game-changer in the world of architecture.
It's like telling your friends you live in a barn, but when they visit, they realize it's fancier than their city apartments. This luxury barndominium-style house plan takes the cake, offering a unique blend of rustic charm and opulence.
The genius of this floor plan lies in its ability to maximize every square inch. You won't find any unnecessary hallways munching away at your budget here.
Instead, every corner, nook, and cranny has a purpose, making you the smartest homeowner on the block. It's like having a secret weapon in home efficiency.
As you step inside, you're greeted by a 2-story vaulted beamed truss living and dining room that will take your breath away. The see-through fireplace adds a touch of intimacy, while the built-in cabinetry screams luxury.
The high-windowed rear wall ensures that your views are maximized, giving you a living room that not only talks but speaks volumes. It's the kind of space where you can host a party and still have room to dance, even if dancing is not your thing.
In the heart of this barndominium-style home lies the kitchen, or as I like to call it, the command center. Boasting a massive island and a walk-in pantry that could probably house a small army, this kitchen is ready for anything.
Whether you're whipping up a feast for the family or hosting a gala, this kitchen opens up to the main living space, ensuring you're always part of the action. And let's face it, who wouldn't want to show off their cooking skills in a kitchen that looks like it's straight out of a magazine?
When it comes to privacy, this home has it in spades. The main bedroom suite is a sanctuary, tucked away on the opposite side of the guest suite and secondary bedrooms.
Each bedroom opens up to the main living spaces, creating an environment that's both dramatic and intimate. It's like having your own private retreat, but with the option to join the party whenever you're ready.
The rear entry is not just a door; it's a portal to convenience. With a covered porch, a mud room, and a powder room adjacent to the laundry area, it's like having a mini utility center at your fingertips. It's the kind of setup that makes you feel like you've got your life together, even on the messiest of days.
Take a trip upstairs, and you'll find yourself in a loft that offers a commanding view over the living space below.
Front-facing views and a window-filled gallery add to the loft's charm, making it the perfect spot for a home office, a playroom, or a quiet retreat. It's like having a bird's eye view of your kingdom, and who wouldn't want that?
Above the garage lies a hidden gem: a separate casita/ADU living space, complete with its own kitchen, walk-in closet, and full bathroom.
The open beamed timber trussed ceiling continues in this space, creating a seamless transition from the main house. It's the perfect getaway for guests or a space for that teenager who wants their independence but isn't quite ready to leave the nest.
Step outside, and you'll find yourself in a porch system that's nothing short of dramatic. The two-story soaring center columns provide all the drama and light you could ever ask for.
With large seating areas, opportunities for an outdoor kitchen, and even space for a hot tub, these porches are like outdoor living rooms.
And with the potential to transform them into screened-in porches or four-season outdoor spaces, the possibilities are endless. It's like having a vacation spot, right in your backyard.
In conclusion, this luxury barndominium-style house plan is more than just a home; it's a lifestyle. With its efficient use of space, dramatic living areas, and ample opportunities for luxury living, it stands as a testament to what modern architecture can achieve.
It's the kind of home that makes a statement, turning heads and raising eyebrows, all while providing a warm, intimate space for you and your loved ones.
So, if you've ever dreamt of living in a barn, but with all the bells and whistles of a luxury home, this might just be the plan for you. Welcome home, to the barn of your dreams!