Specifications:
3,033 Sq Ft
5 Beds
3 Baths
2 Stories
2 Cars
Hello, dear reader, and welcome to an exciting journey through a house plan that's not just a home, but a statement!
If you've ever dreamed of spacious living, combined with rustic charm and modern elegance, you're in the right place.
Today, we're diving deep into the world of a 3,033 square foot Barndominium style house, boasting 5 bedrooms, 3 bathrooms, and a colossal 1,550 square foot garage. So, grab a cup of your favorite beverage, sit back, and let's explore this architectural marvel together.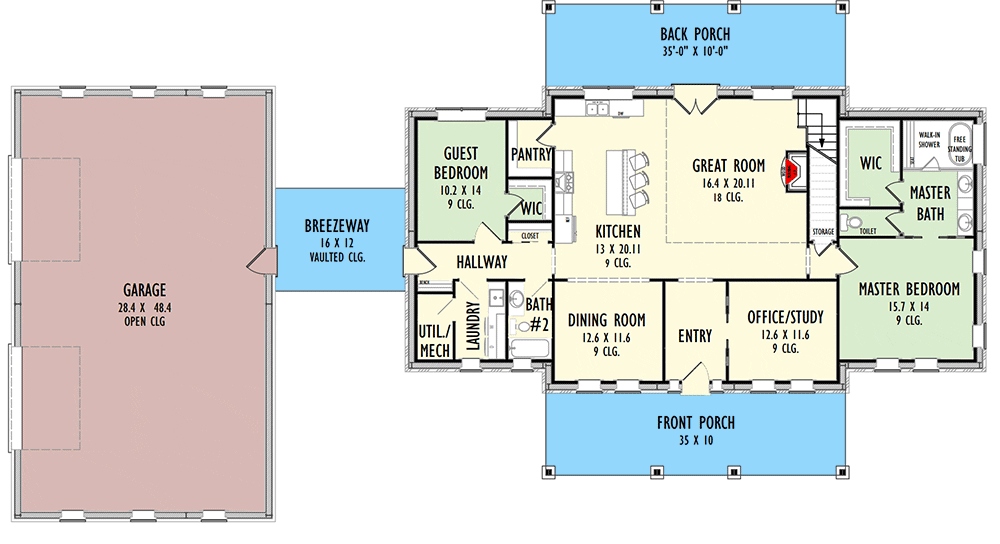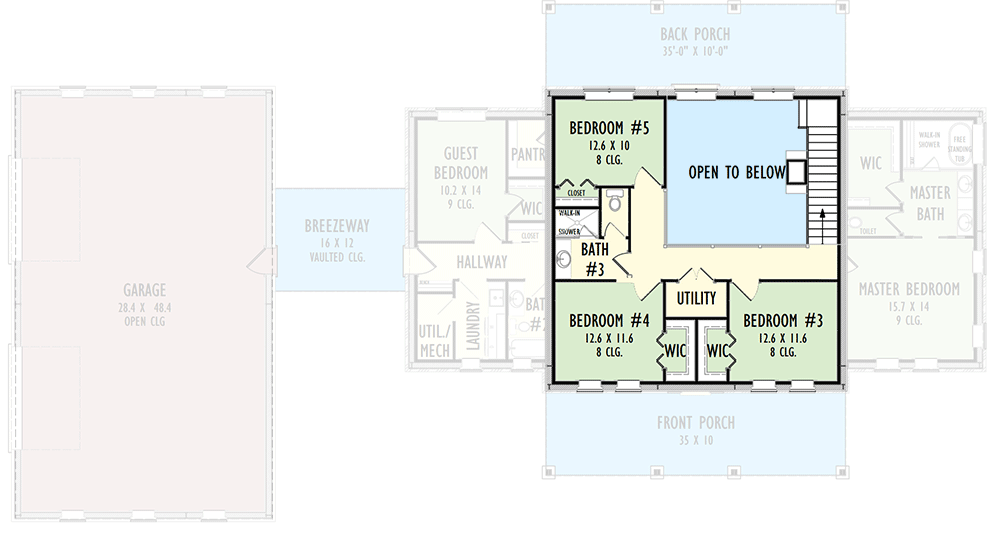 The Grandeur of Space: First things first, let's talk size. This house screams 'grandiosity' with its whopping 3,033 square feet of heated living space. Now, that's a lot of room to play with!
Whether you're a big family, love hosting lavish parties, or just enjoy the feeling of space, this house plan has got you covered.
Walking into this house, you are immediately greeted by the awe-inspiring 2-story great room. It's like the house is giving you a grand hug, saying, "Welcome home!"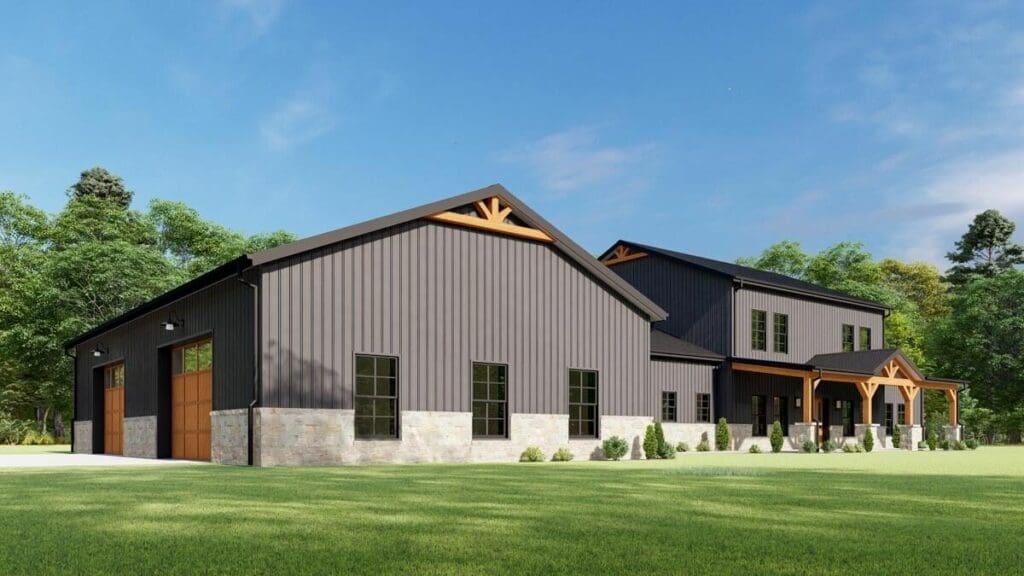 This room is visible right from the entry, creating an immediate sense of grandeur and openness. With an office neatly tucked away behind pocket doors to the right, this space is not just big; it's smart.
French doors lead you from the great room to a 10-foot-deep back porch, perfect for those lazy Sunday brunches or evening soirees with friends.
Imagine the breeze gently swaying through, as you enjoy the company of loved ones, or simply bask in the tranquility of your surroundings.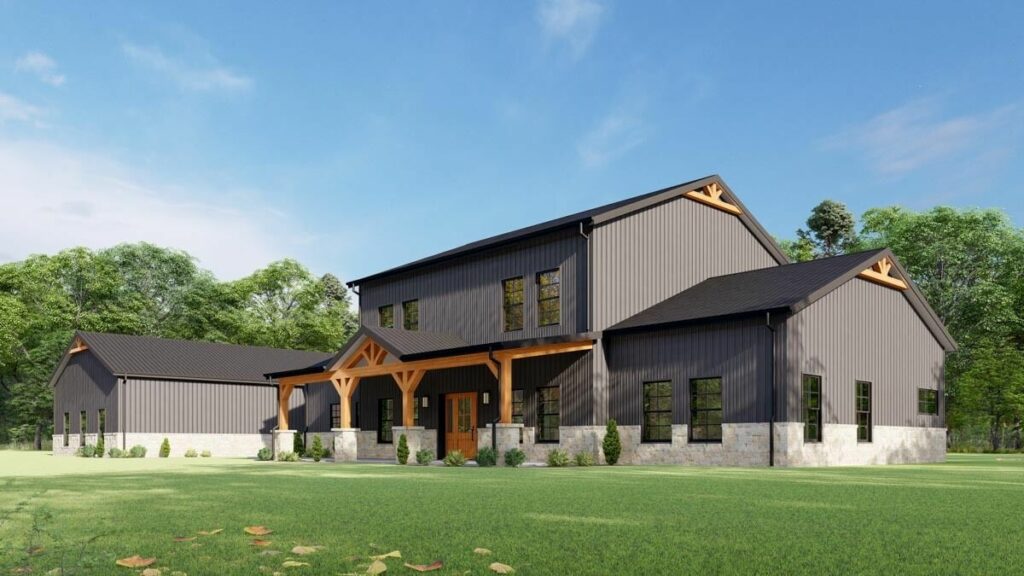 Now, let's talk about the master suite. Oh, the master suite! Occupying the entire right side of the house, this is where the magic happens.
A sanctuary of comfort, it comes complete with a walk-in closet that could easily be mistaken for another room, and a 5-fixture bath that promises to wash away the stresses of the day. It's like having your own private spa right at home.
On the opposite side of the home, we have a guest bedroom with its own walk-in closet, proving that this house plan believes in generosity of space, through and through.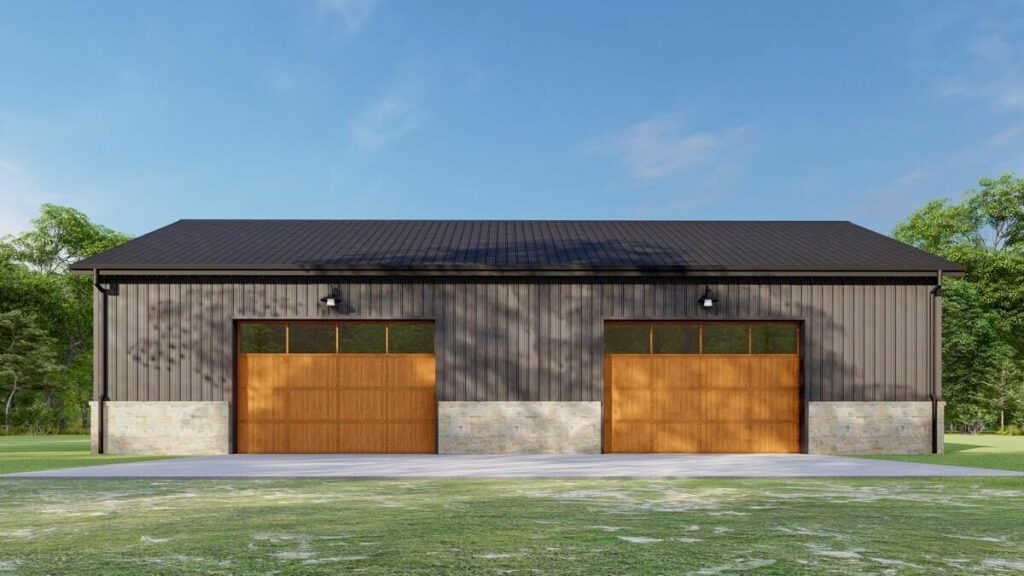 The guest bathroom is just across the hall, ensuring convenience and privacy for your visitors.
And that's not all. Upstairs, you'll find three more bedrooms, all sharing the third bathroom.
It's like this house has a heartbeat of its own, with space for everyone, ensuring no one feels left out. Each bedroom is a canvas, ready for personal touches, making this house a home.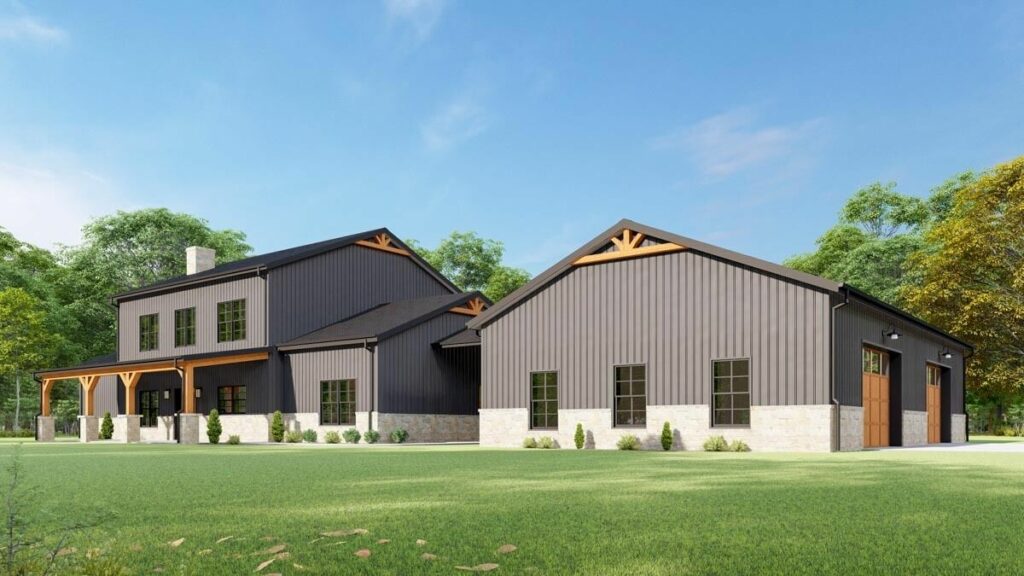 Let's not forget the garage. Oh, the garage! With a staggering 1,550 square feet of space, it's practically a sanctuary for your vehicles.
It's not just a garage; it's a 2-car garage shop, attached to the home via an enclosed breezeway.
Whether you're a car enthusiast, need space for your DIY projects, or simply want to keep your vehicles sheltered from the elements, this space is a dream come true.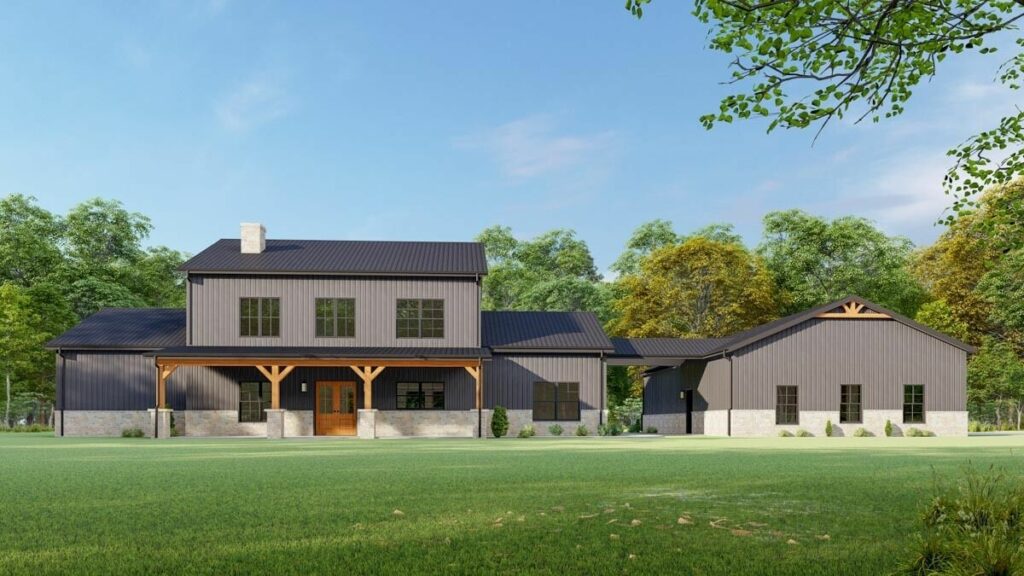 Now, for the pièce de résistance – the Barndominium style. Combining the rustic charm of a barn with the elegance of a condominium, this style is all about spacious, open living, and this house plan encapsulates that perfectly.
Designed with a Pre-Engineered Metal Building (PEMB) in mind, this structure is not just beautiful; it's smart and efficient.
PEMBs are all the rage in the world of Barndominiums, known for their quick installation and durability.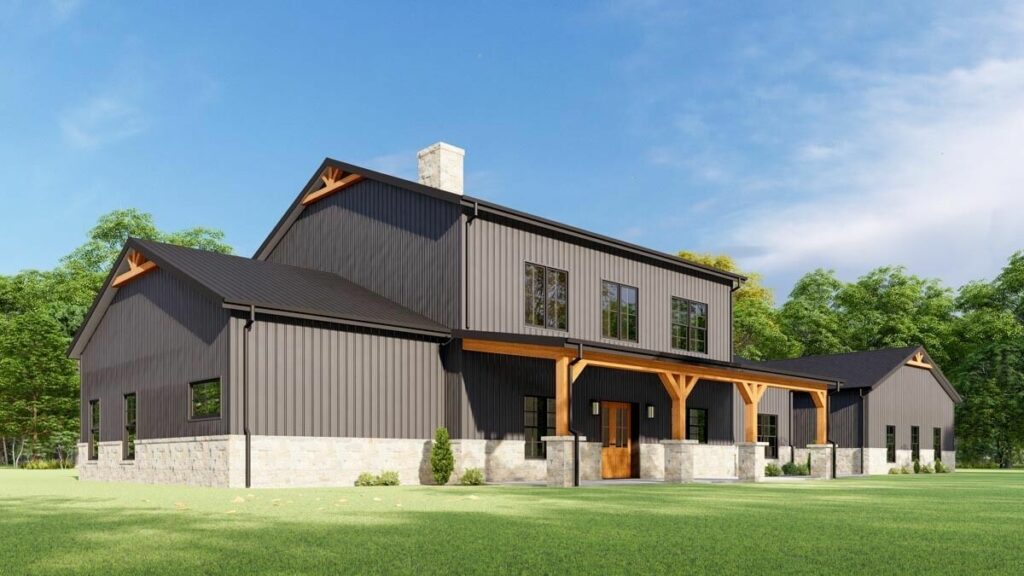 Plus, they allow for convenient interior build-outs, as you don't have to worry about supporting roof loads. It's like the house takes care of the hard stuff, letting you focus on turning it into a home.
And if you thought it couldn't get any better, think again. This metal house plan is available with 2×6 exterior framing, allowing you to customize it to your heart's content.
Select it from the options menu, and make this house truly yours.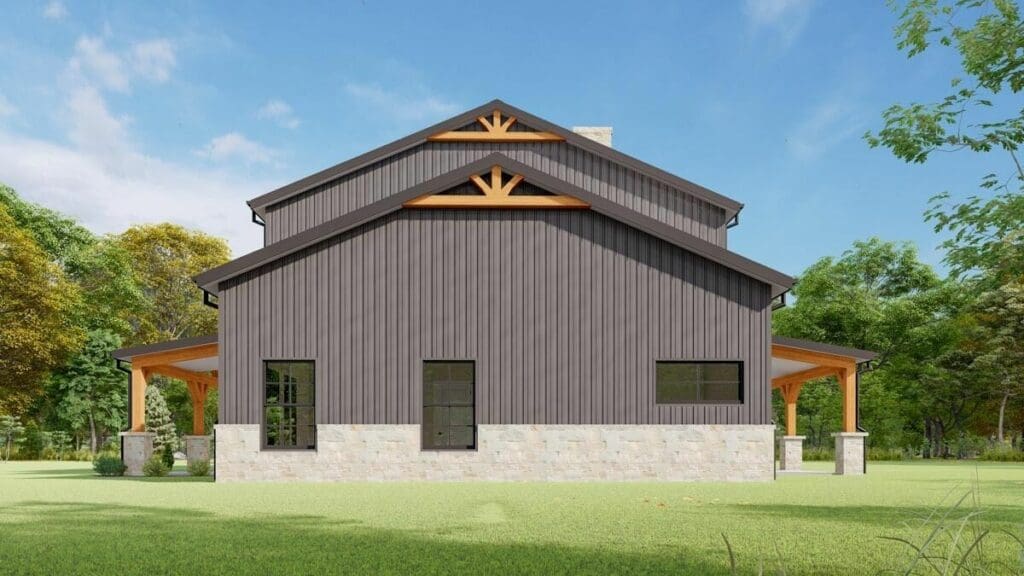 So, there you have it – a comprehensive dive into the world of a 3,033 square foot Barndominium style house.
With its grand 2-story great room, luxurious master suite, ample bedrooms, colossal garage, and the rustic charm of the Barndominium style, this house plan is not just a structure; it's a dream waiting to be realized.
Whether you're looking for space, elegance, convenience, or all of the above, this house is ready to be your home. So, what are you waiting for? Dive in, and start living your dream today!