Specifications:
2,353 Sq Ft
3 – 4 Beds
3 Baths
1 – 2 Stories
2 Cars
Ah, the timeless allure of French Country design, effortlessly weaving a tapestry of comfort, charm, and cheeky elegance!
Nestled into a generous 2,353 square feet of "Oh là là," let's twirl through this abode where classic meets casual, and every nook seems to whisper, "Bienvenue!"
Picture it: flared eaves gracefully fluttering overhead, timber-framed gables punctuating the architecture with rustic audacity.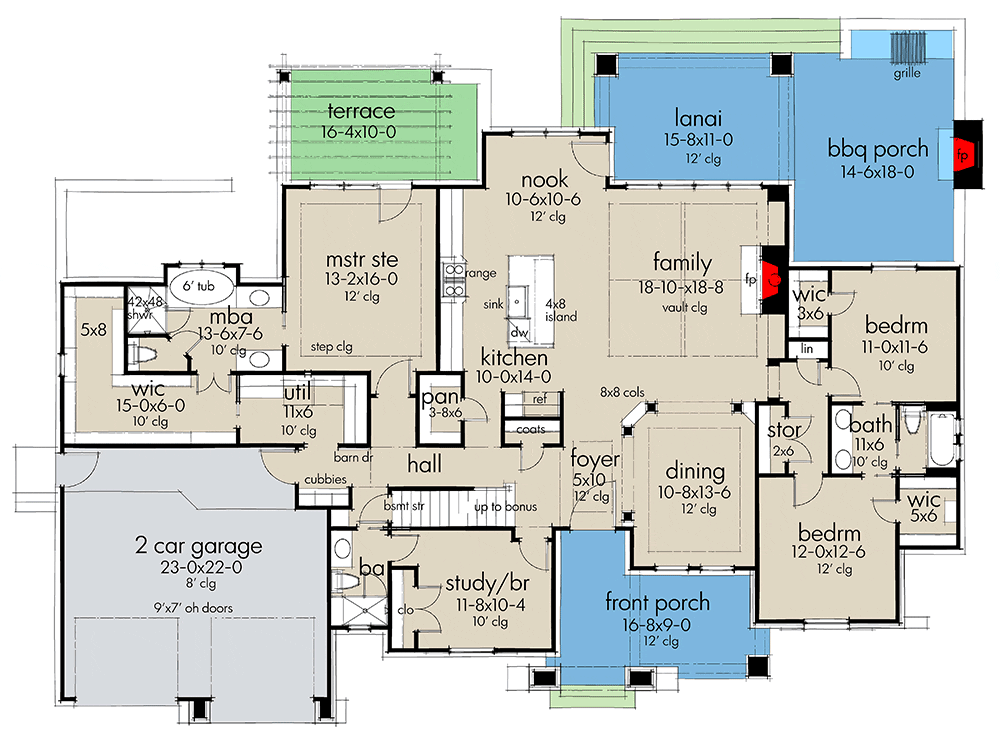 This isn't merely a house; it's a gentle hug from quaint, countryside sophistication. Our tapered columns stand tall and proud, not just supporting the front and back porches but also shouldering the soft whispers of evening soirees and lazy Sunday afternoons.
Ever walked into a home and thought, "This place needs a pocket protector because it's nerd-level smart?" Well, pull out those high-waisted pants because this floor plan is clever with a capital C! Every inch is designed for living, not just existing.
Ample closet space means your skeletons (and winter coats) have a cozy spot, while the open layout of the family room, kitchen, and breakfast area ensures your morning pancakes are never more than a few steps from where you'll devour them.
Positioned near the foyer, our formal dining room doesn't just sit; it lounges luxuriously, waiting to play host to your unforgettable dinner parties.
Across the way, a study that could also morph into a fourth bedroom (because options are the spice of life) offers access to a full bath, creating a haven for work, relaxation, or that cousin who decides to crash at your place for "just a few days."
Sequestered behind the 2-car garage—speaking of which, ample space for your chariots—the master suite unfurls into a space that's equally serene and efficient.
A private terrace crowned with a pergola invites gentle morning sunbeams, the 5-fixture en suite whispers of opulent self-care, and a walk-in closet so massive it might just need its own postcode, adjoins the laundry room for ultimate convenience.
"Honey, where's my sweater?" "Check the Northwest quadrant!"
On the domicile's opposite side, bedrooms 2 and 3 converse in hushed tones, sharing secrets and a Jack-and-Jill bath, ensuring mornings are free from the typical bathroom queue standoffs.
Versatility champions the design with a bonus room nestled above the garage, providing a canvas for your imagination—perhaps a hidden speakeasy, a vibrant playroom, or the most epic storage space for your inexplicable collection of vintage lampshades.
But, oh, dear reader, the inside is merely the opening act! Let your culinary dreams sizzle to life with a grilling station set amid large, inviting outdoor living spaces, where stories and BBQ aromas waft into the twilight.
An adjacent stone fireplace casts a warm, flickering glow, allowing the day to melt seamlessly into night under the soft caress of its gentle light.
Weaving through the eloquent charisma of this French Country home, it becomes abundantly clear: it's more than a sum of its timber, stone, and sophisticated layouts.
It's a living, breathing entity ready to cradle your memories, from languid summer evenings on the porch to joyful gatherings in the smartly-organized spaces.
An embodiment of charm, functionality, and a dash of playful spirit, this home isn't just built; it's crafted, interweaving practicality with a robust character that gracefully tiptoes between classic and whimsically modern.
With open arms, it invites life's myriad of moments, offering a backdrop where your story is eagerly waiting to be written.
And so, the door to this classic French Country home swings open, inviting you to step inside and let the next chapter unfurl in a world where every brick, beam, and carefully considered design choice whispers, "Welcome home."
Plan 16911WG