Specifications:
6,854 Sq Ft
5 Beds
4.5+ Baths
2 Stories
4 Cars
When I think of home, I envision a cozy corner where I can binge-watch my favorite Netflix shows, a kitchen where I can pretend I'm a contestant on MasterChef, and a vaulted ceiling over my bed where I can count the wooden beams instead of sheep.
This Grand New American House Plan checks all those boxes and then adds some.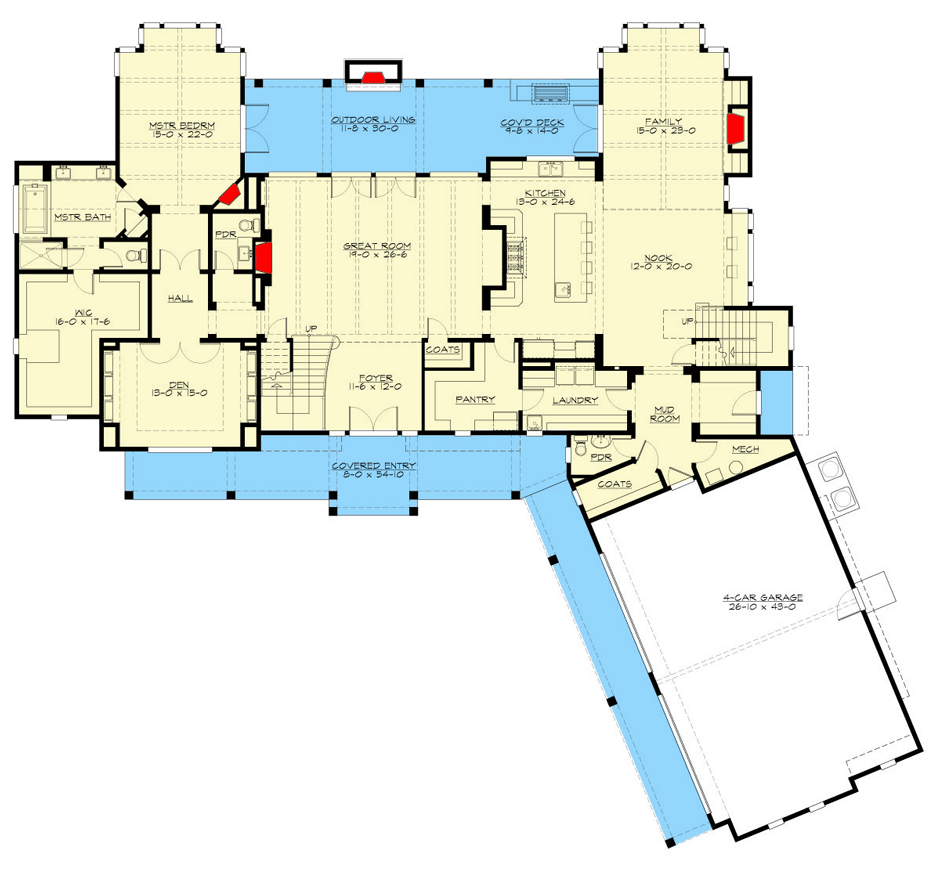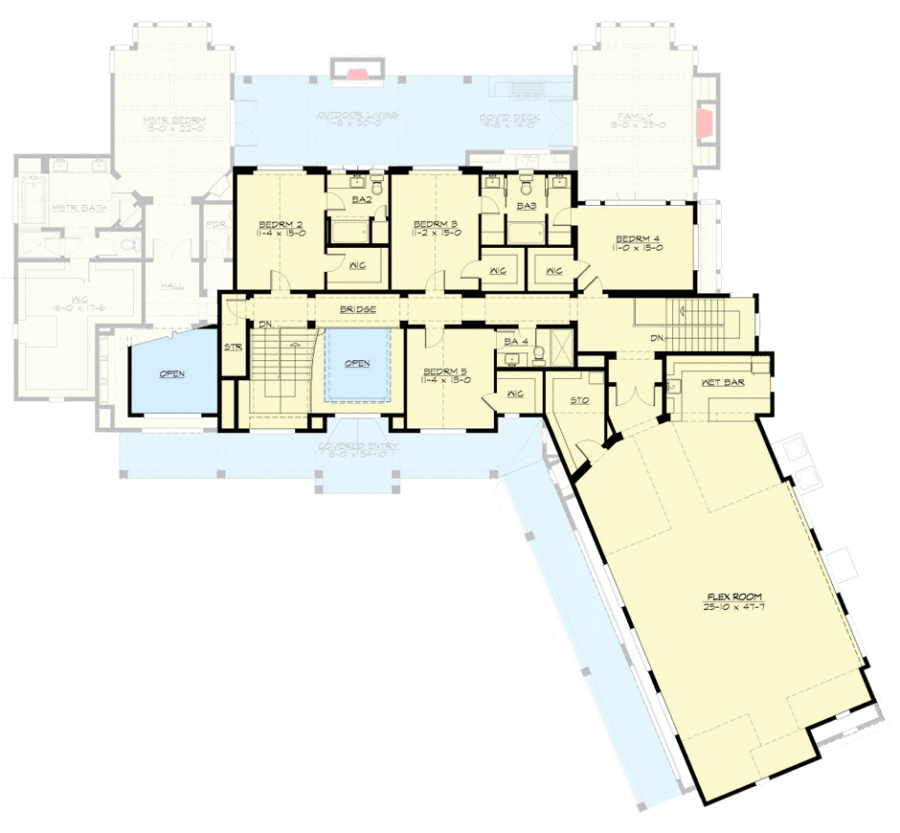 With a whopping 6,854 square feet, it's no wonder the floor plan is practically screaming, "Red rover, red rover, send everyone right over!"
With five bedrooms, more than four and a half baths, and not one, but two stories, it's like your personal mini-mansion. Did I mention it also comes with a four-car angled garage?
Yes, you heard it right! Perfect for when you're collecting cars like you're in the Fast and Furious movies.
The exterior features a standing seam metal roof, the kind that would make even the most hardened Tin Man blush with envy.
It arches grandly over the front door, marking a dramatic entrance that's about as modest as a peacock at a penguin party.
Double doors invite you into the heart of the home, where you're greeted by sight lines that stretch from the entryway through a beamed great room and out to the covered outdoor living area.
It's like you can see Narnia, Napa, and Neverland, all in one sweeping gaze.
And oh, the kitchen! It's the high-end culinary stage every home chef dreams of. A gargantuan island commands the center, equipped with a second sink and room for four stools, perfect for a family breakfast or a quick brunch with friends.
Need storage? The pantry's so roomy, you'd think it was a closet Narnia! It might not have a magical lion, but it will make all your kitchen storage dreams come true.
Speaking of dreams, let's talk about the master suite. It's not just grand; it's more grandiose than a grand piano playing the grand finale at the Grand Ole Opry.
The vaulted, beamed ceilings give it a regal charm, and there's even a romantic fireplace, perfect for those cozy winter nights. And for those who believe in love at first sight, wait until you see the L-shaped walk-in closet.
It's big enough to make a fashion influencer weep with joy, with more hanging space than a forest full of monkeys!
Upstairs, it's all about generous space and privacy, with every bedroom being more spacious than a hippo in a hot tub, boasting its own large walk-in closet. And then there's the bonus room. Is it a bird? Is it a plane? Nope, it's a party waiting to happen.
Complete with a wet bar and a walk-in closet (because who doesn't need one of those in their party room?), it's factored into the overall living area, guaranteeing that every inch of your house is dedicated to the good life.
And the cherry on top? It's situated above the garage, so crank up the music and dance like nobody's listening because nobody will hear a peep downstairs.
In conclusion, this Grand New American House Plan isn't just a house; it's a lifestyle. It's a statement.
It's a love letter to spacious, luxury living, with an open layout that breathes freedom, rooms that sing of comfort, and an angled four-car garage that practically winks at you every time you pull in.
So, here's to living large and loving every minute of it!
Plan 23936JD