Specifications:
2,748 Sq Ft
2-4 Beds
2.5 – 3.5 Baths
1 Stories
4 Cars
Hello there, fellow home enthusiasts!
Ever wondered how it would feel to live inside a mountain-dwelling elf's cozy den?
No, not the elf from your favorite fantasy novel but something slightly more, let's say, sophisticated and modern?
Well, let me introduce you to an intricate mountain home plan that is as fascinating as the word 'intricate' itself! With its optional lower level, it's like a Swiss army knife of housing—compact but packing a punch with its multifunctionality!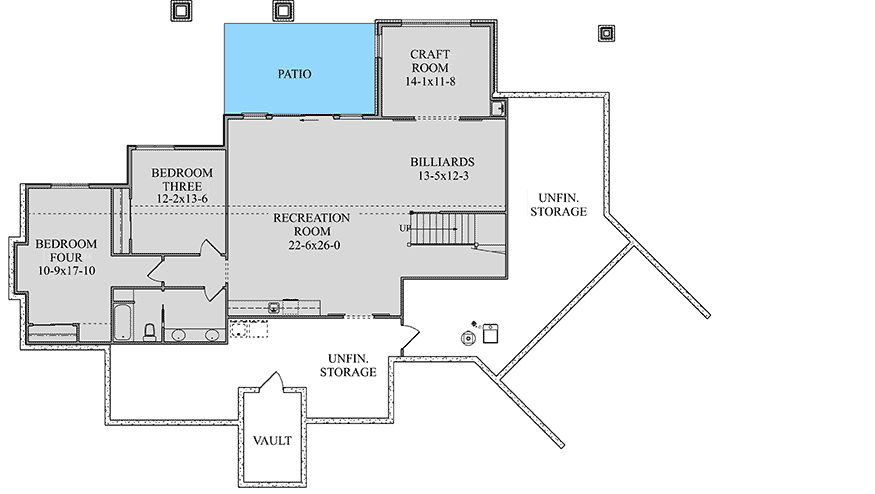 Let's talk figures. When it comes to size, it's a heavyweight champion with a sum total of 2,748 square feet. The house boasts 2-4 bedrooms, making it the perfect abode for that family reunion you've been planning (or avoiding!).
It also has 2.5 to 3.5 bathrooms, ensuring no more awkward queues outside the door. In terms of stories, it's a one-story house. But don't let that fool you, my vertically challenged friend, because there is no shortage of space in this architectural masterpiece!
One of the best things about this house is its camouflage game. With its neutral tones and stone accents, it blends into the surrounding landscape like a chameleon at a tie-dye festival.
Top it off with some shed dormers sporting sleek metal roofs and you've got yourself a home that wouldn't look out of place in a glossy home décor magazine.
Now, let's step inside. The home opens up to a quiet office just off the foyer, an ideal haven for work-from-home warriors. With its access to the front courtyard, you can sip your morning coffee while answering emails, all the while soaking in the picturesque view. Talk about a stress-buster!
Imagine a family room with a vaulted ceiling, evoking a sense of spaciousness that will make even claustrophobes do a little jig. Add an adjoining bar to this mix, and you have a space that naturally draws people in, transforming into party central when entertaining. I mean, who wouldn't want a mini Cheers bar right at home?
Oh, but we're just getting started! The private master bedroom sprawls over the entire left wing of the home. I don't know about you, but having my very own wing in a house sounds pretty darn cool!
The master suite is nothing short of luxurious, boasting a private patio, a study (for those late-night reading binges), and a spa-like ensuite complete with a freestanding tub nestled snugly between two vanities.
A walk-in closet complete with a dresser island and a washer and dryer round off this luxury extravaganza. As someone who dreads laundry day, having it right in my closet sounds like a dream come true!
To the right of the house, we have the guest suite, the home's proverbial cherry on top. It has its own private covered deck (yes, you read that right), and a full bath. Your guests might just decide to become permanent residents, so be careful who you invite!
What makes this house truly stand out is its optional, walk-out basement. It's the perfect solution for a sloped lot, transforming a potential drawback into a unique feature.
This space includes a large recreation room, a craft room (Hello, DIYers!), and two additional bedrooms sharing a 4-fixture bathroom. It's like having a mini-house within a house!
And the pièce de résistance? The strategically angled, 3-car garage that not only adds an interesting dimension to the front elevation, but also features an attached storage room. Perfect for keeping yard tools, outdoor toys, and maybe even that inflatable unicorn you bought on a whim!
There you have it folks – the ideal mountain home plan, replete with luxurious living spaces, incredible outdoor areas, and an optional lower level to make the most of your land.
So, whether you're a hardcore nature lover, a social butterfly, or simply someone seeking a spacious retreat, this home ticks all the boxes. And remember, the mountain is calling and you must go…home!
Plan 95062RW