Specifications:
4,810 Sq Ft
4 Beds
5 Baths
2 Stories
3 Cars
As a lover of architectural beauty and well-designed spaces, let me tell you about this grand shingle-style house plan that caught my eye.
This is not just a house, folks.
This is a statement.
It's like saying, "I've arrived!" but in a classy, not-so-boastful way.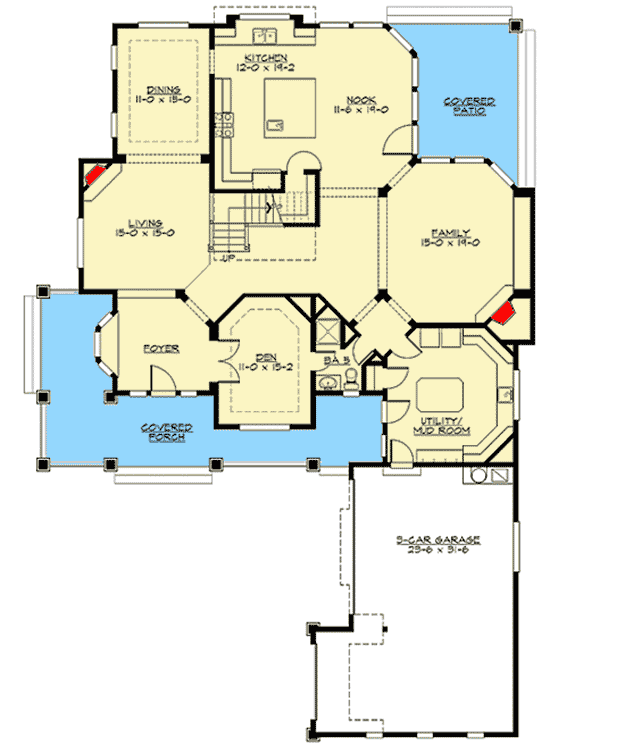 Step into an exquisite 4,810 square feet of artistry, sophistication, and comfort. You'd think you were walking into a scene straight out of a Jane Austen novel.
Now, the count – 4 beds, 5 baths, and 2 stories of splendor. But there's more to this house than its quantifiable features. This house has got some serious personality, let me tell you.
Now, imagine this – a turreted loft on the second floor. Sounds like something out of a fairytale, doesn't it? It's the kind of room that makes you want to instantly curl up in a cozy armchair with a riveting book, transported into an entirely different world.
This loft is not just a room; it's an escape. The architect seems to have clearly anticipated our need to retreat from the world sometimes, and I'm here for it.
Moving on, you will be captivated by the majestic formal dining room. It's not just big, it's 'I-can-host-a-royal-banquet' big.
With a regal tray ceiling and expansive views to the rear and side of the house, it's as though the architect knew that we'd want to dine like kings and queens every day. So, summon your inner royalty and enjoy those feasts like never before!
One thing that is notably charming about this house plan is the sunny breakfast nook. This place is so brilliantly lit, it could wake up even the grumpiest of morning folks. Imagine two whole walls of windows lighting up the area, also brightening up the kitchen and its massive island.
You can already see yourself making pancakes on a sunny Sunday morning, can't you? Trust me, breakfast will never be the same again in this cheerful corner.
Now let's talk about the mud/utility room. This is no ordinary room, my friend. The place is gigantic, featuring another enormous island and even a window by the sink. With this much space, you might forget you're doing chores and start thinking you're preparing for a TED talk instead.
One of my favorite features in this house are the corner fireplaces in both the living room and the family room. You get not one, but two cozy corners to snuggle up in during those cold winter nights.
These rooms are so inviting, you might just find yourself roasting marshmallows indoors. Just remember, no ghost stories after midnight – unless you're into that, of course.
Let's take the tour upstairs. All the bedrooms are comfortably situated on the second level. Now this is where the architect played a real wild card – there's a huge media room with two big dormer windows.
I mean, who needs to go to a movie theater when you have this kind of set-up at home? We're talking about the ultimate binge-watch spot. And the best part? Pajamas are allowed 24/7. No judgment here!
Before I wrap this up, just a note for all the folks from the State of Washington: there are some additional fees to consider if you decide to build this dream house there. Don't ask me why, it's above my pay grade. Just be sure to contact us for more information.
In all, this grand shingle-style house plan is so much more than just its features. It's a lifestyle. It's about cozy mornings, grand dinners, movie nights, and quiet afternoons with a book.
It's about feeling royal in your everyday life. This is not just a house; it's a place to live your best life. So, what are you waiting for? Let's turn this house plan into your home sweet home!
Plan 23395JD