Specifications:
2,615 Sq Ft
2-4 Beds
2.5 – 4.5 Baths
1 Stories
3 Cars
Well, well, well, what do we have here?
Oh, just a jaw-droppingly gorgeous 2,615 square-foot Contemporary Mountain House plan with a lower level expansion that's like a secret bonus round in a video game!
But let's take it one glorious feature at a time, shall we?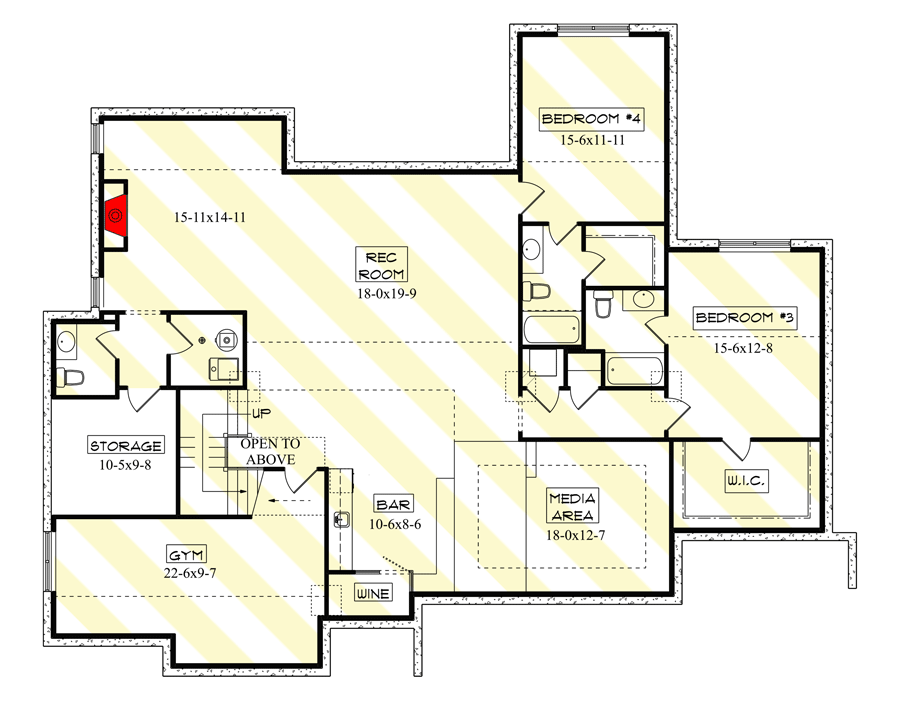 Prepare to feel like a kid in a candy store when you see the exterior of this beauty. It's a little bit contemporary, a little bit mountain, and a whole lot of 'wow'.
It screams, "Step inside and see what other surprises I have in store for you." But remember, we've just started, and the best is yet to come.
One foot inside, and you're greeted with tall, exposed beams lining the foyer that seem to whisper, "Yes, the rumors are true – I'm as beautiful inside as I am outside."
The beams lead you to the living room, which can only be described as a bubble of light, air, and sheer architectural wizardry. It's the sort of place that makes you want to do cartwheels (or at least attempt to).
And then there's the kitchen. Oh, the kitchen. A chef's dream, a foodie's paradise, and an island-lover's nirvana.
It's got a generous island for all your chopping and mixing, sliding doors to let you step onto a covered patio, and a pantry large enough to store a small army's provisions (just in case you're planning on starting one, of course).
The master suite? It's like a cloud of luxury where you can float away in peace. The 11-foot tray ceiling is more spacious than your favorite uncle's tall tales, and the sliding doors open onto a dreamy rear patio.
But it's the master bathroom that steals the show here. It's an oasis complete with five fixtures and a walk-in closet that's practically a room in itself. If this doesn't make you feel like royalty, nothing will.
To round out the main level, you've got a second bedroom suite, a serene den, and a mudroom / laundry combo that's as practical as it is spacious.
Perfect for the resident mud-pie champion or for that unfortunate moment when you forget to check your pockets before throwing your jeans in the wash.
Now, here's where it gets extra exciting. Ready? An optional lower level expansion grants you a whopping 2,388 extra square feet of living space.
That's like discovering your wardrobe has a secret portal to Narnia. Suddenly, you've got a wet bar catering to a rec room and media area for those movie marathon nights.
Add to that two more bedroom suites for your privacy-loving teenager or visiting in-laws, and a home gym that lets you get fit without setting foot outside.
In short, this 2,615 square-foot Contemporary Mountain House plan is more than just a house. It's an adventure waiting to happen. A sanctuary for peace and joy. A platform for memories and laughter. And who knows, maybe even the location for some wild cartwheeling.
Remember, home isn't just where the heart is – it's also where you can touch the sky while staying grounded, one exposed beam at a time.
Plan 95183RW