Specifications:
2,435 Sq Ft
3 – 5 Beds
2 – 4 Baths
1 Stories
2 Cars
Let's dive into a world where rustic charm meets modern elegance. Picture this: a 2,435 square foot modern farmhouse that's not just a house, but a haven. As I walk you through this architectural masterpiece, imagine yourself living in each space, making memories that last a lifetime.
Step through the front door and be greeted by a stunning vaulted and beamed great room that feels like a warm embrace. It's the perfect place for family gatherings, game nights, or just curling up with a good book by the fireplace.
The vaulted ceiling doesn't just add drama; it's like the sky's the limit for your dreams!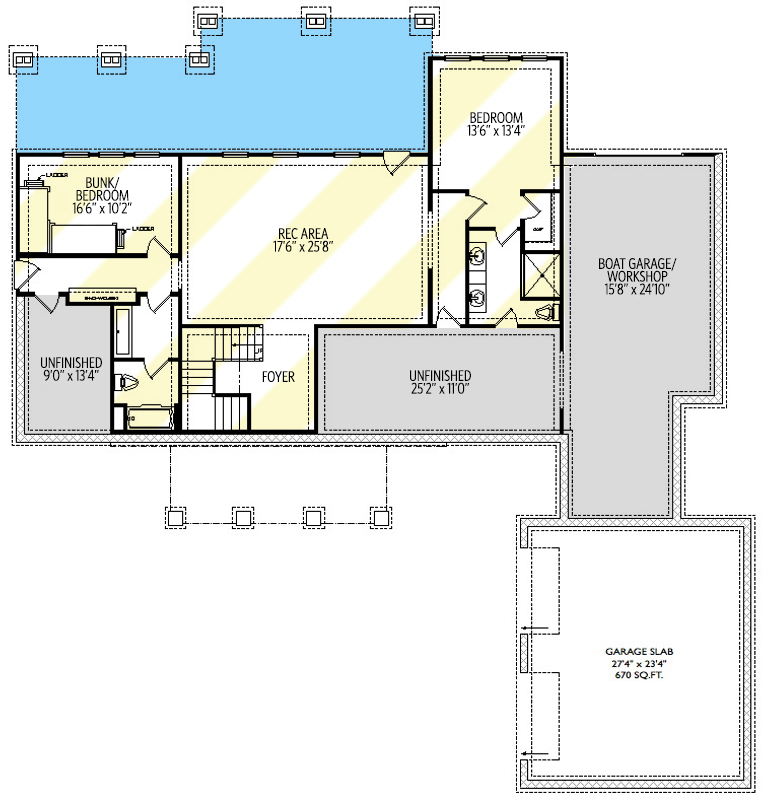 Adjacent to the great room is the kitchen – a chef's paradise with an island that's more like a continent. It's not just a place to cook; it's where your kids will do their homework, where you'll have heart-to-hearts with friends, and where the best party snacks are served.
And let's not forget the large walk-in pantry – say goodbye to kitchen clutter!
On one side of the house lies your sanctuary: the master bedroom. With a vaulted ceiling, this room isn't just a place to sleep; it's where you'll recharge, dream, and maybe even binge-watch your favorite shows. The real showstopper? Access to a screened porch with a fireplace.
Imagine sipping your morning coffee here, wrapped in tranquility.
Across this splendid home, two additional bedrooms offer cozy retreats for kids or guests. They share a hall bath equipped with two vanities – because nobody likes to fight for mirror space in the morning, right?
Let's not overlook the practicalities. The mudroom, a buffer zone between the garage and the home, is where muddy boots and school backpacks find their place. And with a laundry room right there, you can say goodbye to clothes hampers parading through your house.
Speaking of practical, the 670 square foot courtyard garage is a car lover's dream. But who says it's just for cars? It's also perfect for a workshop, a gym, or a secret superhero lair (we won't tell!).
And just when you thought it couldn't get better, there's the basement. Finish it, and voila! An extra 1,380 square feet of space appears. Need more bedrooms? You got it. A home theater? Why not! This space is your canvas.
Back on the main level, the sunroom and covered deck are where you'll want to spend every summer evening. Whether you're hosting a BBQ or enjoying a quiet night under the stars, these spaces are where memories are made.
As we wrap up this tour, imagine the stories you'll tell in this modern farmhouse. It's more than a house; it's a backdrop for your life's most precious moments. With its blend of modern amenities and farmhouse charm, this house is not just a place to live; it's a place to love. Welcome home.