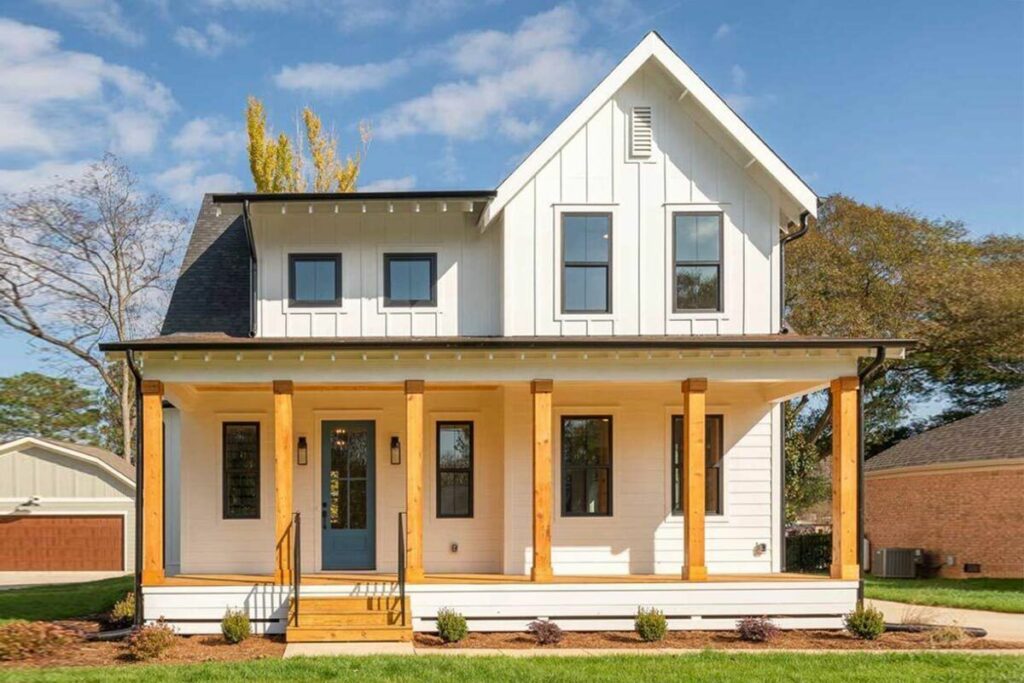 Specifications:
2,483 Sq Ft
4 Beds
2.5 Baths
2 Stories
Ah, the charm of farmhouse living—rolling hills, the symphony of crickets at night, and perhaps the cluck of chickens in the morning!
Dive into this story, where I take you through a journey exploring a delightful 4-bed farmhouse plan, with every nook and cranny exuding rustic charm and modern flair!
Standing before me, the farmhouse with its 2,483 square feet of artistry, whispered tales of future gatherings, lazy Sunday mornings, and cozy nights under its protective embrace.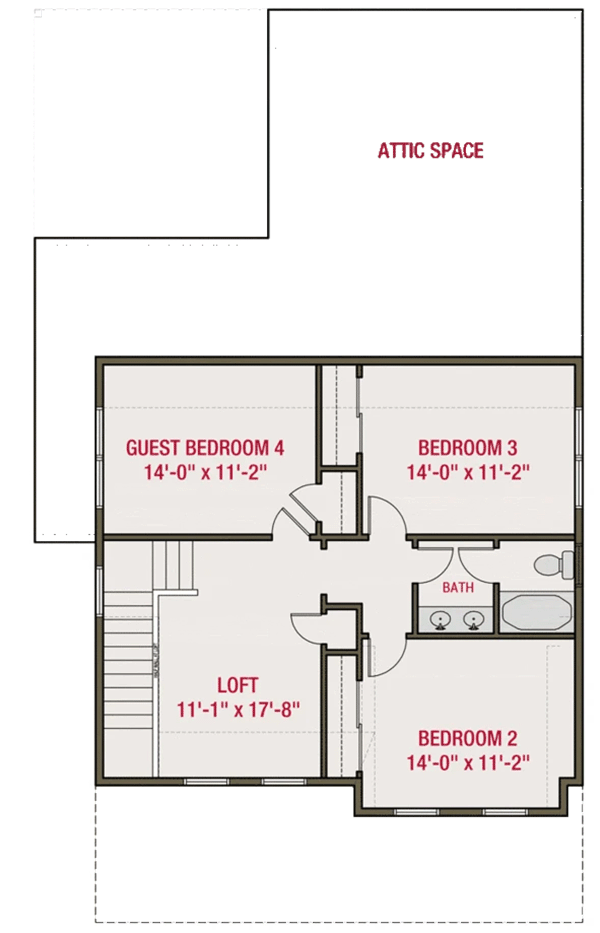 That shed roof isn't just a roof; it's a sentinel, with open rafter tails leisurely dangling, offering a laid-back shade as you sip on your sweet tea in the front porch.
The two left windows wink at you, concealing the secret loft behind them while their counterparts light up one of the three upstairs bedrooms.
What's a farmhouse without its porches, right? You step onto the front porch, feeling the tender kiss of the shade on your skin, the open rafters curating a perfect blend of sunlight and shadow.
Meanwhile, the back porch, with its welcoming 15'4″ width and 15′ depth, whispers tales of summer barbecues, chilled lemonades, and nights spent counting stars.
It begs for the arrangement of cozy furniture, inviting you to create memories while gently cradling your moments of solitude.
Once inside, the open kitchen seems to greet you with open arms, promising warmth not only from the oven but through the wafting aroma of heartfelt conversations over hearty meals.
This space flows generously into the living room and dining area, all while promising an inclusive culinary experience. Can you imagine the chatter, the laughter, and the gentle clinking of dishes harmonizing with the cozy atmosphere?
Oh, and that dining room also nudges you towards the back porch, making alfresco dining under the stars just a few steps away.
The master suite on the main floor is nothing short of a gentle hug after a long day. It insists on privacy yet doesn't compromise on convenience.
With proximity to the daily hustle and bustle of the home, it manages to offer a secluded retreat for those moments when you just need to exhale and escape.
It's not just a bedroom; it's a sanctuary where you can lay down your day, wrapped in the tranquility and comfort that only a thoughtfully designed master suite can offer.
As you ascend to the second floor, the playful loft peeks from behind those left windows, offering a space that is whatever your heart desires—a reading nook, a children's play area, or perhaps a secret art studio? It's a blank canvas, just waiting to be painted with the hues of your life and passions.
Flanking this delightful space are three additional bedrooms, every one of them a cozy retreat, where dreams are brewed and mornings are welcomed with a gentle cascade of light through the windows.
Spaces where each member of the family, or guests, can carve out their own little world, veiled in privacy and comfort.
Back downstairs, the living room becomes the heartbeat of the home, where moments are framed into memories against the backdrop of walls that have been silent witnesses to the ebb and flow of life.
Connecting seamlessly with the kitchen and dining, this space is a melting pot of daily activities, from the pitter-patter of little feet to the gentle strides of the elderly, every step echoing the vibrant life being lived within.
This 4-bed farmhouse, with its upstairs loft, is not merely an assembly of bricks, wood, and windows. It's a canvas that invites you to splash your life across its expanse.
Every room, every porch, and every lofted space has been crafted not just with functionality in mind but with a keen understanding that a home is where your story begins and evolves, unfurling across the tapestry of time.
I can visualize children giggling, adults chuckling, and elders reminiscing within these walls, can't you?
It's not just a dwelling; it's a space where love is the constant, memories the currency, and every tiny moment becomes a cherished chapter in the grand narrative of your life.
Join me in raising a glass to not just a house plan but a future hearth of countless memories, shared stories, and hearty laughter—here's to home, in every sense of the word!
Plan 50177PH