Specifications:
4,121 Sq Ft
4 Beds
3.5 Baths
2 Stories
3 Cars
Listen up, folks!
If you've ever daydreamed about living in a home where chic meets farm charm, then pinch yourself, because you're not dreaming anymore.
Let me whisk you away on a tour of this sassy yet sophisticated modern farmhouse plan that's packed with surprises.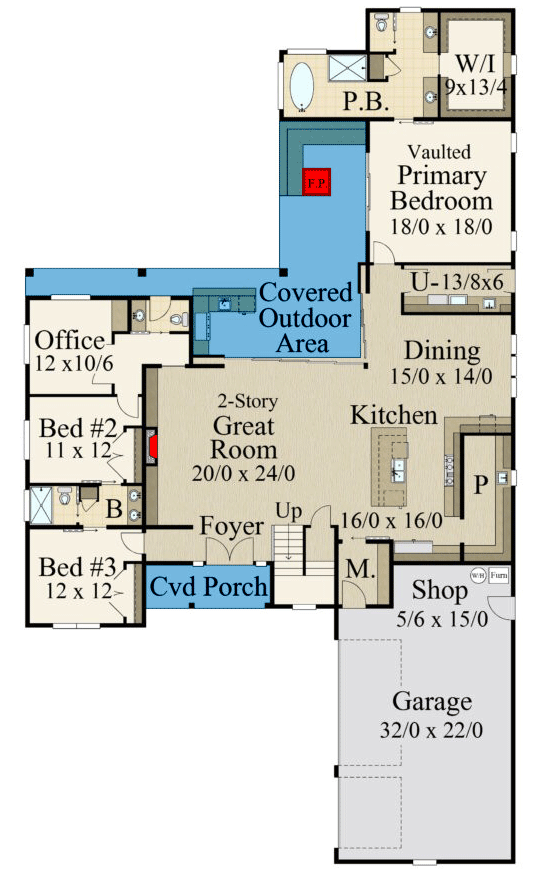 Picture this: You've just had a long day, and all you want is to park your car, step inside, and let out a sigh of relief.
With this beauty, you can either glide your vehicle into one of the three parking spots in the garage (shop included for all your DIY ventures), or make a grand entry by parking in the driveway and walking up to the covered porch.
And because we're all about first impressions, you'll be greeted by a bedroom right off the bat. Overnight guests? Check!
Walk a few steps further and prepare to have your socks blown off by the 2-story great room. Yes, you read that right! Two whole stories of space that radiate comfort and elegance. The fireplace will whisper sweet promises of cozy nights, while the access to the outdoor living area screams weekend BBQs.
And if you've ever tried hosting, you'll appreciate that the great room flows effortlessly into the kitchen and dining room. No more missing out on the gossip while you fix drinks!
Speaking of the kitchen, if cooking's your therapy or if you just enjoy midnight snacking, this one's your haven.
A vast island for all your chopping (or wine sipping) needs and, wait for it, a walk-in pantry that's large enough to have its own zip code! Adjacent is the informal dining area, perfect for all those breakfasts you promised yourself you'd start having.
Let's not forget the cherry on this ground-floor cake – the vaulted primary bedroom. Natural light? Oh, it has plenty, thanks to windows playing peekaboo on opposite walls. As for the attached bathroom, it's what spa dreams are made of!
Soak in the tub or sing in the shower, with nature watching through private windows. And with side-by-side sinks, gone are the days of waiting for your turn! Don't even get me started on the walk-in closet. It might just be Narnia, but instead of a winter wonderland, it leads to endless fashion possibilities.
Head upstairs and be amazed. But wait, there's more! As if the ground floor wasn't enticing enough, the upper floor is sprinkled with magic too.
To the left, you'll find an exclusive room for your daily stretches or, let's be real, dance breaks – the exercise/flex space! Pair that with an extra bedroom and bath for guests who decide they love your house a little too much.
Now, for the pièce de résistance. To the right lies the vaulted bonus room, hovering above the garage. Whether it's your secret karaoke spot or the kids' loud gaming zone, there's no need to tiptoe, because noise? What noise?
To wrap up, 4,121 square feet. 4 beds. 3.5 baths. This modern farmhouse doesn't just offer a roof over your head. It's where luxury meets comfort, where every room tells a story, and where you're not just living – you're thriving.
So, whether you're an introvert seeking solace or an extrovert waiting to host the next big bash, this house says, "Come on in!" Just remember, if you invite me over, I call dibs on the bedroom by the entrance.
Plan 85368MS