Specifications:
3,413 Sq Ft
4 Beds
3.5+ Baths
1 Stories
3 Cars
Well, hello there, fellow home enthusiast! Are you ready to dive into a world where comfort meets style, and every nook whispers, "Hey, nice choice!"?
Buckle up, because we're about to embark on a journey through a one-level New American Craftsman Home that's so charming, it might just make your Pinterest board blush.
Picture this: a picturesque abode that hugs the ground at a spacious 3,413 square feet.
Stay Tuned: Detailed Plan Video Awaits at the End of This Content!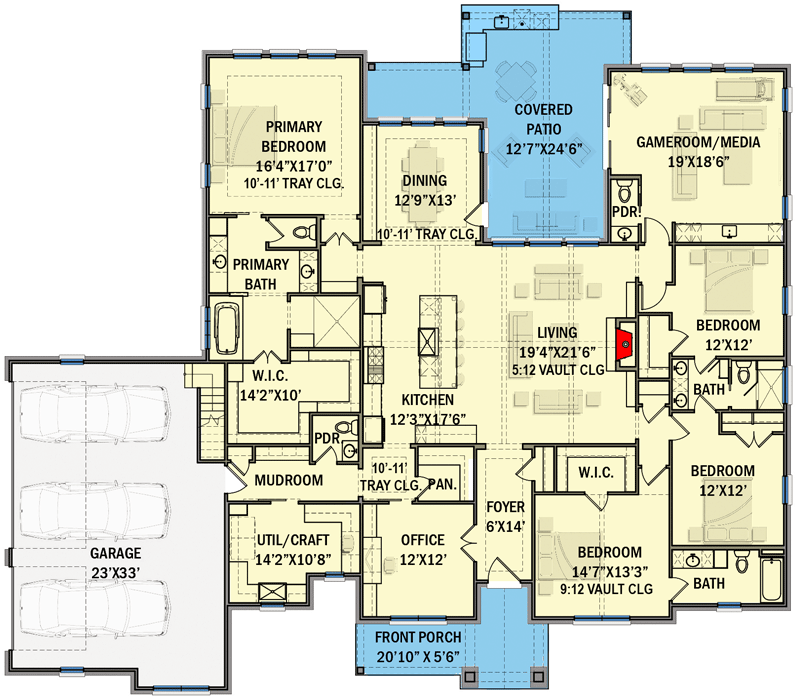 But don't let its one-story silhouette fool you; this beauty packs in all the grandeur of a palatial estate without the hassle of stairs (your knees can thank me later).
With four bedrooms, over three and a half baths, a 3-car garage, and charisma in spades, this home isn't just where you live—it's where life happens.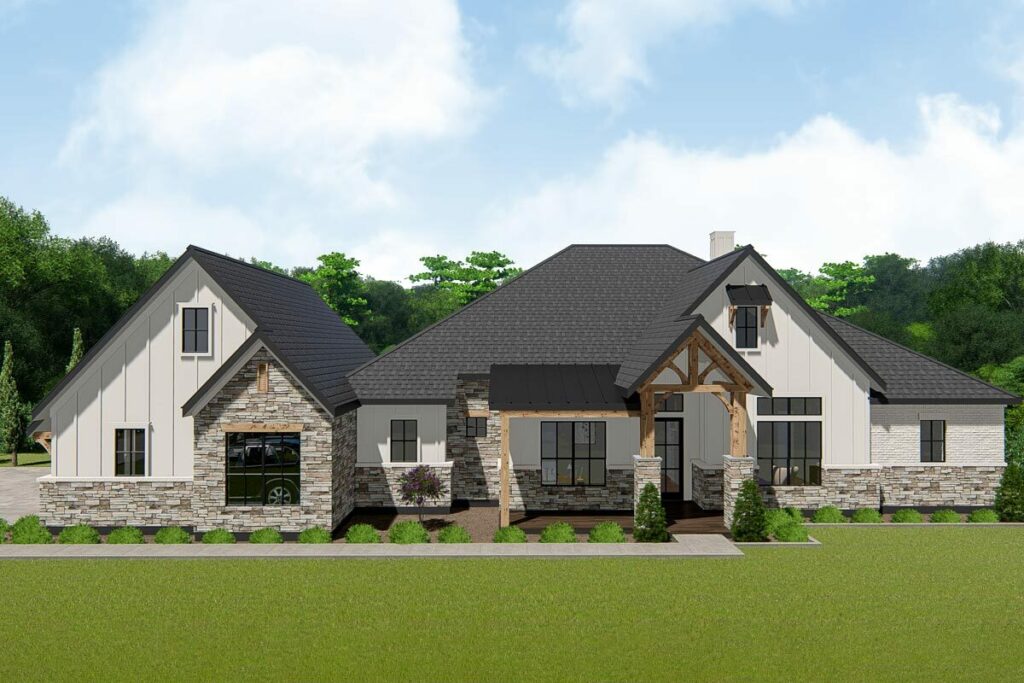 As you saunter up to the front door, natural wood and stone accents wink at you, showcasing that timeless American Craftsman charm. It's like the house is flirting with you, and yes, you're definitely interested.
Once inside, the open plan living space wraps around you like a warm hug. Each area flows into the next, making the journey from the cozy living room to the kitchen feel like a romantic stroll rather than a trek across the tundra.
Ah, the dining room. Bathed in natural light with three – count 'em, three – windows, it doesn't just host meals; it hosts experiences. The sunlight cascades in, making your morning coffee glisten and your evening glass of wine sparkle.
And with a door that leads directly to a covered patio sporting a summer kitchen (because who wants to be stuck inside on a beautiful day?), your home just became the hottest brunch spot in town.
Now, let's waltz into the kitchen, the heart of the home. If this kitchen were a person, it'd be a top-tier contender on a cooking show, charming the socks off the judges.
The oversized island stands at the ready for any culinary exploit, from pancake flipping contests to assembling the kind of charcuterie board that woos Instagram. Plus, with a walk-in pantry and a 6-burner range, this kitchen whispers sweet nothings to even the most discerning of home chefs.
But the magic doesn't stop there. Need to Zoom like a pro or pen the next great American novel? The home office is your sanctuary. Prefer to binge-watch your favorite shows or enjoy game night?
Hello, media room! This house understands that sometimes you're all business and sometimes you're all about Netflix and chill.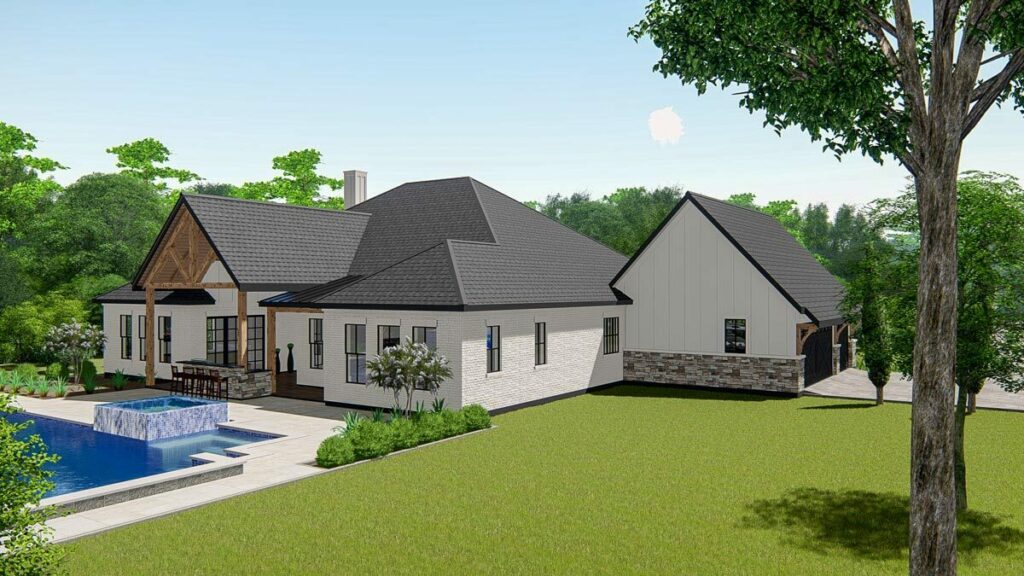 The master bedroom, oh, the master bedroom! It's a retreat tucked behind the culinary haven, giving you all the privacy you crave.
It speaks the language of luxury with a 5-fixture bath that's practically a spa appointment, and a walk-in shower that begs for long, contemplative showers where you ponder the mysteries of the universe—or just decide what you're ordering for takeout.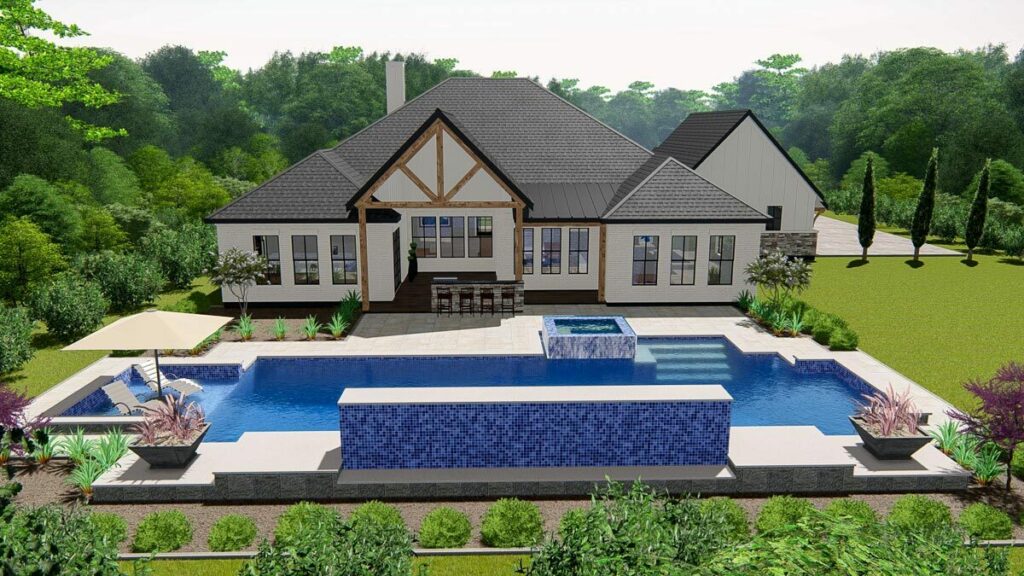 And let's not forget the other three bedrooms. They aren't just rooms; they're havens for sweet dreams and fortress of solitude.
Two share a Jack-and-Jill bath, promoting harmony and maybe only the occasional squabble over sink time. The other boasts a full bath, making guests feel more like royalty and less like an afterthought.
The pièce de résistance? A 3-car garage that's more than a home for your vehicles; it's your hobby hub, your storage solution, your "I can't even deal with this right now" space.
And it introduces you to a utility room that doesn't just handle the humdrum of laundry but doubles as a craft room. So, go ahead, start that DIY project you've been eyeballing for months. This room's got your back.
So, there we have it, my friends. A one-level wonder that blends work, play, comfort, and a whole lot of style. It's not just a house; it's a lifestyle.
It's the Sunday morning lazy breakfasts, the Wednesday night potlucks, the "just one more episode" before bed. It's home. And it's spectacular.
Plan 25418TF