Specifications:
1,578 Sq Ft
3 Beds
2.5 Baths
2 Stories
If you've ever fantasized about living in a home that combines the rustic charm of a country barn with the sleek comforts of modern living, then buckle up, buttercup, because I'm about to walk you through a house plan that's going to rev your interior design engines.
I'm talking about a 3-bed barndominium plan that's got more to offer than a Swiss Army knife at a camping convention.
This isn't just any barndominium; it's a 1,578 square foot palace with second-level living quarters that'll make you feel like the king or queen of your own personal castle – if your castle came with a 4-stall horse barn and a staircase that's more grand than my Aunt Patty's entrance at Thanksgiving dinner.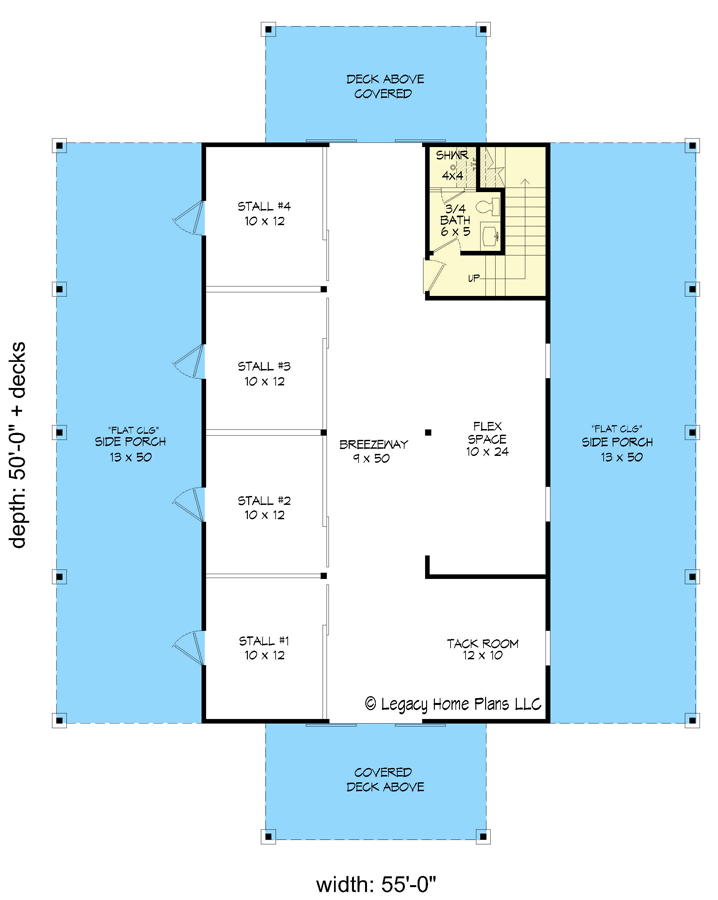 Now, let's mosey on up to those covered porches. They're not just there to look pretty; they're your first line of defense against the relentless sun when you're outside trying to enjoy your iced tea without breaking a sweat.
And let's be honest, nobody wants to sport a sunburn that could light up a room like a neon sign.
Once you've ascended to the second floor, you're greeted by a living room that's got a vaulted ceiling so high, you'll be half-tempted to ask if it's paying rent for all that airspace.
It's open to the kitchen and dining area, which is perfect for when you're hosting dinner and want to be part of the action. You can whip up your famous chili while still being part of the gossip train. Choo choo!
And let's talk about those French doors. They don't just lead to a sun deck; they lead to BBQ nirvana. This is where you'll grill burgers so good, they'll make a grown man cry and a vegetarian question their life choices.
The deck is the perfect spot for those summer evenings when you want to dine al fresco without having to dress like you're on an Arctic expedition.
The kitchen is a marvel in itself. It's got an island with seating for two, which is perfect for those intimate breakfasts where you discuss important matters like whether to watch "The Great British Bake Off" or "The Mandalorian."
And the pantry? Let's just say if your pantry could talk, it would say, "Go ahead, buy that extra box of cereal. I've got room."
Down the hall, we've got the sleeping quarters. Three bedrooms, to be exact, and a laundry room that's more convenient than a pocket on a shirt.
The master bedroom is where the magic happens – and by magic, I mean the kind of restful sleep you get when you're not sharing a wall with a living room where your teenager is binge-watching shows until 2 AM.
It's got a vaulted ceiling, a private deck for those moments when you need to escape the family madness, dual closets for an extensive wardrobe, and a 4-fixture bathroom that's so nice, you'll start scheduling extra showers for fun.
But let's not forget about the horse barn. This isn't just a place to keep your equine friends; it's a statement.
It says, "Yes, I have horses, and yes, I can provide them with a home that's nicer than most apartments in the city."
Plus, there's a 3/4 bath down there, which is perfect for washing off the day's toil before you ascend to your living quarters like royalty returning to the throne room.
This barndominium is a two-story testament to the fact that you can have it all: the country life, the modern amenities, and a place for your horses to hang their hats (because we all know if horses wore hats, they'd have impeccable taste).
It's the kind of home that makes you want to throw on a flannel shirt, brew a pot of coffee, and watch the sunrise from your sun deck, even if you're not a morning person.
In conclusion, this 3-bed barndominium plan isn't just a set of blueprints; it's a blueprint for living the good life. It's a home that says, "I love the smell of hay in the morning," but also, "I appreciate a good vaulted ceiling."
It's the kind of place where memories are made, steaks are grilled, and horses are pampered. So, if you're in the market for a home that's as unique as you are, saddle up and give this barndominium a gander. It's sure to gallop away with your heart.