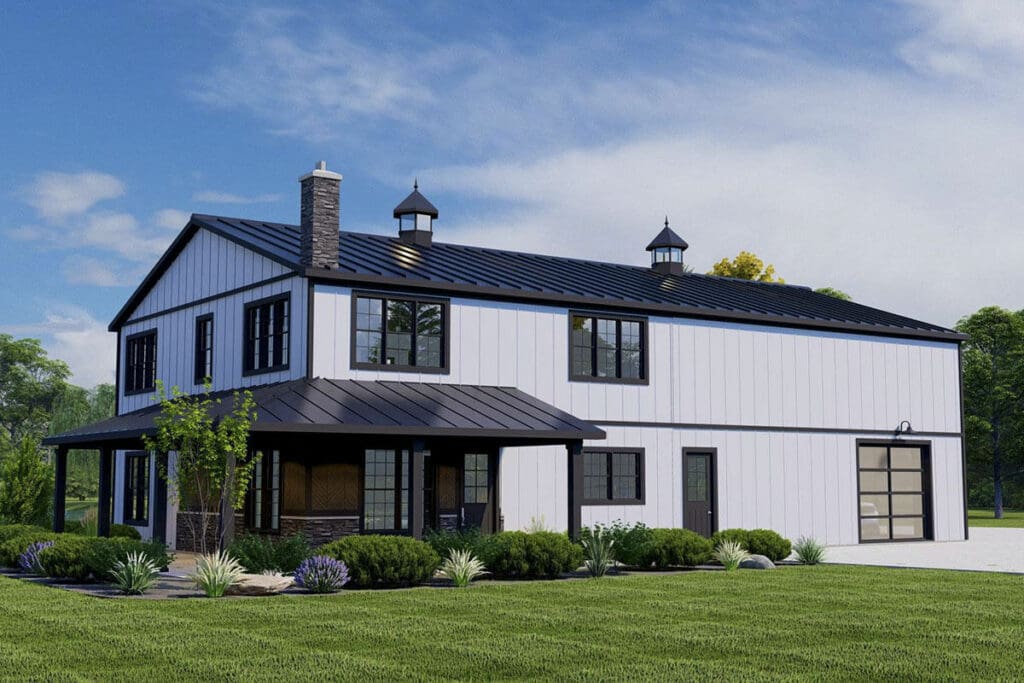 Specifications:
1,986 Sq Ft
3 Beds
2.5+ Baths
2 Stories
2 Cars
If you've ever dreamed of owning a home that blends rustic charm with modern flair, I'm about to walk you through a house plan that might just be the architectural love of your life.
It's like the universe heard the countryside was lonely and decided to match it up with the sleek city on some celestial version of a dating app. And voilà, the barndominium was born!
This isn't just any barndominium – oh no, it's a 1,986 square foot slice of heaven with a massive locker room that could make a sports enthusiast weep with joy.
Let's saddle up and gallop through this marvel of modern-meets-country living!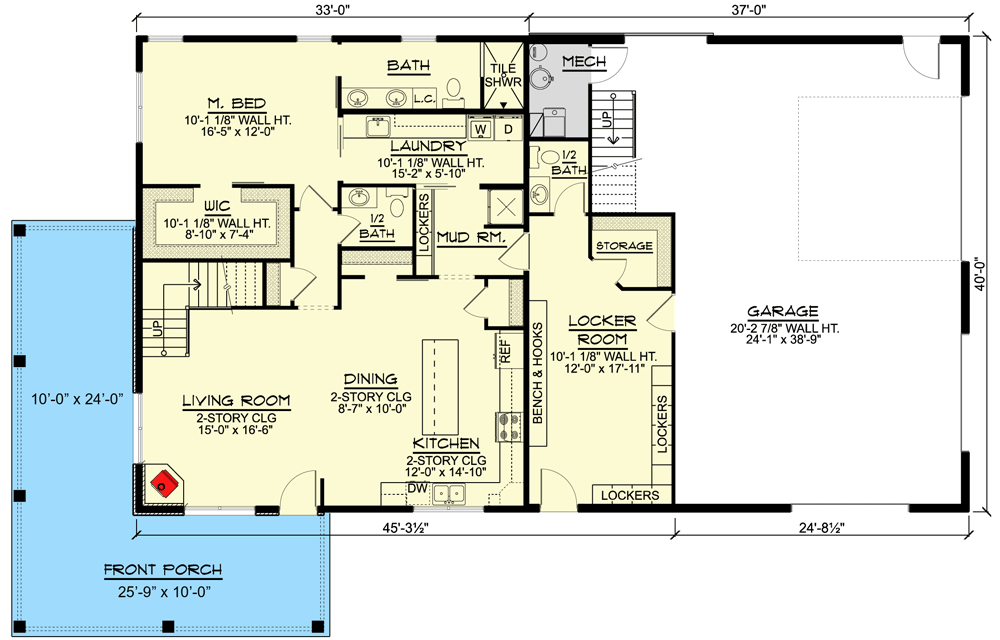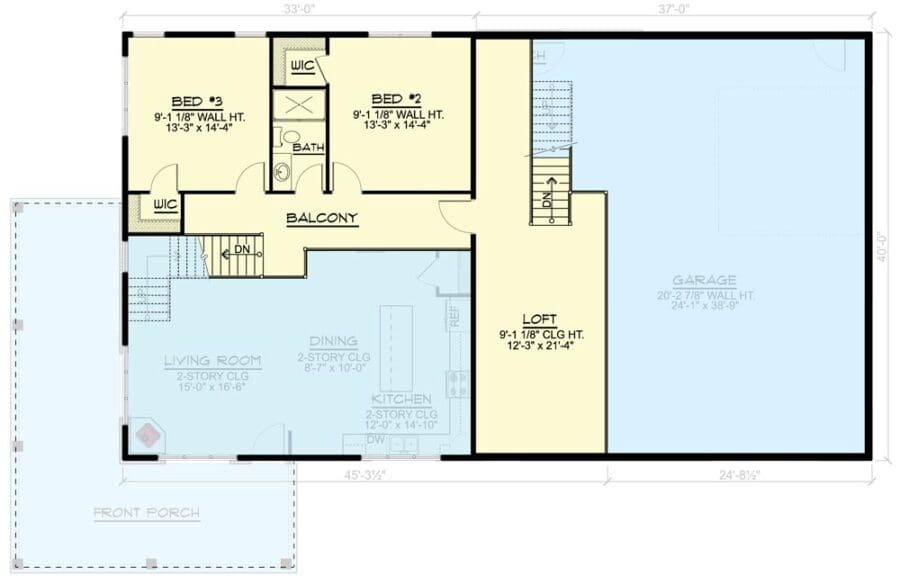 Firstly, you can't miss the striking exterior. It's got board and batten siding that plays copycat with the ribbed metal roof, making this New American Barndominium-style house plan a visual treat. I bet the house would swipe right on itself if it could, and I wouldn't blame it!
Now, let's mosey over to the right side of the design. Here, there's a 1,182 square foot garage that's open to the rafters. And get this – there's a powder bath right there.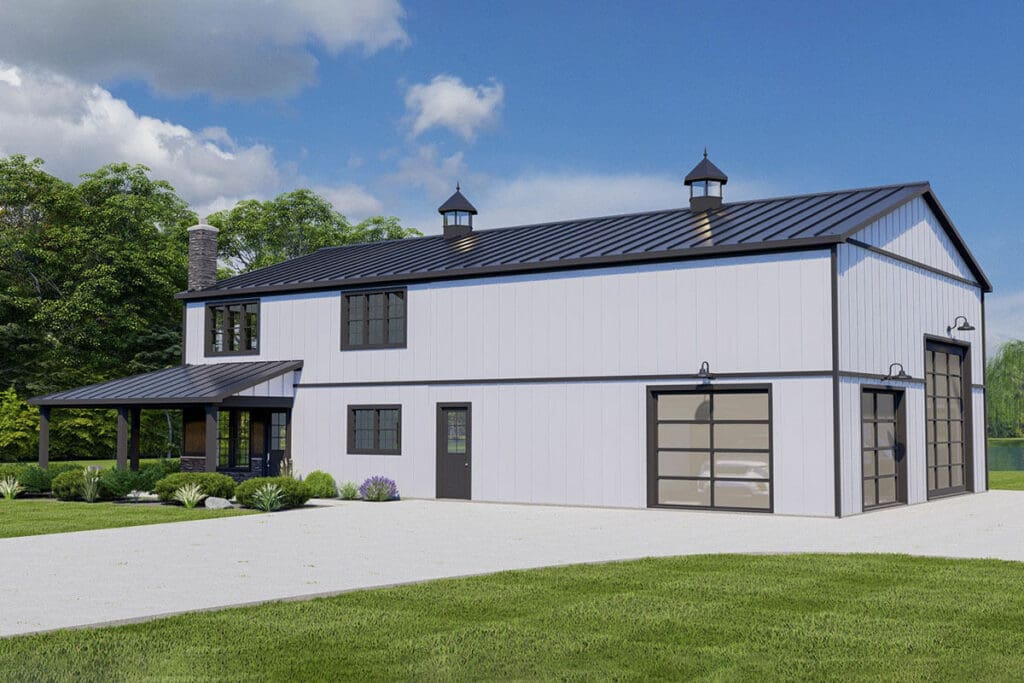 No more dashing through the house with grease-stained hands! But the pièce de résistance is the colossal locker room.
It's got indoor and outdoor access, so you can transition from yard work to indoor chill time without tracking dirt through your pristine abode.
Imagine this: a wraparound porch that's like a hug for your living room. It's the perfect spot to sip your morning coffee or unwind with a glass of wine after a long day, all while soaking up the views.
And this porch is just a teaser for the dreamy layout inside, designed for those who live to entertain. The living room and eat-in kitchen are basically a tango of open space and comfort, ensuring your gatherings are the stuff of legend.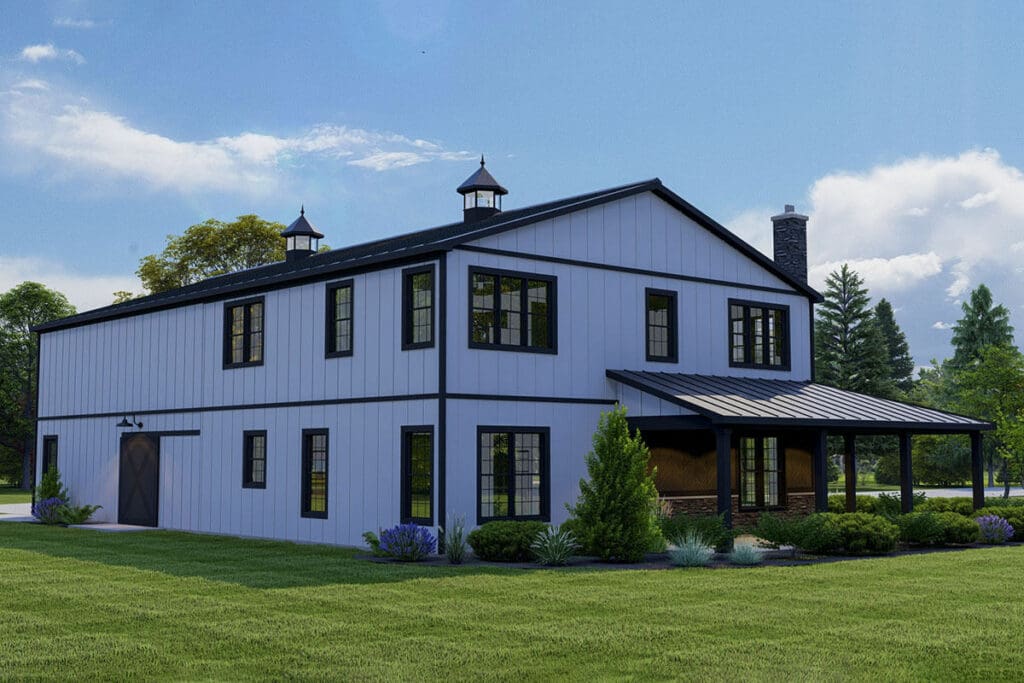 Let's not tiptoe around the main-level master bedroom. It's got all the trimmings of a luxury retreat, complete with a tile shower in the en suite that'll make you forget all about spa days.
And guess what? There's a secret passage to the laundry room. Laundry day just got an upgrade from 'chore' to 'sneaky adventure'.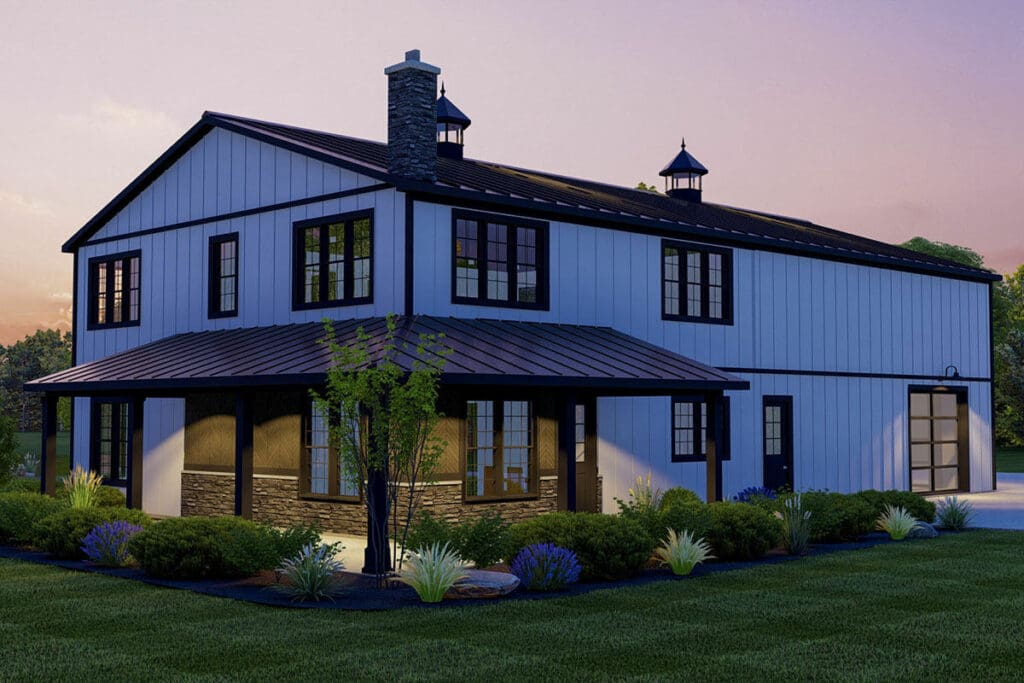 As we ascend to the second story, prepare to be greeted by a loft that's spacious enough for all your heart's desires – yoga studio, home office, or the ultimate nap zone.
Bedrooms 2 and 3 won't stir up any sibling rivalry since they're equally cozy and share a well-appointed full bath. The balcony view? A dramatic overlook of your living quarters where you can shout, "Honey, I'm home!" and be heard from any corner.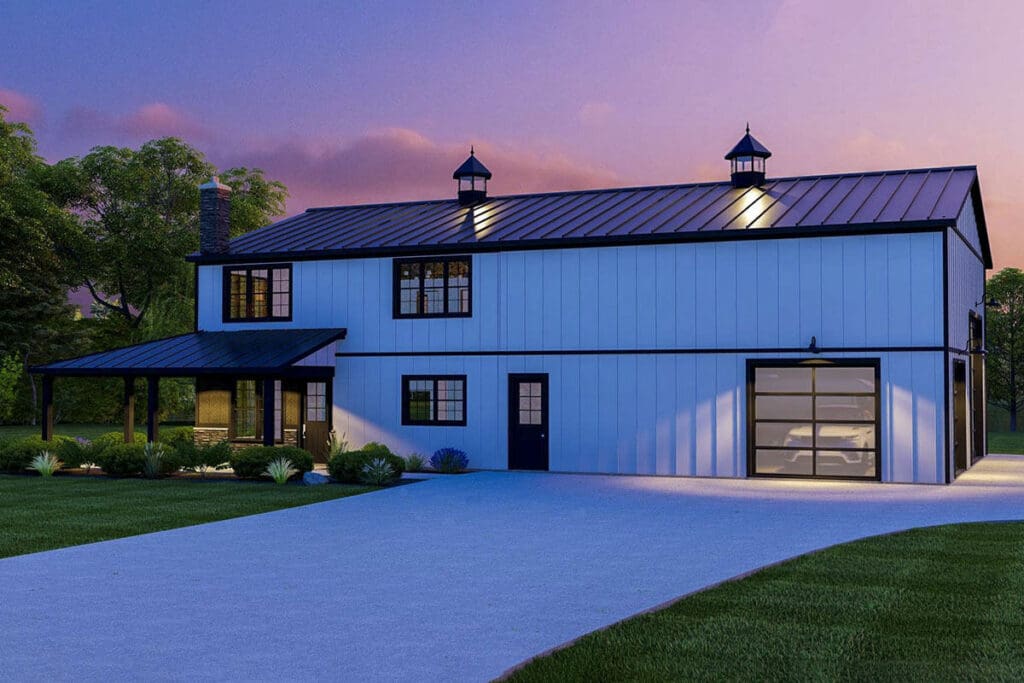 Last but not least, through a door in the loft, you find yourself peering down into the garage from a second set of stairs. It's perfect for hollering at someone below without actually having to go down – efficient and mildly regal.
So there you have it – a house plan that checks all the boxes: charm, space, and a locker room that could double as a ballroom. Now, who's ready to make this barndominium their reality?
Just don't forget to invite me over for the housewarming; I'll bring the humor and a pie!